Manila-headquartered startup CloudEats is a "cloud restaurant" with business operations in the Philippines and Vietnam.
KrASIA spoke with CloudEats' co-founders, Kimberly Yao and Iacopo Rovere, on how they plan to take the cloud kitchen concept to new heights.
This interview has been consolidated and edited for brevity and clarity.
KrASIA (Kr): Tell us about CloudEats' backstory.
Iacopo Rovere (IR): I was a co-founder of Foodpanda Philippines. With my exposure to the food delivery industry, I came up with the idea of setting up a business that can provide good value and variety to consumers through a food tech platform.
Kimberly Yao (KY): I previously worked in the F&B industry, where I built brick-and-mortar stores such as casual dining restaurant chains and entertainment venues. This was a business that was difficult to scale, especially when it comes to technology.
Together with Iacopo, we decided to build a 'future-proof restaurant' together. Obviously, back then, we didn't know that the pandemic was going to hit but it somewhat happened at the right time. The COVID-19 pandemic and its lockdowns largely changed consumer behavior and significantly accelerated our business growth.
Today, even though it has been a few years since the pandemic hit, we are still a business with significant growth, especially in the years ahead.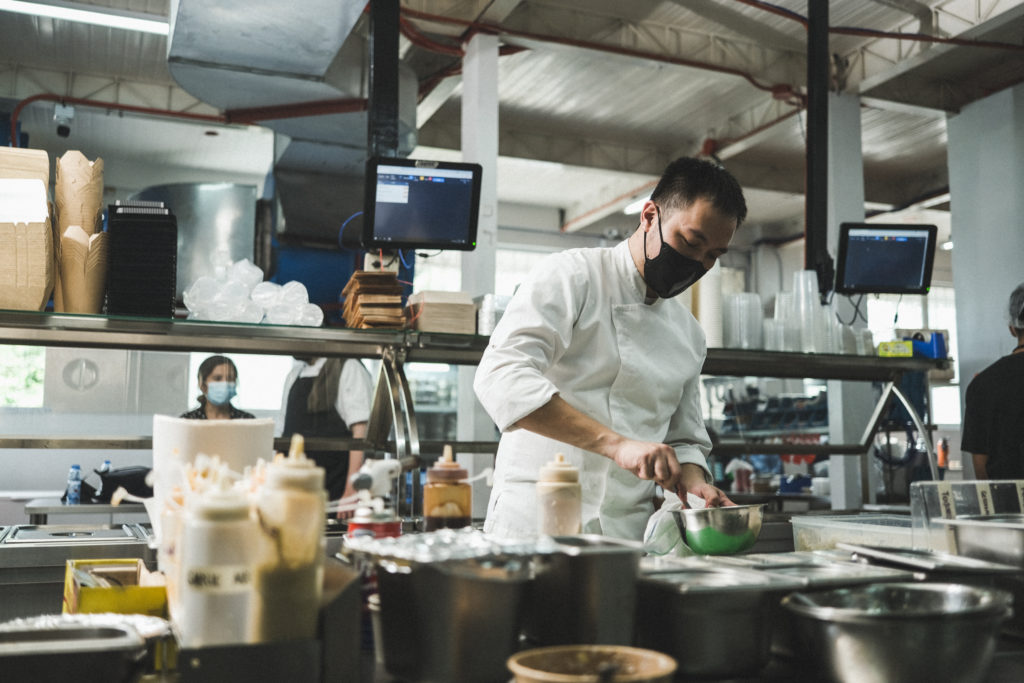 Kr: What is the problem space that CloudEats is trying to address?
KY: The food service industry is massive. It's also highly traditional, which technology has not quite penetrated. It's a high-touch industry involving many manual processes. At the same time, F&B is notorious for having thin margins. So building many restaurants and a large-scale food business requires a lot of capital in order to scale.
To tackle this challenge, CloudEats is developing a hyper-scalable cloud kitchen and restaurant hybrid model, one that runs on our smart kitchen technology. We're not simply just a cloud kitchen or simply a brand builder—we're both.
Our mission is to build infrastructure and brands that run on our proprietary technology. For me, this is something that the food industry really needs now.
Kr: Is there a difference between a cloud kitchen and a ghost kitchen?
IR:  The cloud kitchen conceptualizes the idea of an F&B establishment where third-party brands can operate. In Singapore, you have the Grab kitchens and Foodpanda kitchens, which run operations for existing F&B merchants with a restaurant, and who are looking to expand their businesses and market reach without having to invest in additional capital.
By contrast, CloudEats develops its own brands, which it operates through a single physical space. We don't just see ourselves as a cloud kitchen—we're a cloud restaurant.
Kr: What exactly is a cloud restaurant and how different is it from a cloud kitchen?
IR: The cloud restaurant owns its own brands. In the case of CloudEats, we're the merchant. This means that we don't look for merchants to utilize our kitchens; we operate the brands that we own. We're literally like an F&B food group with multiple brands. The only difference between a traditional food group and CloudEats is that we don't have a traditional 'retail' space where customers can dine in.
Kr: Tell us about your shared kitchen technology.
IR: We have developed our own backend tech solution that allows us to manage our brands on our own platform without having to go through traditional channels such as email or account managers.
Essentially, we can run our backend operations. For example, the orders assigned to the various kitchen stations allow us to track KPIs such as the cooking time that go into the preparation of each meal. This tech provides us with a lot of visibility on kitchen operations and is a feature not yet available on the market. We may make this kitchen tech available to the market in the coming months.
Kr: Share with us your branding strategy. 
KY: We own about 35 F&B brands in the Philippines and over 20 in Vietnam. We build brands that address the different needs of the population, and we want to cater to the diverse demands and price points of the population. So far, it's been a winning strategy.
Kr: Logistics can be costly in markets such as Vietnam. How do you navigate this challenge?
IR: We don't have a direct-to-consumer channel. This is why we don't bear any logistical costs.
KY: We work with food aggregators who are in charge of carrying out last-mile delivery to customers. We don't actually have any riders who do last-mile delivery. Essentially, this cost is borne by the aggregators.
Kr: Many B2C startups tend to subsidize their consumers. How has that impacted your operating margins to date?
IR: Our economics are quite strong. Our business is seeing quite healthy growth.
KY: We believe in sustainable growth; we're not like other tech companies that give away everything for free and realize later that they've dug a hole for themselves. We want to grow fast but in a sustainable way.
Kr: Why are cloud kitchens only recently gaining ground in the Philippines as opposed to other parts of the world such as the US, the UK, and even in Singapore, where they have taken off much earlier?
IR: One major reason is that in the above markets you've just mentioned, labor is a huge component of the total costs of running a business. This would explain why F&B businesses in these markets optimize their economics by adding additional brands to their online presence despite having a physical store.
So what these F&B entrepreneurs are doing is tapping cloud kitchens to optimize the economics of restaurants, in which labor and rent are expensive.
For us, we do see the incredible value of the cloud kitchen concept, and we're happy to be one of the groundbreakers in this sector.
Kr: Do you expect any new trends to emerge over the next few years in the cloud kitchen space?
KY: The idea of cloud kitchens originally started with the concept of building brands online. But in order to build loyalty and engagement with your consumers, businesses need to have a touchpoint that does not just focus on packaging.
Recently, what we have been hearing from investors is the idea of online brands moving offline. And that's something we're exploring too.
For example, we're looking at launching an offline platform for one of our bestselling brands in the Philippines, Burger Beast. In fact, we are planning to launch a stall in a food court.
Kr: Are you incorporating sustainability in your business operations? 
KY: In terms of our food packaging, we utilize plastic and paper. For example, we use cornstarch utensils versus plastic utensils. We also use a compostable container made of sugarcane; 70% of this packaging is recyclable despite the plastic lid. The dream is to make our packaging 100% recyclable, of course.
There are other ways that we're incorporating sustainability in our business operations. For example, we're looking at how to recycle food waste and convert it into food ingredients. In fact, we have a central kitchen, and we track our waste religiously. We're "waste freaks," and we don't like to waste anything. For example, we use leftover salmon trimmings to make salmon patties!
Kr: What are your future plans?
KY: We are expecting further growth. Currently, in our markets in the Philippines and Vietnam, we are looking to expand the number of kitchens we have as well as grow our brands. We're also looking to invest more in technology to help us scale our business faster.
We also have plans to launch our business operations in a third market next year. This means that we need additional capital. For that, we're expecting another fundraising round in the first half of next year.
Kr: What's your financing like so far?
KY: We closed our seed round in early 2020 before the pandemic hit the Philippines. Then, we raised about USD 1.65 million from local family offices, which helped us build the foundation of our business.
In November 2021, we raised USD 5 million in a series A round. Less than a year later, we closed an A extension round and raised an additional USD 7 million. To date, we've raised about USD 14 million.