Springtime usually marks the influx of tens of thousands of tourists to Wuhan University, whose campus garden, brightened this time of year by a river of pink, helped make the city famous for its cherry blossoms.
This year, the city has also become known as the epicenter of the coronavirus outbreak. However, that hasn't stopped Wuhan from promoting its most popular seasonal sight as people continue to stay indoors.
Wuhan University, one of the most famous spots for cherry blossoms in China, will broadcast the bloom live on Taobao in partnership with Fliggy, Alibaba's online travel platform.
To access the livestream, users can type "Wuhan University cherry blossoms" in Taobao's search bar on the main page. After going live at 10 a.m. on Monday, over 300,000 viewers joined the livestream in one minute, according to Taobao. The livestream, broadcast from 10 a.m. to 4 p.m. every day, will last until March 26.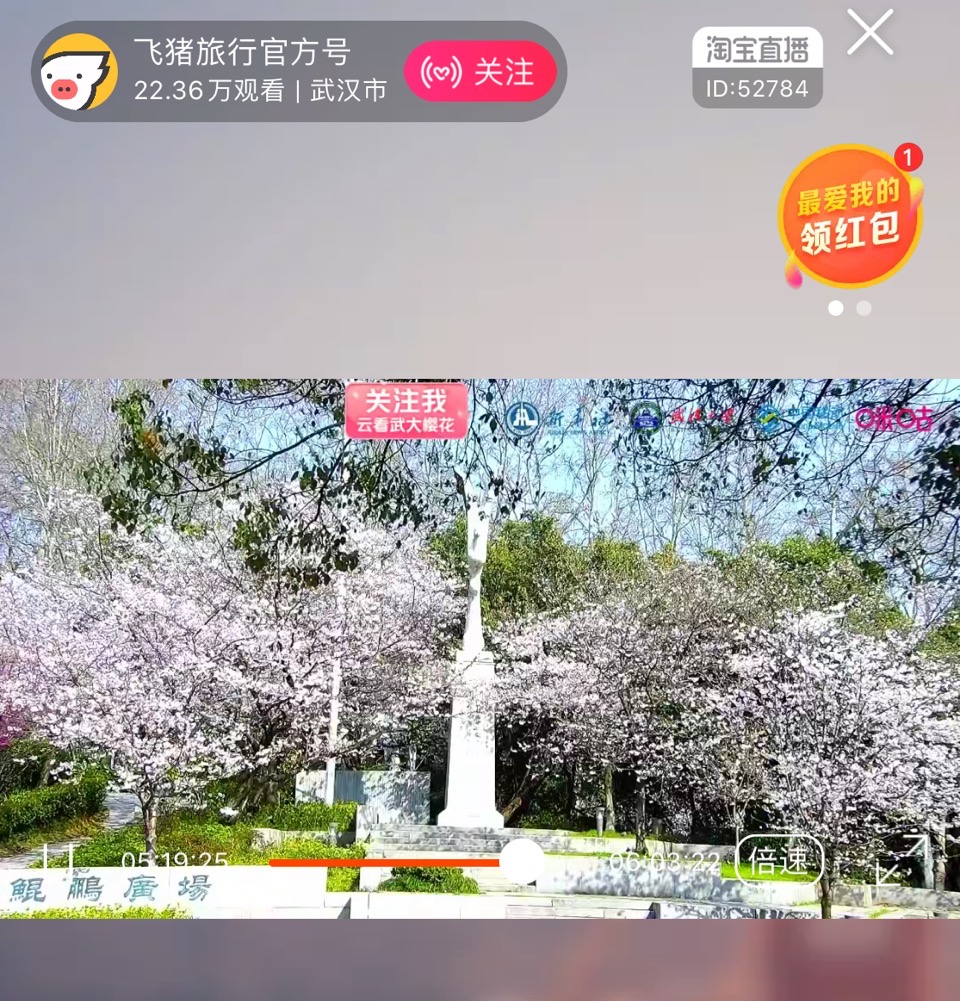 Fliggy is hardly the only platform bringing the sakuras to people's screens. Another livestream on Taobao hosted by stated-owned media China Youth Daily went live on March 16 and provides guided tours of Wuhan University including dorms and historical buildings. Video-sharing site Bilibili, short video app Kuaishou, and group-buying site Pinduoduo have all begun livestreaming Wuhan's cherry blossoms as well.
"We have never seen a spring like this—so silent," said Xiao Jun, an associate professor at Wuhan University, during the China Youth Daily livestream. "But standing under the cherry trees really lifts my spirits, despite the quietness around me."
Wuhan, severely hit by the COVID-19 pandemic, has been under lockdown since January 23. As of March 16, 500,004 confirmed cases have been reported, and the death toll has hit 2,480. The impact of the virus hit China's tourism industry especially hard. According to a China Daily report, during the Chinese New Year holiday, the industry underwent a loss of more than RMB 550 billion (USD 79 billion).
"Unfortunately, we cannot be there in person this time," said one netizen, who watched the livestream, on microblogging site Weibo. "I will definitely go to Wuhan with my friends next year."
This story's feature image was first published by Xinhua News Agency.