Tencent's super app WeChat has blocked external links on its platform from ByteDance's enterprise communication and collaboration platform Feishu, also known as Lark overseas, according to an announcement released Saturday by Feishu on news aggregator Toutiao.
Feishu said that on the afternoon of Feb. 28 it received several complaints from users saying they could not open links shared on WeChat to Feishu's app or website. When clicking on the links, users would get a message reading "The URL contains content which redirects users to share and follow inappropriately and has been reported by many people. In order to maintain a healthy internet environment, it's inaccessible.
Additionally, when users try to share Feishu content on WeChat—e.g. a contact QR code or video conference—WeChat would show a message that says "The app is blocked from being shared. Unable to share on WeChat."
According to local media outlet TMT, citing a WeChat insider familiar with this matter, the super app banned Feishu's links since the latter are against the external links sharing regulations of WeChat. Tencent has not released an official statement in response.
Feishu says it has contacted WeChat for an explanation, without success. The office platform added that after the request, WeChat's warning message has been updated to say: "If you need to access, please copy the URL into your browser."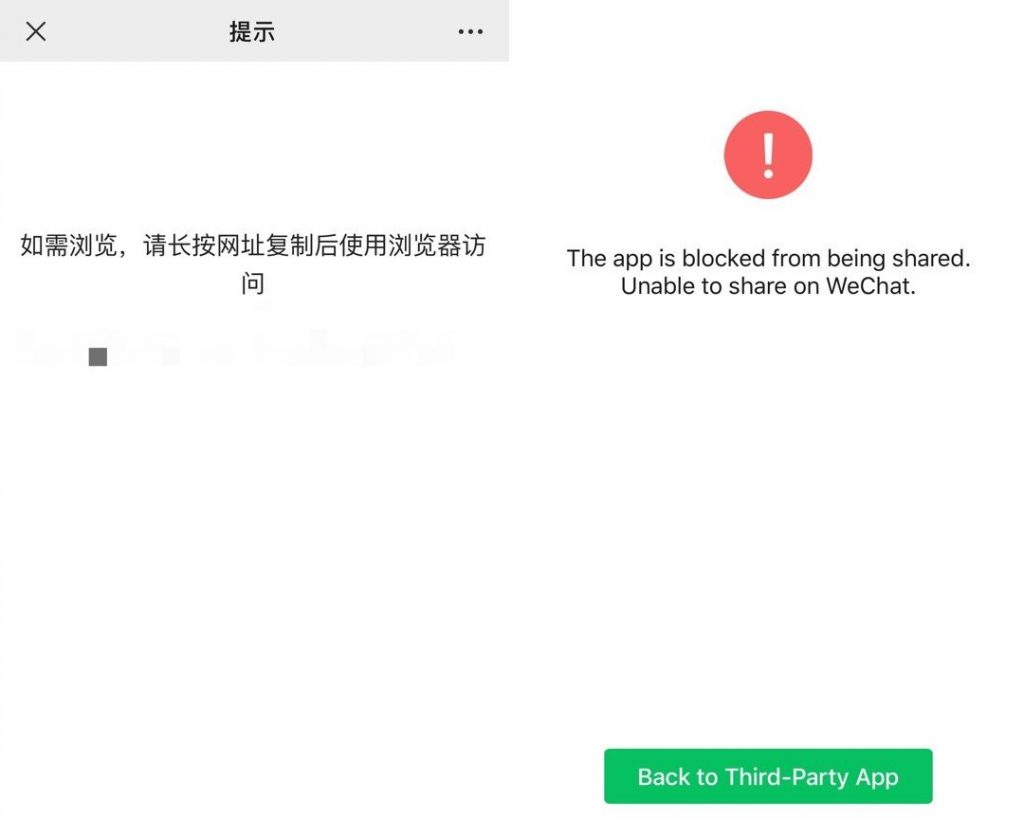 This is not the first time WeChat has allegedly blocked content from companies that can be considered competitors. Other apps that have seen content or links blocked include ByteDance's Douyin, Duoshan, and Xigua Video, Alibaba's Taobao, and Pinduoduo.
Last October, WeChat released a rigorous policy regulating incentive sharing and external links, in a move to "improve users' experience and protect users' privacy" said WeChat. Under this policy, links to products from group discount platform Pinduoduo, third-party service providers, or links directing to download other apps, are barred from being shared.
The actions culminated in a lawsuit against Tencent by lawyer Zhang Zhengxin in December, who accused the social media giant of abusing its market-dominant position. The Beijing Intelligence Property Court did not immediately announce its ruling after a four-hour trial.
The dispute between Tencent and Zhang arose in April 2019, after Zhang tried and failed to share links from two Tencent rivals, e-commerce site Taobao and short-video app Douyin, via the WeChat messaging app. The two platforms are currently still banned by WeChat.