As most Chinese people find themselves stuck at home amid the coronavirus outbreak, millions of users of Chinese short-video app Douyin are tuning in to watch a livestream of a man sleeping.
He goes by the username Yuansan and first live-streamed himself sleeping on Feb. 9—originally to verify whether he snores. He woke up the next day to discover that his channel had amassed hundreds of thousands of viewers over the course of the five-hour livestream.
This prompted the amateur actor, who comes from China's southeastern Jiangxi province, to repeat his performance. His channel soon went viral, garnering up to 18.5 million viewers and nearly a million followers. Yuansan has also made a sizeable sum from his show, with viewers giving him virtual gifts worth up to RMB 76,800 (USD 11,000) as tips.
As Douyin creators can convert their virtual gifts to cash, Yuansan has so far made more than RMB 30,000 while literally sleeping.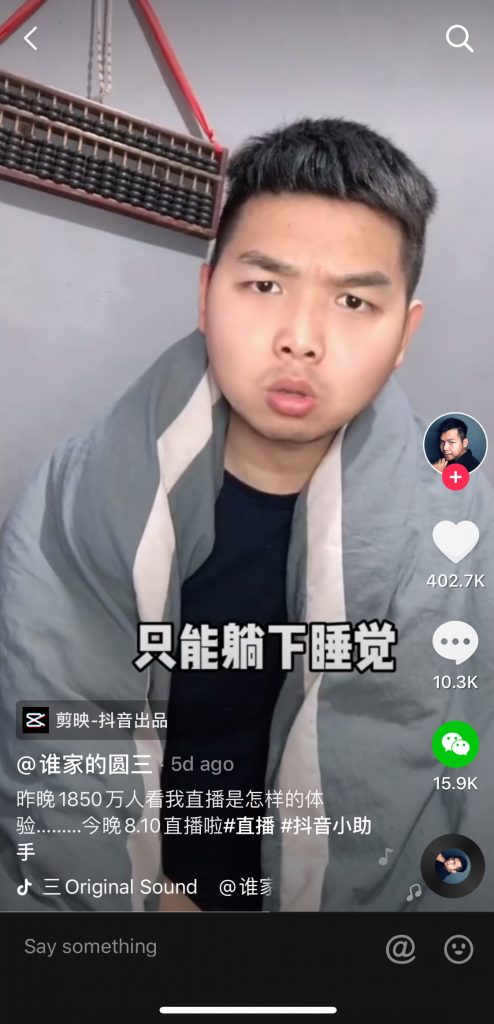 "I really don't want to live-stream myself sleeping anymore," Yuansan told a local media outlet during a recent interview. He said he doesn't know why his idea attracted such a huge following, and acknowledged that the fame probably won't last.
"Thank you guys for coming to see me these days, but I don't plan to live-stream again anytime soon," reads a comment from Yuansan on his channel. "I have experienced the feeling of being an internet celebrity recently and there's nothing to regret. I'll try to produce quality short videos."
Yuansan's unexpected popularity comes at a time when most Chinese are staying indoors, a measure to stem the spread of coronavirus, as schools, cinemas, bars, and gyms remain closed. As a result, many have turned to the virtual world to conquer their boredom.
Industries such as the online gaming sector, online education, and other virtual services have seen a surge in users. One new trend is "cloud-clubbing," where viewers join an online dance party with club DJs playing music on platforms like Bilibili, Douyin, and Kuaishou.
According to third-party research institute Quest Mobile's, Douyin and Kuaishou both saw increases of around 42 million daily active users this Chinese New Year, over a third more than usual for both apps.
Additionally, users spent around 105 minutes on the apps per day, a 34% increase compared to last year's Chinese New Year.