After over 10 years of rapid growth, many Chinese internet sectors have reached a stagnation point in their growth journey in 2019. This year, businesses are actively searching for innovative business models to expand their revenue source as regulations in many areas have been tightened to create a better internet environment.
In its 44th and latest China Statistical Report on Internet Development, China Internet Network Information Center (CNNIC) underscores the importance and new possibilities that the markets such as e-commerce, short-video, live-streaming, and ride-hailing, among others bring to the internet industry.
Here're our highlights of the report:


Read on to find out the hottest sectors ranked by the size of their user pools.
Instant messaging
Around 96% of China's total internet users and more than half of its population used instant messaging services, which includes messaging apps like QQ and social apps with the function of chatting like Momo. With a user base of 825 million by the end of June 2019, it remained the most-used internet application in China since 2011.
Although this sector, which is largely dominated by players such as Tencent's WeChat and QQ, has reached its ceiling point in terms of growth, internet giants like Bytedance and Alibaba are still trying to cut a share by launching their own social apps.
SEE ALSO: Alibaba unveils a new app for college students, picking up social dream shattered by WeChat
Tencent, at the same time, tries to defend its status by testing new social possibilities outside of the existing social models: the company introduced at least five different social apps this year, focusing respectively on video chat, online dating, virtual figures, voice messaging, and more.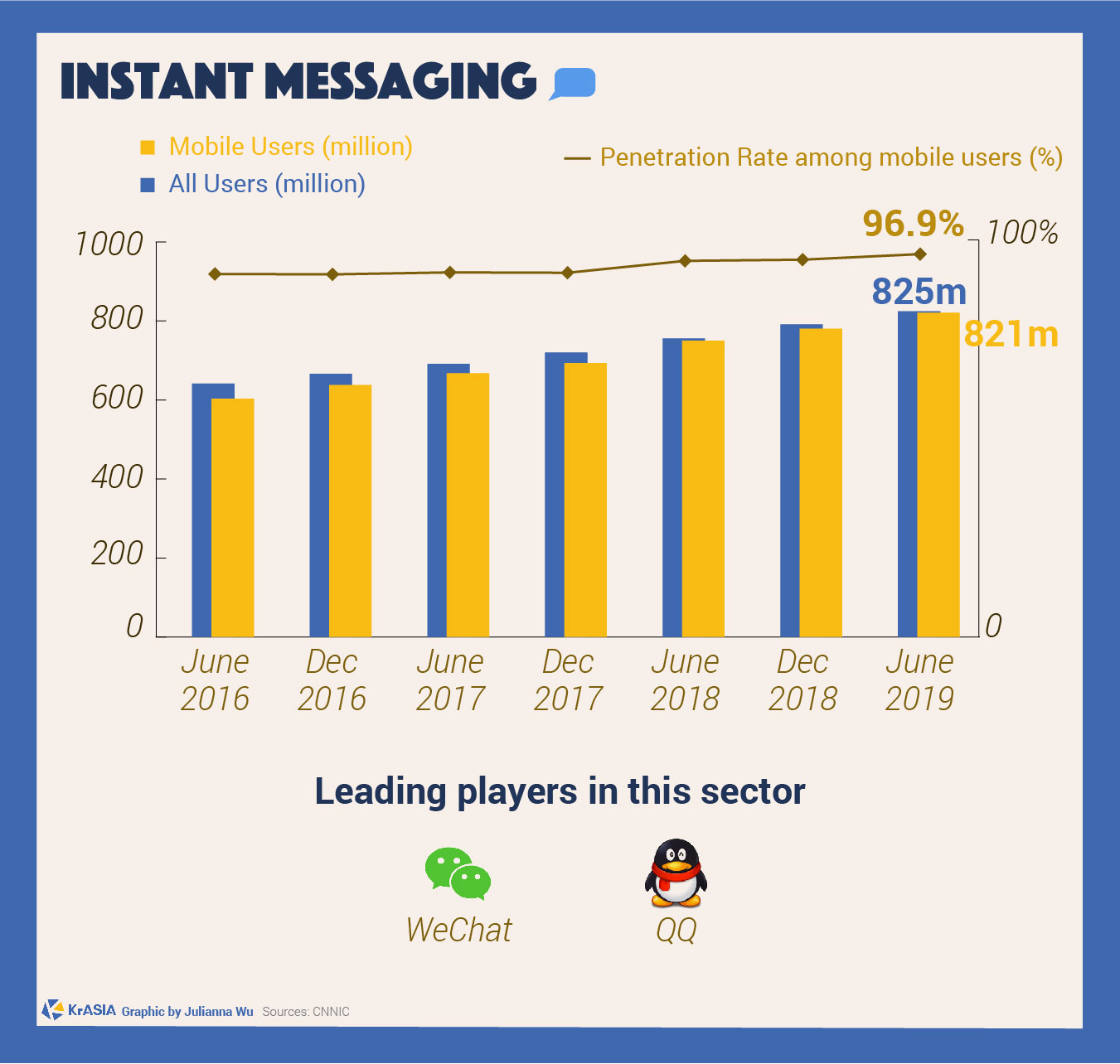 2. Online video (including short videos)
As of June 2019, 759 million people watched videos online, in both short and long forms, which is 88.8% of the total internet users, a 4.7% jump from the first half of 2019.
Short video—a new form of entertainment—which in recent years has become popular around the world, has 648 million users in China, accounting for 75.8% of the total Chinese internet users.
Apps like Kuaishou and Douyin are actively looking for opportunities to boost revenue by embedding e-commerce into its content under the "social commerce" business model.
SEE ALSO: ByteDance's Douyin integrates shopping feature to increase revenues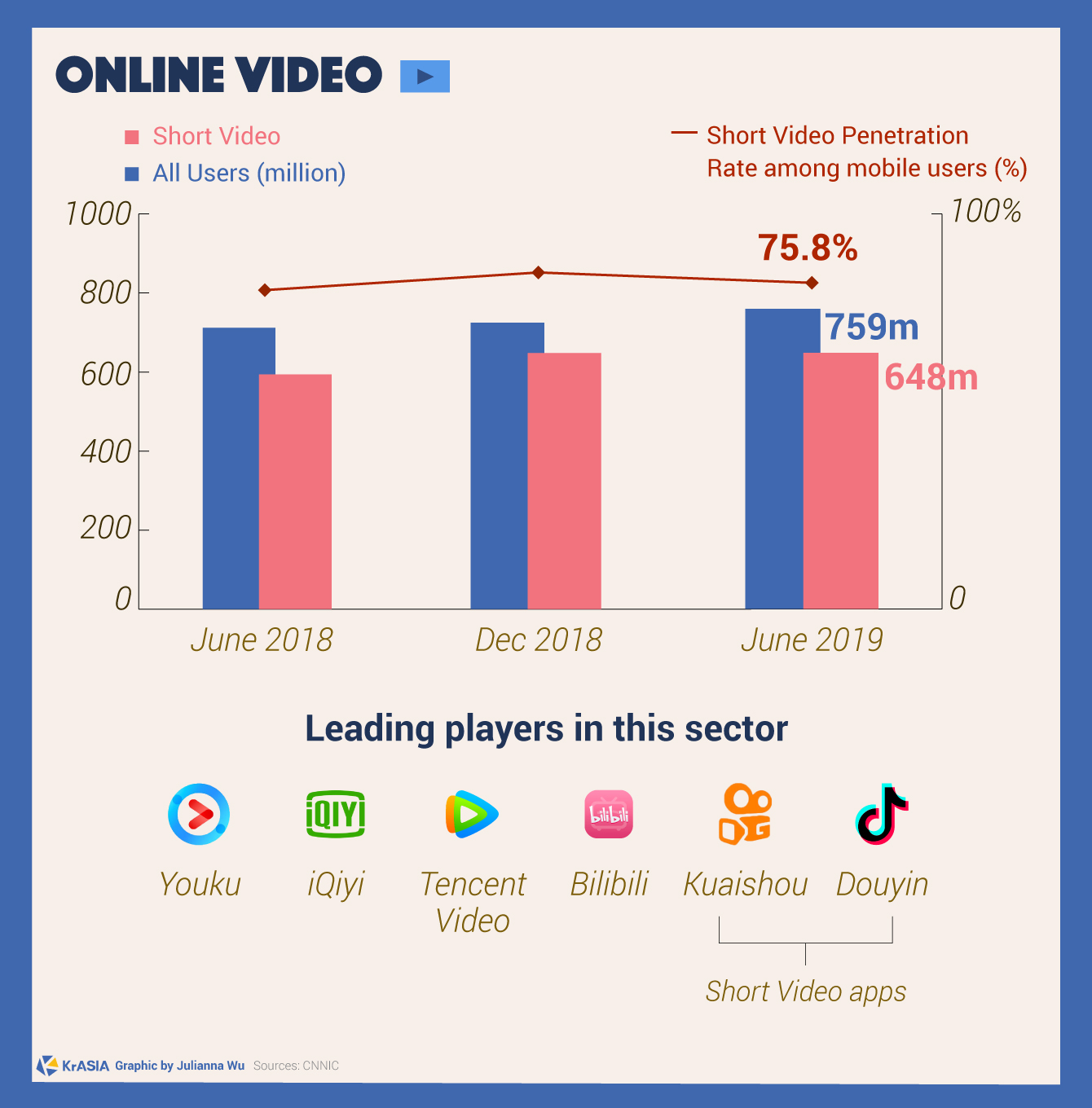 3. Search engine
According to the CNNIC report, online search engines saw a 2% rise in their users this year which reached 695 million, compared to December 2018.
The growth rates of search engines' advertising revenue have decreased significantly from Q2 2018 to Q1 2019: Baidu's earnings dropped from 25% to 3%, while Sougou saw a dip from 45% to 6%, the report noted.
In order to expand the usage rate and increase users' loyalty, search engines have actively sought new features to offer users other than search. Baidu's large-scale implementation of mini-programs is one such example, as the build-in mini-apps are often linked to third-party service providers.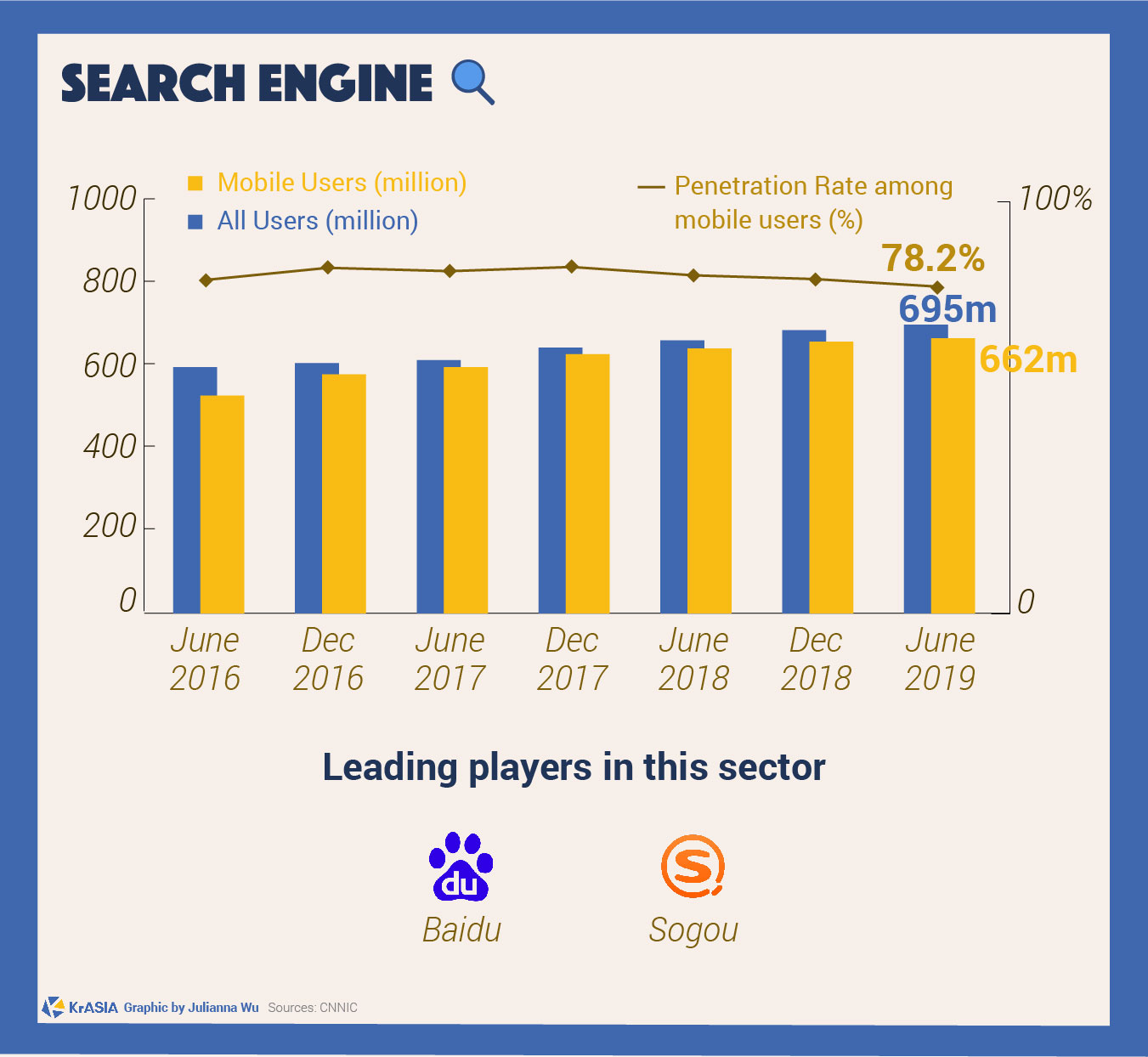 4. E-commerce
As of June 2019, 74.8% of China's internet users shopped online.
While Alibaba, JD.com, and many other major e-commerce platforms fight to divide the big cities' market, lower-tier cities and rural areas have become the "blue sea" that brings new growth to the e-shops. Pinduoduo, which grew from the lower-tier cities and recently surpassed JD.com in market value, is a lively example of how corporates can benefit from the relatively underdeveloped areas in China.
SEE ALSO: Deep in Pinduoduo's mind, there is a Google
Alibaba reports 77% of its Taobao and Tmall's new users in the last fiscal year (March 2018 to March 2019) came from places that are outside of tier-1 and 2 cities. Users from relatively underdeveloped areas also post a faster increase in their demands for digital 3c products and cosmetics, said the CNNIC report.
Goods worth RMB 46 billion (USD 6.54 billion) were imported into China through cross-border e-commerce platforms, a result of the government's support to such businesses. This space got additional room for growth from sectors such as live-streaming, short-video apps, and other streaming platforms that are exploring social commerce as a new business model.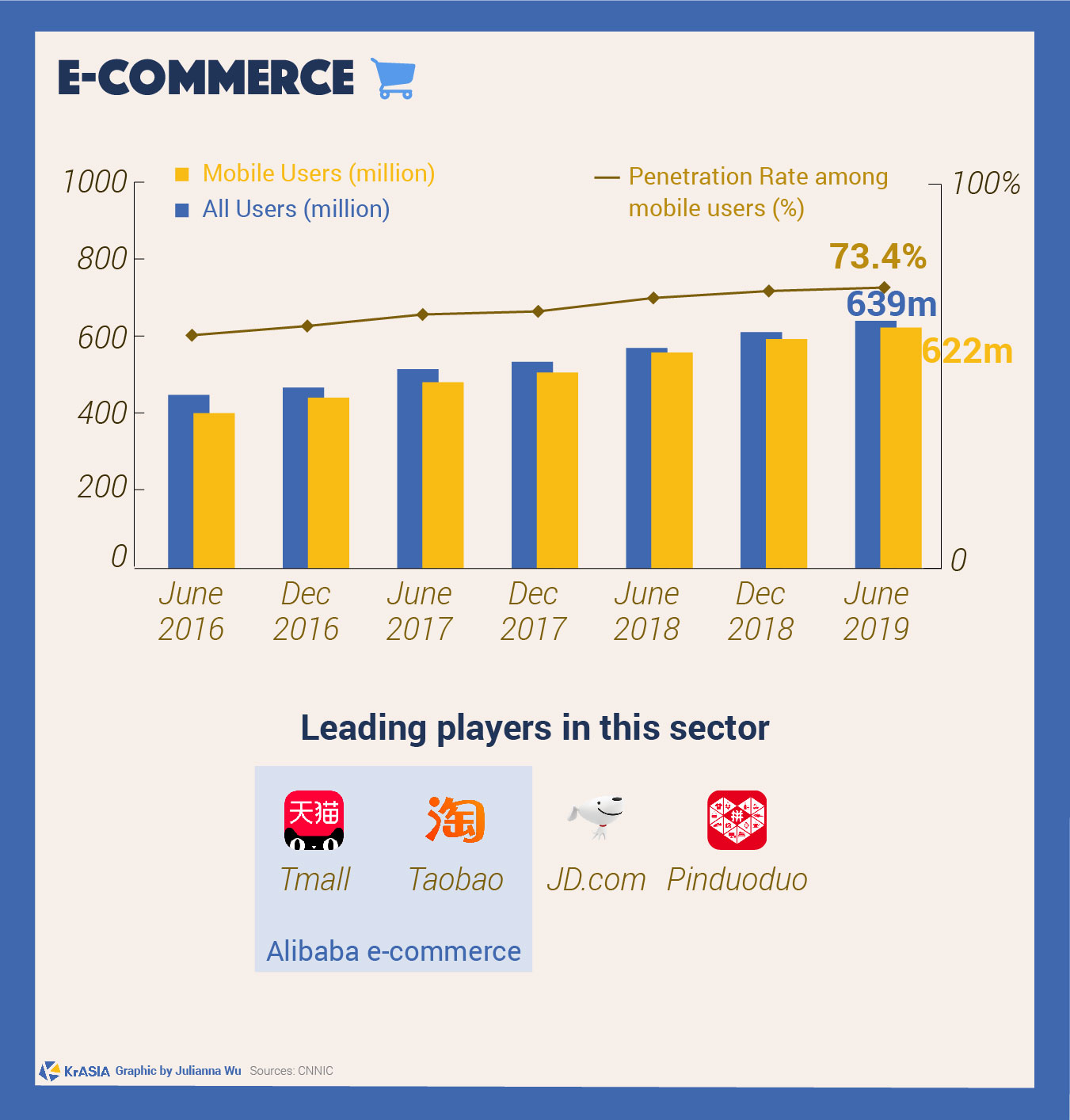 5. Online payment
As the stickers with square codes on them—blue for Alipay and green for WeChat Pay—are seen everywhere in China from street vendors to luxury flagship stores, it didn't take Chinese users much time to use QR codes for online payment.
SEE ALSO: How Alipay is killing cash in China, and wants to take the world stage
However, for the country's 633 million digital payment users, a new online payment method, which doesn't even involve using phones, has come. In 2019, both Alipay and WeChat Pay—China's two dominant online payment applications—rolled out their facial recognition payment devices, named "dragonfly" and "frog pro", respectively.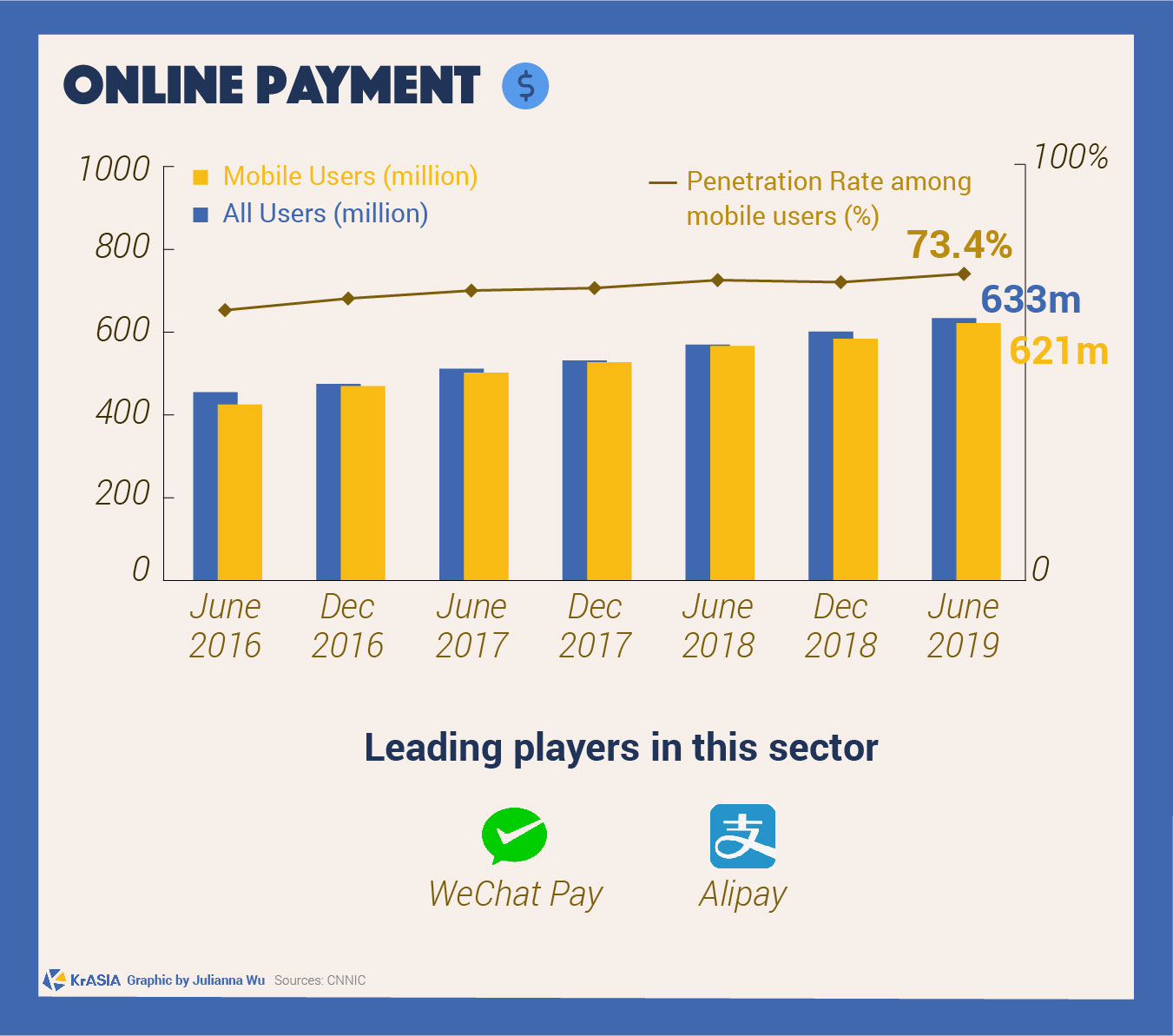 6. Online music
A decade ago, music used to be the topmost reason for people to go online, with 321 million, 83.5% of total internet users then, streaming music on the internet in 2009. In June 2019, the percentage dropped to 71.1% with the number of users being 608 million.
Besides the differences in numbers, online music isn't just about music anymore nowadays.
Tencent Music Entertainment Group, which went public last year with three leading music apps in China, reported 72% of its revenue came from online karaoke and music-centric live streaming services.
The major rival of Tencent music, NetEase Cloud Music, released a new function on its app to encourage social activities among its users.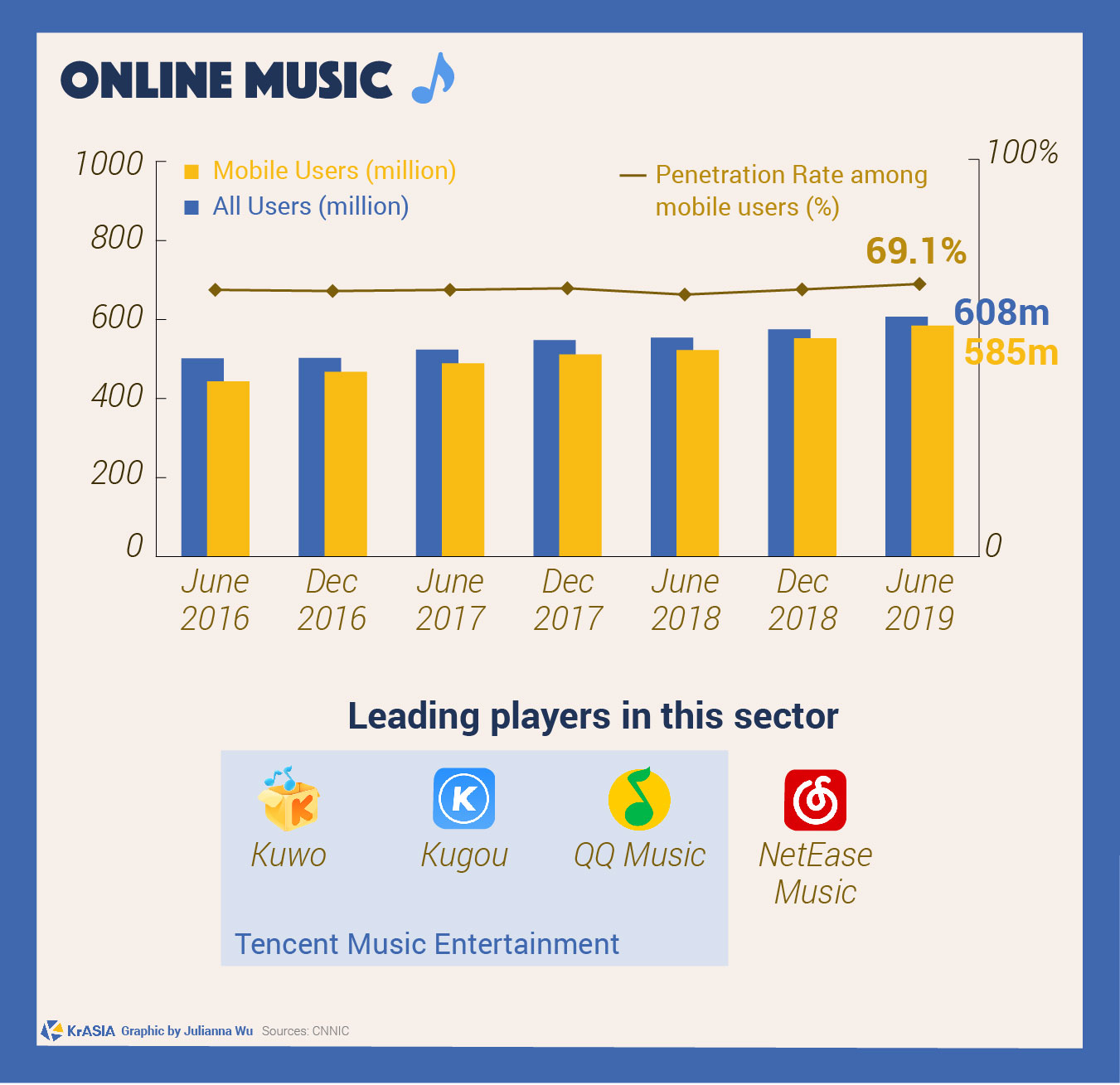 7. Online gaming
As online gaming reached its peak in China, so did the addiction among players, specifically underage gamers. Last year, there was a sharp decline in the number of players due to the suspension of issuing the game licenses and tighter control over game addiction among the underage players. But the market is gradually recovering with a small rise in the number of users, while the penetration rate among mobile users has continued to go down.
CNNIC data shows China has 468 million mobile game players—constituting 94.7% of all its gamers—and mobile phones are the primary device for the players.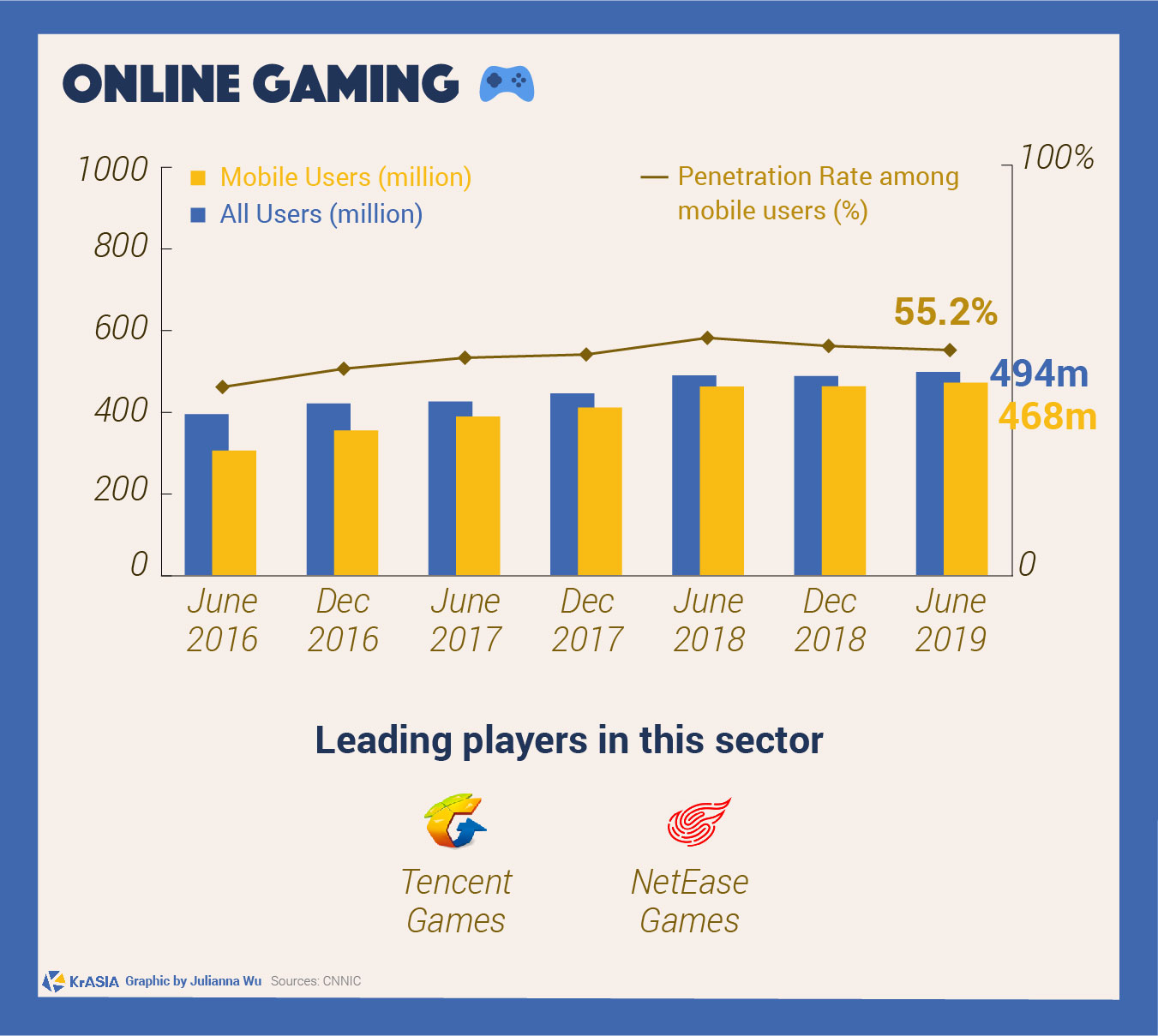 8. Online literature
The online literature sector, that's fast reaching its maturity stage, China's 494 million readers are enjoying a wider choice of topics as more and more younger authors write. According to data from China's biggest online literature platform China Literature, more than 70% of its writers were born after 1990.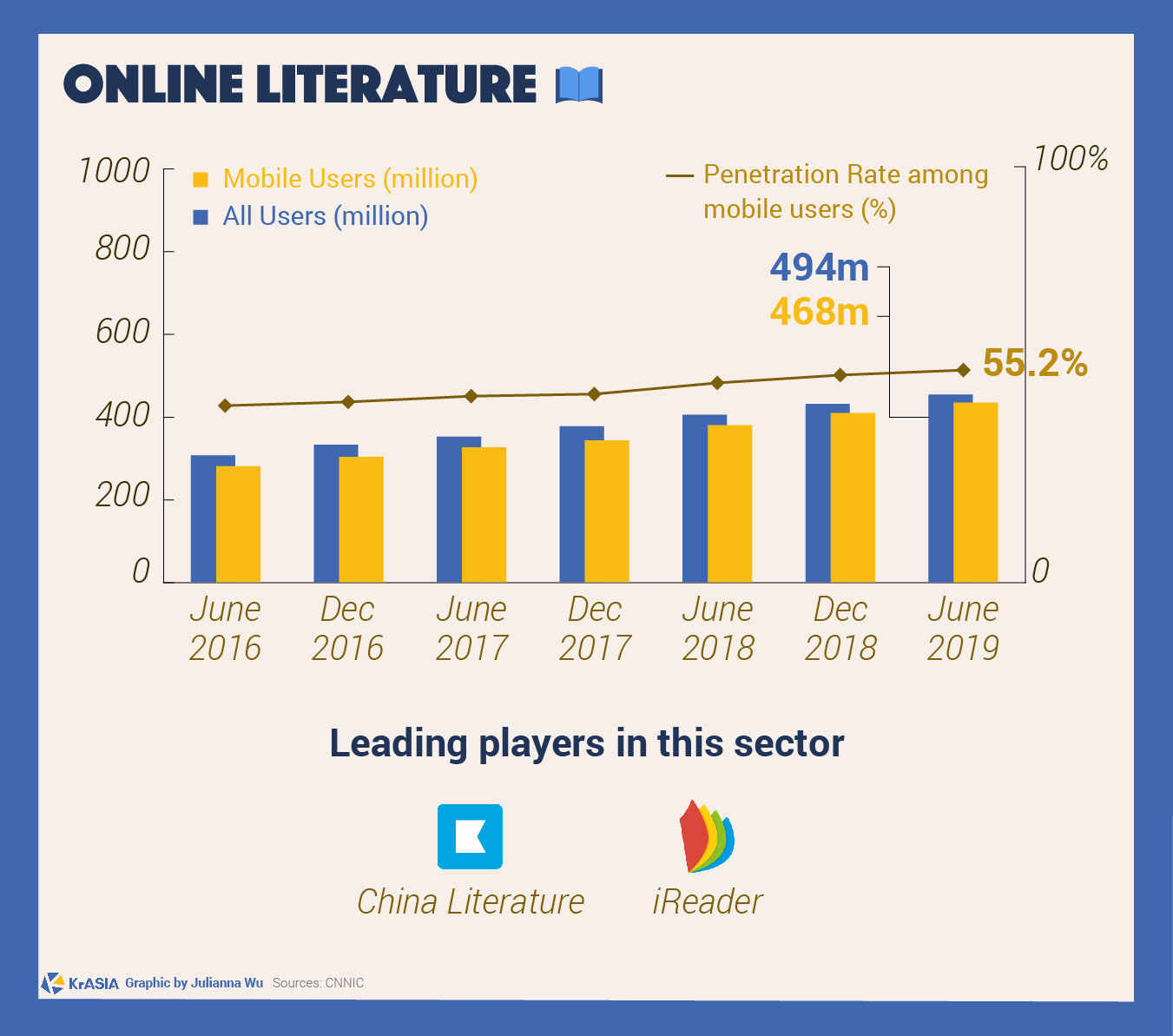 9. Live-streaming
With live-streaming thriving in China, it has become a much more effective way to deliver messages and interact with users than any other internet application. Additionally, live-streaming can easily be synced with other sectors to add value to it. E-commerce plus live-streaming, as aforementioned, is bringing opportunities to both the sectors.
During the "618" online shopping festival this year, Taobao Live-stream sold products worth RMB 13 billion (USD 1.85 billion), according to CNNIC report.
Except for standalone live-streaming apps, it also has wide popularity in broadcasting e-sports, traditional sports, and concerts.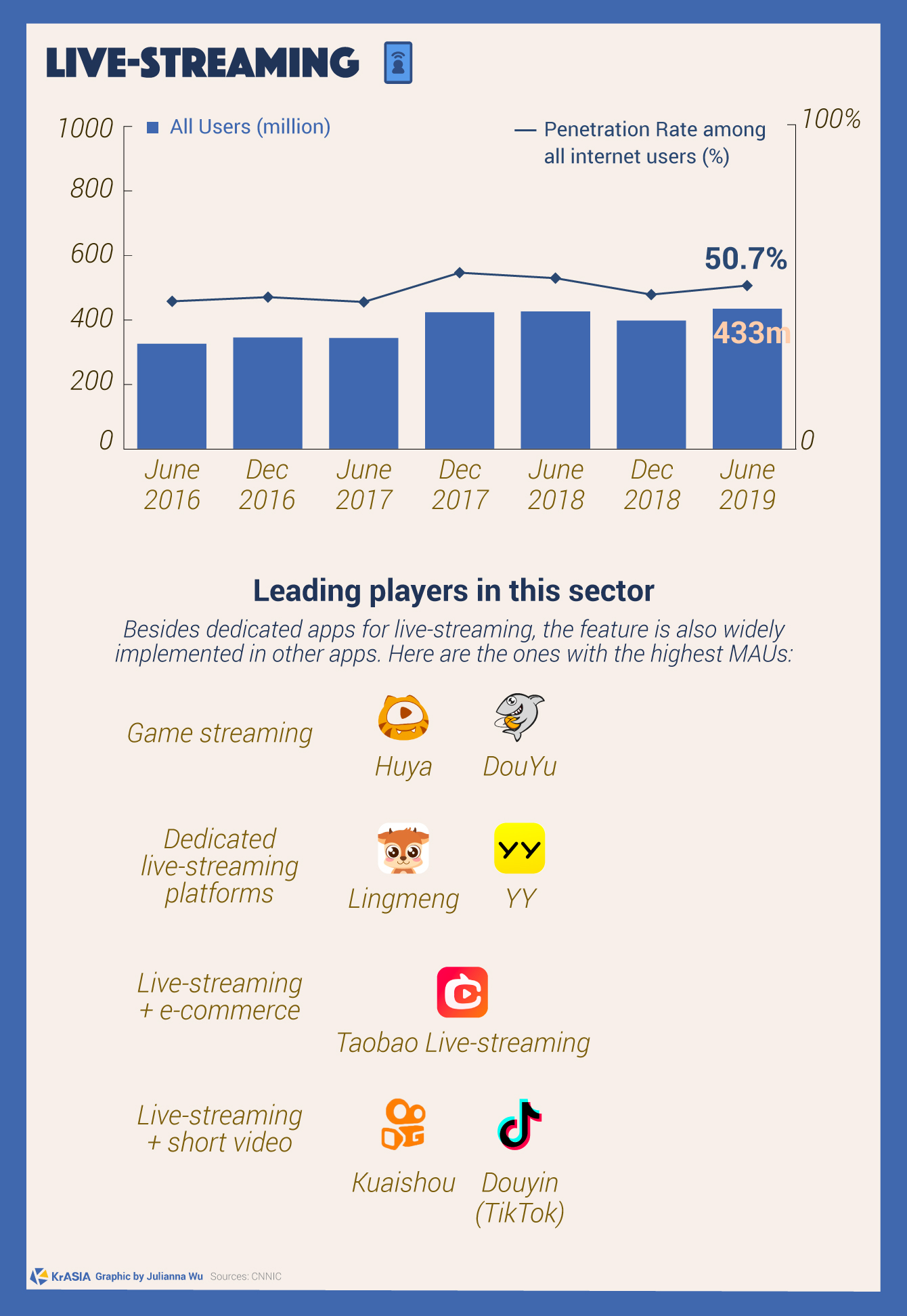 10. On-demand delivery
After an aggressive expansion in the past few years, the on-demand delivery sector has reached a duopoly with Meituan (listed on Hong Kong Stock Exchange as Meituan Dianping) and Ele.me (acquired by Alibaba in 2018).
In the first half of 2019, both platforms raised their commission fees for the restaurants in search of profitability.
SEE ALSO: Buy RMB 30 get RMB 28 off: Ele.me, Meituan slug it out in China to win over consumers
On-demand delivery is not just about food anymore, as the 421 million users of this sector can now order medicine, fresh meat, vegetables, flowers, and groceries on the apps.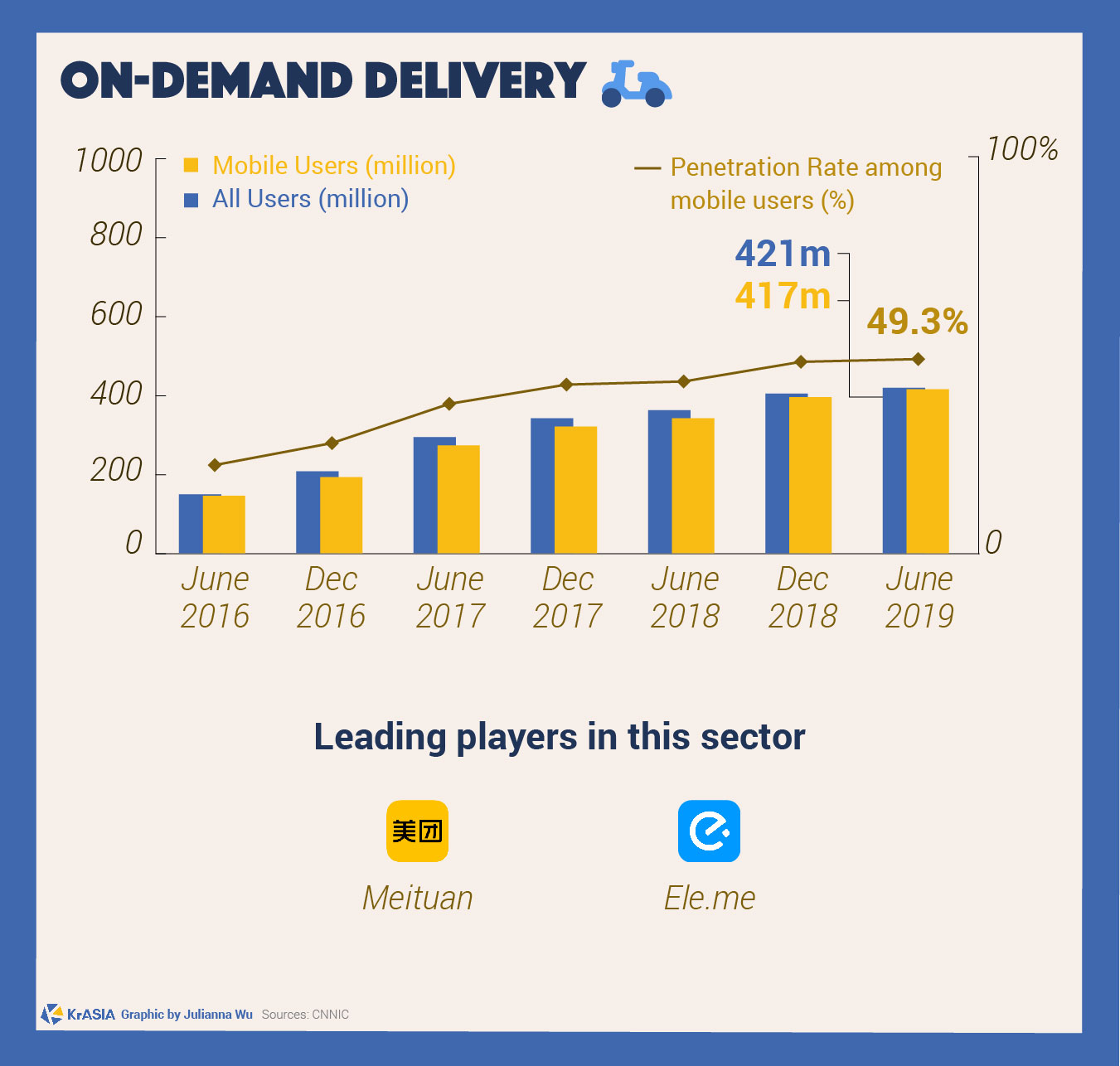 11. Travel booking
As of June 2019, 418 million people used travel booking platforms in China. Working with airlines and hotel chains, online travel agencies also provide tertiary services quite actively such as visa applications, airport drop-off/pick-up, and provide foreign exchange to better serve their users' travel needs.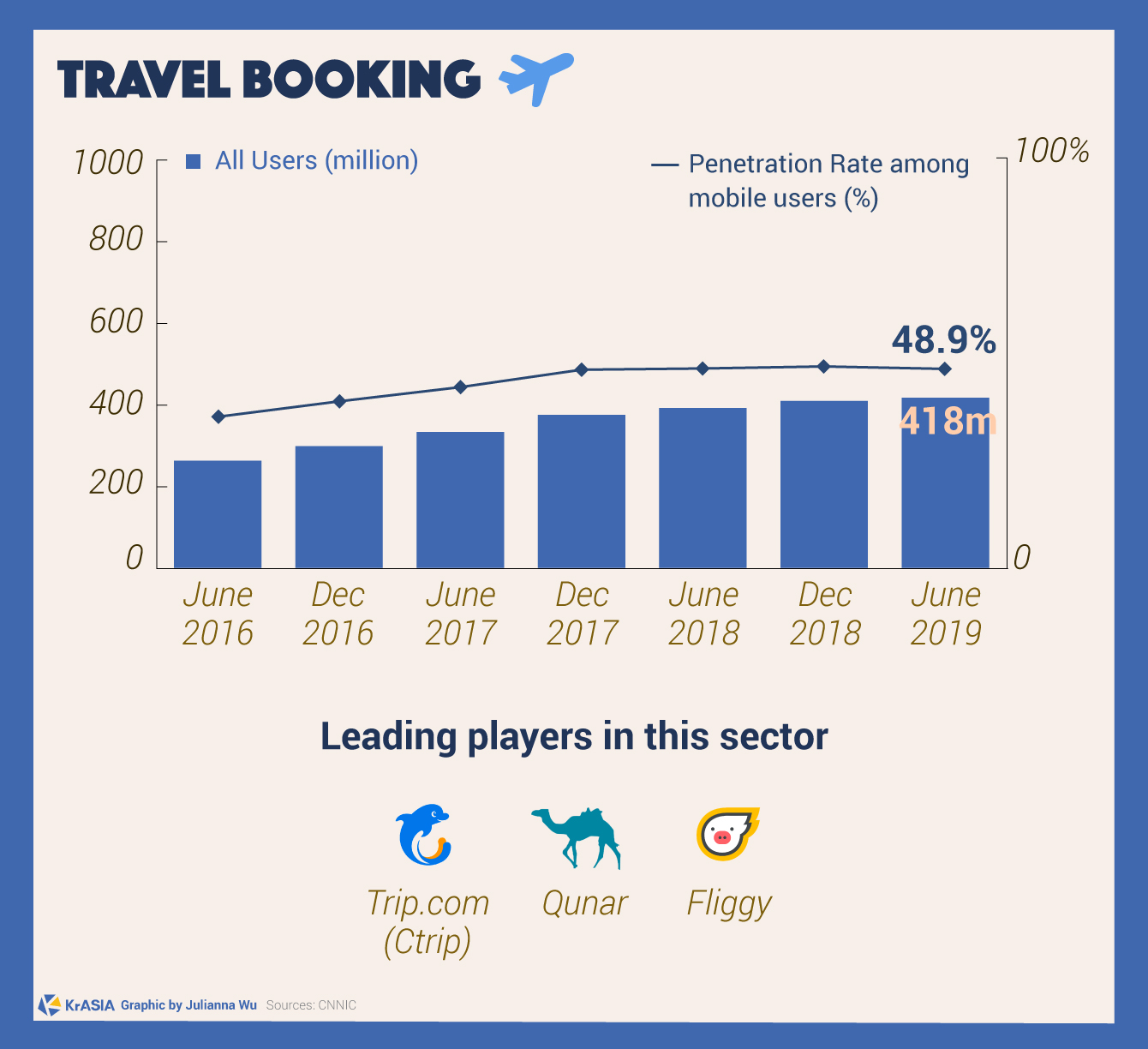 12. Ride-hailing
Although ride-hailing is under strict regulation right now, following the two passengers who were murdered by Didi drivers in 2018, Didi plans to restart its controversial carpooling service as reports say it's losing users for the fifth consecutive quarter. Despite the unfortunate incidents, Didi still holds more than 70% of the entire ride-hailing market, which has 339 million users by June 2019.
To utilize the user bases on their own platforms, Meituan and AutoNavi Map (backed by Alibaba) have started to provide various ride-hailing options on their apps. This makes ride-hailing more efficient from both the user-end and operator-end as users can order cars from many operators at the same time on one app.