With the rise in Certificate of Entitlement (COE) prices in Singapore (the right to purchase and own a car), car-sharing has become an attractive option for occasional drivers looking for the convenience of a car but without the corresponding price tag. And you may have seen this particular company's clean-lined, futuristic logo adorning the side of a car on the road—with 1,700 cars in their fleet, it's hard to miss.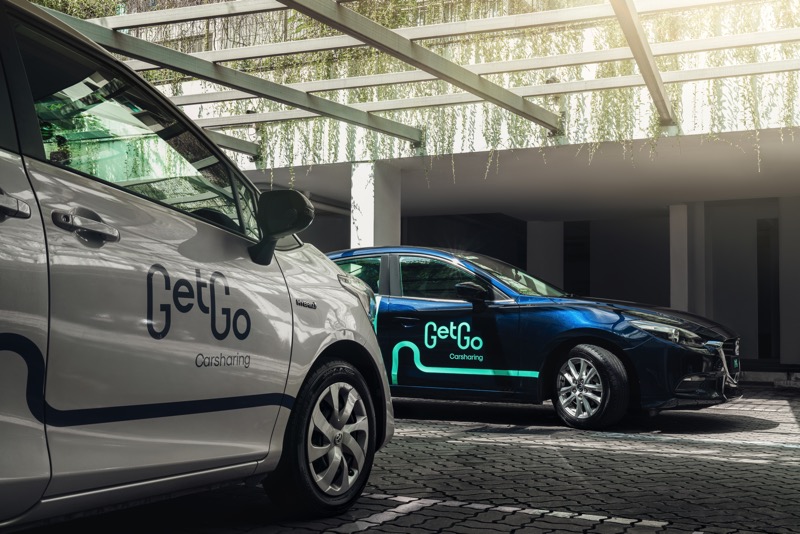 GetGo, which was launched only last year on February 25, 2021, has become Singapore's largest and fastest-growing car-sharing platform. Users can book a car at any of its more than 1,300 locations using the GetGo app, by signing up for an account using MyInfo for instant verification, and gain access to thousands of cars islandwide. A clean, well-designed user interface takes you through the booking, then all you have to do is get to the car you've chosen and use the app to unlock it.
KrASIA spoke with Toh Ting Feng, CEO and Co-founder of GetGo, to learn more about the company's journey so far.
The following interview has been consolidated and edited for brevity and clarity.
KrASIA (KR): How do you differentiate yourselves from other car-sharing platforms?
Toh Ting Feng (TF): Some of our competitors operate on a point A to B model, which means you have to decide the destination when booking and then find parking there. Ours is a point A to A model, so you have the certainty of knowing where you can return the car. It enables us to price our service very competitively—for instance, a booking of 3+ hours on a weekday will only cost you SGD 30 (USD 21), with free use of the car throughout the duration of your booking.
We're also a very user-centric brand. We're the first operator to integrate MyInfo from SingPass, which allows us to approve most of our users instantly since it provides proof of your driver's license. From the very beginning, we decided that we don't want to make people pay for a membership to use our service, and we also didn't want people to have to top up credits into a wallet that we own. We have since integrated additional payment services like PayLah to expand payment options for our users.
On accessibility, we believe that a large-scale islandwide network is important to provide true convenience for our users. We have since deployed close to 1,700 cars across 1,300 locations, so most of the time when you open the app, there'll likely be a few cars within a few minutes' walking distance.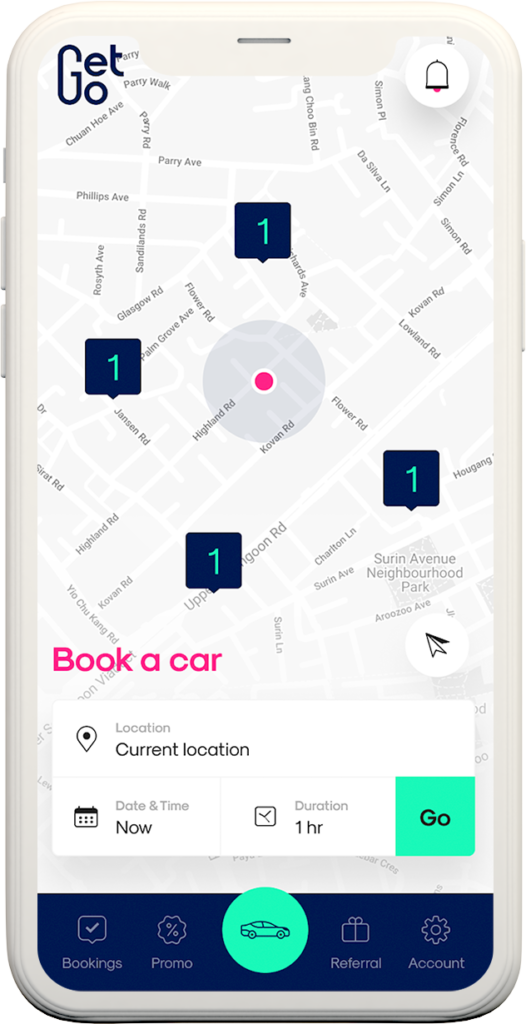 KR: How do you decide which locations to use?
TF: We take a data-driven approach. We look at each potential location's population, the number of users we have in the vicinity, as well as their requests and actual usage patterns. There's a form our users can fill in to request more cars near their homes by keying in their zip codes. We use these various data points and signals to determine where we can best serve our users. For example, if a car in a particular lot is always booked up, we know it's time to increase the number of cars in that location.
KR: You mentioned that GetGo was launched in February 2021. What was the first year like for the company? 
TF: The first year was both challenging and exhilarating at the same time, because car sharing is a complex business. We needed to earn the trust of our fleet partners, as well as our users, by managing the cars well and keeping them in good condition. It was also a challenge to ensure our operations were as smooth as possible. This is why we have continuously invested in technology to overcome these challenges.
We launched with around 300 cars and now we have around 1,700. We had around 10,000 users on the day of the launch, and now we have more than 200,000, a growth of 20x. As a result, we managed to hit more than SGD 10 million (USD 6.9 million) in revenue in just over 10 months in 2021. It's been very humbling and rewarding to see the overwhelming adoption of our service by our users.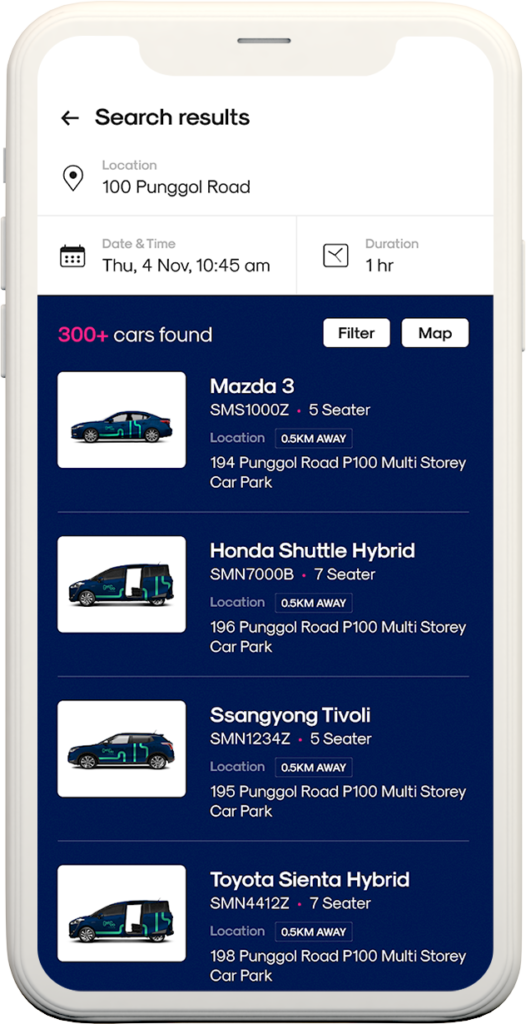 KR: How has the pandemic impacted the car-sharing industry, in your experience? 
TF: Actually, I think COVID-19 was one of the reasons why we started our service. During the circuit breaker, people were obviously scared of going out. Even when the circuit breaker lifted, and people started to go out more, they were still avoiding buses, trains, and taxis.
We thought it was a good opportunity to start a car-sharing service since driving gives you more protection and privacy when going out. And it turned out to be a great time to acquire users. Our pre-launch marketing resulted in 10,000 people on the waitlist for the service, which proved that there was significant unmet demand then.
At the same time, there were also car rental companies with empty cars sitting around, as private hire drivers started to return their vehicles. We realized it was an opportunity to help these companies as well by taking them on as partners. So COVID-19 was a great time to start a car-sharing service and platform. Gradually, as things got better and people went out more, the usage of our service continued to grow.
KR: What are your thoughts on the current car ownership market?
TF: We're currently living in an inflationary environment, so car ownership, like most things, is getting more expensive—COE, fuel, insurance, and so on. Car ownership is generally very inefficient, especially for Singaporeans because even if you own the car and you're not driving it every day, you're probably wasting money, right? And prices are only going to rise because we have a quota on the number of cars on the road in Singapore. With more affluent people moving to Singapore for work or to live, the likelihood is that a lot of would-be owners here may get priced out of owning a car.
But the freedom of mobility is a very basic need, and we believe that it shouldn't be limited to people who can afford SGD 140,000 (USD 100,000) to buy a car. That's why when we launched the service, we were very clear that it was for drivers who don't own cars but still want to drive once or twice a week. Car-sharing is a great way to fulfill that aspiration of being able to drive independently without the heavy financial burdens of ownership.
KR: Where will GetGo be headed next, and what competition do you anticipate while going into these markets?
TF: We're looking at other developed markets, such as Australia, New Zealand, Taiwan, and Hong Kong. In the future, we may go further afield, to markets like Japan, Korea, or even the US and UK.
I think competition for car-sharing isn't as intense as say, the ride-hailing industry. It's not an easy undertaking because there are assets you need to manage—not just cars but also locations. We're very fortunate to have done it successfully in Singapore, and that has allowed us to make significant investments into technology, which will then help us compete better in other countries.
KR: How do you think smart cars with assisted driving functions will impact the car-sharing industry?
TF: Smart cars will be a great plus for us. When cars get smarter, our users can be more relaxed because there are assisted driving functions that will improve the level of safety. In the future, cars can even come to our users to pick them up. We're closely watching the development of the autonomous driving industry because we think it'll make the car-sharing experience even better.