Southeast Asia remained an attractive region for tech investors in 2019, even though total investment dropped from USD 12 billion in 2018 to USD 7.7 billion in 2019, according to a report by early-stage Singapore-based VC firm Cento Ventures. 
According to data analysis from the firm, there were fewer "mega deals" in the region, with a significant increase in smaller deals worth less than USD 50 million. The smaller deals set a new record of USD 2.4 billion, up from USD 1.5 billion in 2018. In contrast, the amount invested in larger rounds (above USD50 million) totalled USD 5.3 billion in 2019, about half of the USD 10.5 billion recorded in 2018.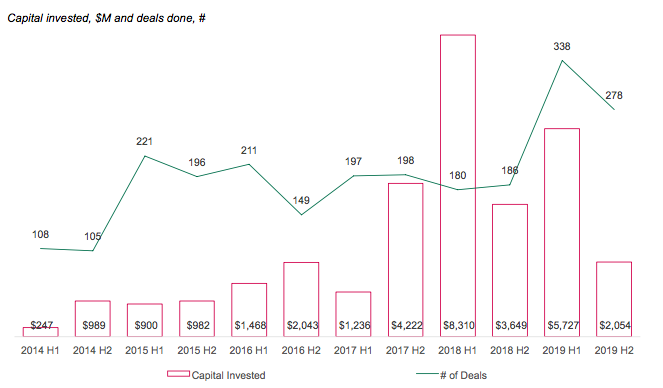 "Since activity at earlier stages has increased (by number and amount), the drop in 2019 investment is likely due to less investment at later stages. However, the combination of ongoing fundraising from the current unicorns, and the newer crop of tech businesses that are approaching late stages and raise larger rounds does provide the possibility for the upward trend to return in 2020," said Mark Suckling, one of the report's authors and a partner at Cento Ventures, told KrASIA.
Grab and Gojek, the region's two established decacorns, had major rounds in 2019 but "appeared to be smaller than in the previous year," the report noted. Funding for Grab in 2018 and 2019 amounted to USD 5.1 billion, according to calculations by Cento Ventures, while Gojek collected USD 3.7 billion during that time. The report takes into account funding for Grab and Gojek in the year when it was announced, as both companies have been going on multi-year fundraising initiatives.
In 2019, other major tech firms in the region also recorded large investment rounds, including Traveloka (USD 420 million) and VNPay (USD 300 million). Some less familiar names include Vietnam's e-logistics services provider Scommerce (USD 100 million), Indonesian edtech startup Ruangguru (USD 150 million) and Singapore-based artificial intelligence startup Advance.ai (USD 80 million).
Multi-vertical (referring to diverse digital businesses offered by companies such as Grab and Gojek) and online retail remain the most heavily funded categories, while financial services, payments, and travel sectors continue to attract investment. Logistics, healthcare, and education are also sectors to watch as funding grows, the report highlighted.
Notably, while Indonesia continued to capture the majority of capital invested in the region, its share declined from 76% in 2018 to 59% in 2019.
Vietnam has produced more late-stage companies such as Tiki, VNPay, and Sendo. For the first time, investment in Vietnam startups exceeded Singapore. Funding to Vietnam-based startups accounted for 18% of the total investment in the region (or USD 741 million), a huge jump from the previous year where it only accounted for 4% (or USD 287 million).
There has been increased discussion over the past year about prioritizing profitability to avoid a possible "capital winter" for startups, following the WeWork fiasco. However, the report emphasized that the fundamentals of the region remain positive: a large, rapidly digitizing population that demands online services, and many industry sectors adopting new technology to transform their operations.
Additionally, the current coronavirus outbreak has caused some concerns over a possible slowdown of tech investment in Asia. However, Suckling said it is too early to predict the outbreak's effect on the flow of tech investment from China to Southeast Asia.