Southeast Asia recorded a total of USD 226 million in health-tech investments in 2019, with Singapore and Indonesia scoring about 93 percent of the total funding value, according to a report by Singapore-based advisory firm Galen Growth.
The findings are part of Galen Growth's report on health-tech investments in the Asia-Pacific region. The report noted that last year's amount was a record for Southeast Asia in particular, reflecting growing maturity in the ecosystem.
Singapore accounted for the three largest deals in the region (Biofourmis, CXA Group, and Lucence Diagnostics) and Indonesia for two other mega deals (Halodoc and Alodokter).
By deal volume share, Singapore kept its lead in the sub-region with a 54% share, though shrinking from 74% as neighboring countries expanded their ecosystems and attractiveness.
Malaysia, Indonesia, Vietnam, and Myanmar increased their deal volume share in 2019. Notably, Vietnam catapulted into the ranking tables with a 11% share.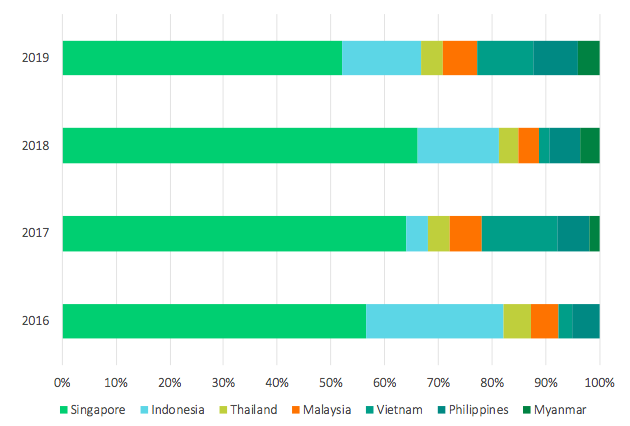 The most funded health-tech categories in Southeast Asia by value were health management solutions, patient solutions, medical diagnostics, medical education, and population health management.
While total early stage deal volume share shrunk, growth stage deals continued to gain momentum, representing 37.5% of all shares in 2019; up from 85% as compared to 2018.
In a white paper titled How tech will meet evolving healthcare needs in Southeast Asia, Singapore-based VC Monk's Hill Ventures also notes how Southeast Asia is poised to be at the forefront of global healthcare innovation as healthcare expenditure is expected to hit USD 740 billion by 2025.
Overall in the Asia-Pacific region, the health-tech ecosystem closed about USD 5 billion in investments across 340 deals in 2019, according to Galen Growth, despite geopolitical and domestic headwinds.