The Southeast Asian e-commerce market is an ever-evolving rat race with competitors continuously joining and chasing the pack. Shopee, currently in a leading position, is already feeling the tension like an arrow on a bowstring.
In mid-September, Forrest Li (also referred to as Li Xiaodong), founder and CEO of Sea Group, the parent company of Shopee, sent an email to all employees mentioning the company's imminent need to gear up for a fight. This extended to a willingness to incur losses for some quarters in the near future, which seems unusual for Shopee as it had been focusing on reducing costs and improving its efficiency.
Established in 2015, Shopee enjoyed a meteoric rise in the region amidst rapid e-commerce growth and has maintained a largely consistent lead over its peers. According to an e-commerce report released by Momentum Works, the total gross merchandise volume (GMV) of Southeast Asia's market was USD 99.5 billion in 2022. Shopee ranked first with a GMV of USD 47.9  billion, nearly half of the total. Lazada, which followed behind, had only half of Shopee's GMV. Newcomer TikTok Shop's GMV was only one-tenth of Shopee's.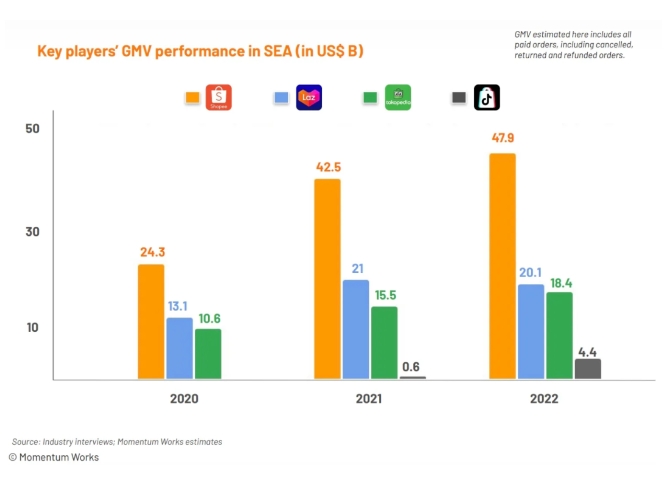 However, Li's company-wide email is evidence that the Southeast Asian e-commerce market has gotten more cutthroat. Shopee's leading position is actually more fragile than it seems. Recently, Alibaba Group increased its investment in Lazada, perhaps with a foreboding for the upcoming battle. Temu, with the support of Southeast Asian logistics veteran J&T Express, also entered the market promising low and subsidized prices, free returns within 90 days, and 30-day price protection.
Southeast Asia remains one of the few continents with significant potential for growth amidst a global market downturn. But with competitors gunning relentlessly for a share of the market, the space left for Shopee is shrinking. Just as it was bringing itself back on course toward profitability, Shopee announced that it would once again consider burning money. In reality, this seems like a move compelled by urgent circumstances.
The origins of Southeast Asian e-commerce
This battle between the likes of Shopee and other e-commerce companies in Southeast Asia began earlier than one might imagine. E-commerce platforms focusing on specific markets started to emerge as early as 2009. For example, Tokopedia, primarily focused on the Indonesian market, was founded in 2009 and has received investments from Alibaba and Google. According to a financial report recently released by its parent company, Tokopedia's total revenue in 2022 was IDR 8.6 trillion (USD 560 million). Other regional e-commerce players targeting specific regions include Bach Hoa Xanh in Vietnam, Carousell in Singapore, and PGMall in Malaysia.
Regional e-commerce platforms such as Shopee and Lazada appeared in 2012. The next generation of platforms, including TikTok shop, Shein, and Temu, may present more modest GMVs, but their speed and determination to penetrate the market have proved sufficient to make the established players nervous. Temu entered the Southeast Asian e-commerce market in mid-2023, launching in the Philippines on August 27. Less than half a month later, Temu unveiled a site targeting the Malaysian market.
According to Insider Intelligence's forecast report for global retail e-commerce this year, Southeast Asia remains the fastest-growing e-commerce region in 2023, ranking at the top globally for the third consecutive year. Among the countries in the region, the Philippines, Indonesia, Malaysia, Thailand, and Vietnam are all in the top ten in terms of e-commerce market growth rate, with growth rates exceeding 12%.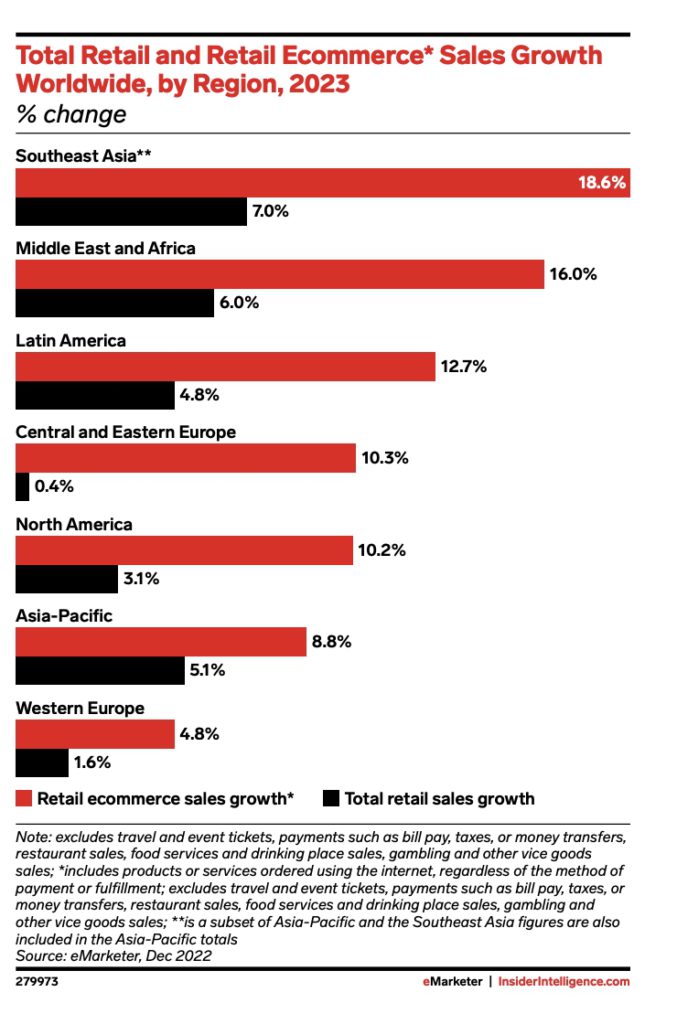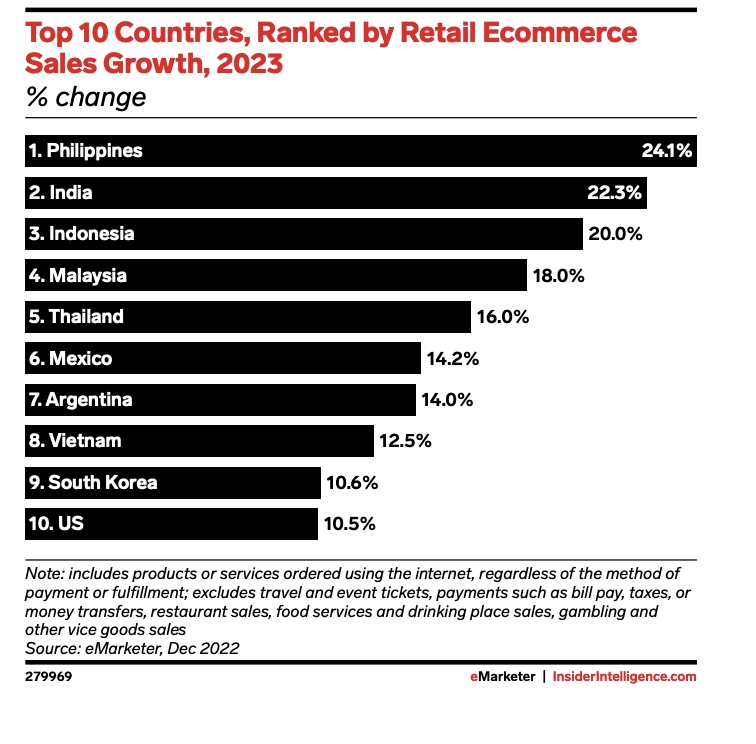 Its inherent market potential, along with the turmoil in other regions, has also contributed to the entry of various players into Southeast Asia, including tech giants. Tencent and Alibaba have long bet on the Southeast Asian market as a focal point of growth outside their domestic markets. This has similarly inspired TikTok Shop, Temu, and Shein, which have found relative success in the US market.
Each entry of a new platform is akin to a catfish entering a pond, stirring up the Southeast Asian e-commerce market. With the competition at its doorstep, each platform has to brainstorm how to gain an advantage in an increasingly saturated market.
Shopee grew too fast for its own good
Shopee rose to prominence in the region leveraging low prices and an aggressive marketing strategy. It took advantage of Alibaba's takeover of Lazada and the internal chaos that ensued, capturing a significant market share with a business model prioritizing low-price promotions and utilizing multiple channels to drive traffic. This was largely how it grew to become the number one e-commerce platform in Southeast Asia.
But investing heavily in low-price strategies and marketing to stay in the top position comes with a hefty price tag that has long left Shopee in a state of losses. It was kept afloat largely by its parent company's gaming business.
Furthermore, in terms of strategy, Shopee often focused too much on price wars and publicity, neglecting the development of logistics and supply chains, which are essential foundations for long-term growth. In 2021, Shopee, weak in its ability to generate revenue and with an unstable foundation, entered a phase of sluggish growth. Consequently, it turned to seek greener pastures outside the region. Shopee's high-profile entry into foreign markets, contrary to its successes in Southeast Asia, mostly backfired. It withdrew completely from the European market, and its presence in Central and South America is only a shadow of its former self.
Shopee, like a runner who was far ahead in the early stages of a race, had accelerated beyond a pace its endurance could hold. The result was a hasty retreat. Following this, the company initiated downsizing measures, salary reductions, and made adjustments to its strategies, including optimizing its live broadcasting feature, Shopee Live.
Finally, in the second quarter of this year, Shopee turned losses into profits.
Southeast Asia's evolving e-commerce market
While Shopee was adjusting its state, changes in the market environment provided some breathing space. Firstly, TikTok Shop, a notable competitor, encountered roadblocks in Indonesia. In mid-2023, a senior Indonesian government official mentioned that TikTok was suspected of monopolistic practices and called for its e-commerce operations in Indonesia to be prohibited.
In recent years, the Indonesian government has implemented several policies to restrict cross-border companies. At the end of July this year, Zulkifli Hasan, Indonesia's trade minister, said that Indonesia would limit the online sale of imported goods priced below USD 100. Importation of these goods would also require additional permits, namely the Indonesian National Standard (SNI). In response, TikTok has emphasized that it does not intend to operate a full-scale cross-border business in Indonesia.
Although TikTok has not been completely banned by the Indonesian government, recent reports indicate that it is only allowed to advertise and promote goods or services, with restrictions placed on business transactions. This has negated the threat of TikTok Shop, easing the pressure on Shopee.
Secondly, according to data provided by Similarweb, Shopee still has a traffic advantage in the Southeast Asian e-commerce market. Based on the trend of page visits from June to August 2023 in the six e-commerce markets of Southeast Asia (Singapore, Malaysia, Indonesia, Thailand, Vietnam, and the Philippines), Shopee remains in a leading position in terms of page visits. In August 2023, Shopee drew around 520 million mobile and desktop visitors, compared to 500 million in the previous month. This was also more than three times that of Lazada, which held second place.
The unpredictability of the Southeast Asian market makes it difficult to forecast the future prospects for e-commerce platforms. Temu and TikTok Shop may achieve rapid growth in the short term, but enduring and surviving in this market may be more challenging than they initially anticipated.
The intensity of competition has already led to the departure of some players. Due to reasons such as high costs and poor business performance, Shein exited the Indonesian market in mid-2021, and JD.com closed its Indonesian and Thai sites earlier this year.
Shopee is clearly far from ready to concede. After all, it still has a strong foothold in the market with a gargantuan user base. To hold its fort for the foreseeable future, however, it needs to be ready to invest in its supply chain, logistics, user growth, and other aspects to help it stay competitive.
KrASIA Connection features translated and adapted content that was originally published by 36Kr. This article was written by Chen Siyuan for 36Kr.