Singaporean tech group Sea is expanding its footprint in Europe, India, and the US, drawing investor attention as a rare example of a Southeast Asian digital player that has gone global.
New York-listed Sea's market value, USD 188 billion as of Friday, reached USD 200 billion for the first time in October, doubling from the beginning of this year. It is by far the biggest among Southeast Asia's listed companies and is gradually nearing its Chinese peers, such as Alibaba Group Holding and Tencent Holdings, whose values were significantly slashed due to domestic tech crackdowns.
On Tuesday evening, Sea will release its earnings for the three months through September. Analysts' mean estimate points to a net loss of USD 305 million, according to a Refinitiv poll, versus a USD 420 million loss in the same quarter last year. Revenue is estimated to have doubled to USD 2.45 billion by respondents to that poll, driven by growth in its core businesses—online gaming, e-commerce, and digital finance.
While the quarterly results will likely highlight the company's top-line growth and huge marketing expenses in its core markets of Southeast Asia and Latin America, Sea is now seeking expansion beyond that.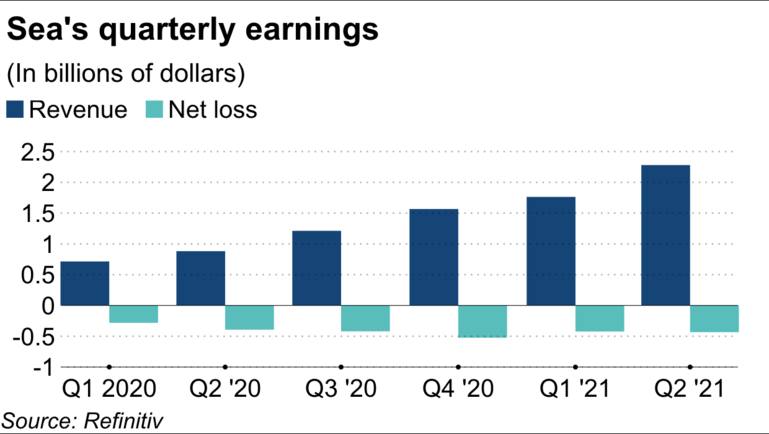 Since late September, it launched its Shopee e-commerce sites in Poland, Spain, France, and India, adding to its hitherto 11 markets. Businesses in the new markets remain in the nascent stage, but they could potentially grow if the company can replicate its penetration strategy, such as free delivery and other aggressive campaigns that it has implemented in existing markets.
Sea began as an online gaming company. In 2015, it launched e-commerce in six Southeast Asian countries as well as Taiwan. The e-commerce unit entered Brazil in 2019, then Mexico, Chile, and Colombia earlier this year. The Brazil business grew fast: Last year, Sea earned 18% of its total revenue, including other businesses, in Latin America, up from 13% in 2019, according to the latest annual report. Its gaming business, called Garena, is already profitable thanks to the popular "Free Fire" title and supports the company's e-commerce growth.
"The experience rolling out their business in Southeast Asia has given the company valuable experience in rapidly expanding the scale and scope of the business across the region and especially some like Indonesia," said Angus Mackintosh, analyst and founder of CrossASEAN Research.
"The company is also well-positioned to hire new talent in the various new territories including Poland, Spain, and France in Europe," he added, noting its strong cash position. "The initial stages of the build-out are probably not that expensive, which gives the company time to work out the competitive landscape."
Sea's global expansion is about more than e-commerce. In the latest development, announced on Friday, corporate investment arm Sea Capital led a USD 725 million funding for US blockchain company Forte, along with US investment firm Kora Management.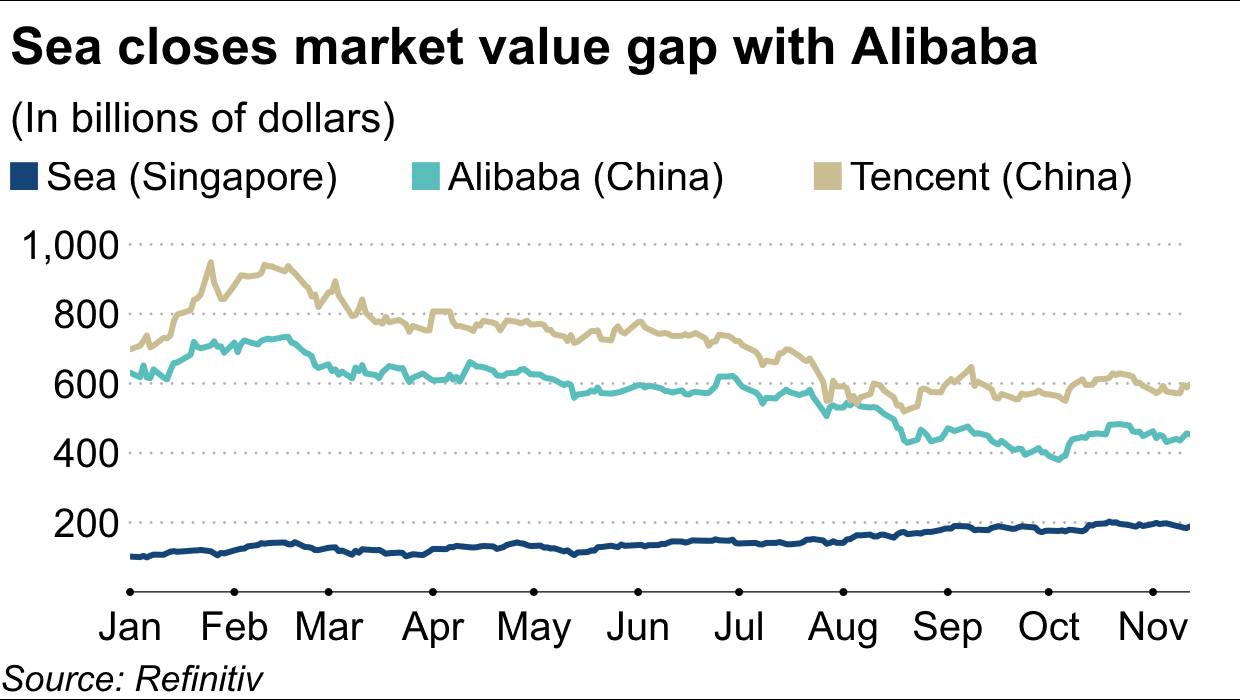 Forte enables game developers to easily integrate blockchain technologies, such as cryptocurrency wallets and non-fungible tokens, into existing and new titles. Though Sea did not say anything about potential business alliances with Forte, the deal highlights Sea's interest in the emerging technology as companies start incorporating cryptocurrency into games.
Sea established Sea Capital earlier this year, injecting initial capital of USD 1 billion. Forte was Sea Capital's third publicly disclosed investment and its largest single investment, according to a source familiar with the matter. The other two were Bahamas-headquartered cryptocurrency exchange FTX and Mexican used car platform Kavak.
These investments in themselves could provide high returns for the company, while potential business partnerships with them could help Sea's core businesses.
So far, Sea's strategy of prioritizing growth over profitability has won the backing of stock market investors, especially given concern about regulatory headwinds for Chinese tech giants. In a recent move, Sea in September raised about USD 6 billion through new shares and notes, reflecting investors' high expectations.
But the environment is changing. Additional Southeast Asian startups plan to go public in the US, providing more options for investors and fueling competition in local markets. As such, successful expansion into new markets will be a key for Sea to continue attracting investors, according to an analyst.
Justin Tang, head of Asian research at United First Partners in Singapore, pointed out that Sea's "overwhelming reliance on Garena is plain to see," referring to its profitable gaming business. "While it's important not to 'grow at all costs,' investors generally want to see continued expansion across the depth segments and geographic breadth."
This article first appeared on Nikkei Asia. It's republished here as part of 36Kr's ongoing partnership with Nikkei.