Reliance Industries rolled out its ambitious e-commerce venture, JioMart, in 200 Indian cities last Saturday. Its footprints now span metro, tier-1, as well as tier-2 cities including Delhi, Chennai, Kolkata, Bengaluru, Pune, Bokaro, Bathinda, Ahmedabad, Gurugram, and Dehradun.
To begin with, it's selling fresh fruits, vegetables, dairy, staples, and personal and healthcare products. Its supply-chain includes partnering with local retailers or kirana shops, as well as leveraging its own retail chain of Reliance Fresh. Going forward, JioMart would also get into other categories such as fashion and electronics and would source products from its physical chain of outlets under Reliance Retail. It has a network of nearly 10,000 physical outlets in more than 6,500 cities and towns.
Just as it disrupted the telecom market with its dirt-cheap call rates and data plans in 2016, taking on the former leaders in the space, it is now looking to rewrite the Indian online retail story. Its primary tactic is to offer heavy discounts that currently hover anywhere from 5 to 50% across categories catered by JioMart.
This comes almost four weeks after the company owned by Asia's richest person Mukesh Ambani started offering JioMart services through WhatsApp, the chat platform from social networking giant Facebook. Reliance had inked a USD 5.7 billion deal with the Menlo Park, California-headquartered firm in the second half of April in lieu of a 9.9% stake in its digital arm Jio Platforms. The strategic investment gave Reliance a right to use WhatsApp to offer its e-commerce services to the latter's 400 million users.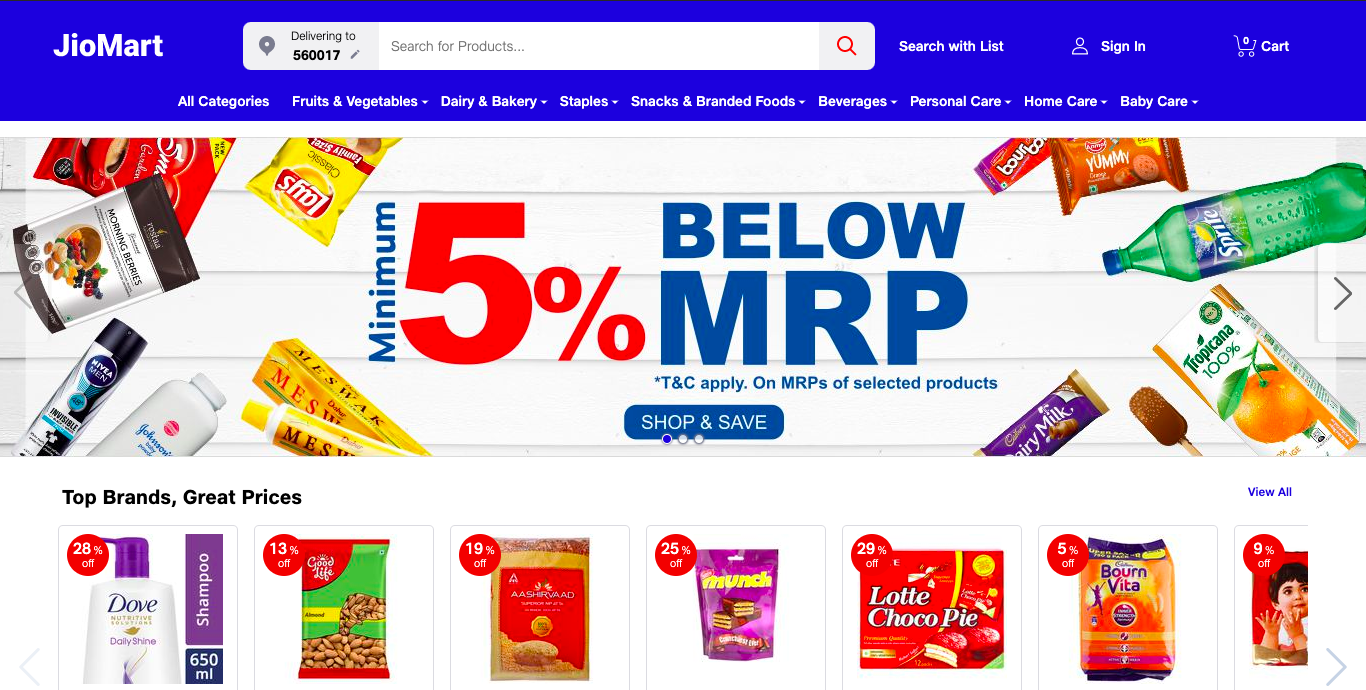 While users can order from JioMart using WhatsApp in three regions in Mumbai for now, the company is working to expand it to all the 200 locations. The company is also reportedly building its mobile app.
Last August, during the company's annual general meeting, Reliance chairman Mukesh Ambani had said the company will partner with 30 million mom-and-pop stores to provide them end-to-end digital and physical distribution. On the eve of the new year, the company announced the soft launch of JioMart, starting with Mumbai. Over the next few months, as the coronavirus outbreak hit the country and millions of Indians were forced to stay indoors to prevent the virus' spread, the company started working day and night to capture the opportunity at the right time.

It is now directly competing with online grocers including Alibaba-backed Bigbasket, the market leader and Softbank-backed Grofers. Online grocery has of late become an opportune space even for tech companies.  While Amazon has bet big on the grocery sector in India, food delivery giant Swiggy is also using its delivery fleet to dispatch groceries. Over the past two months, the Bengaluru-based company has expanded its grocery delivery service to over 150 cities. Google-backed concierge service Dunzo is also one of the strong players in this space.
It is to be noted that over that last one month, Reliance has raised USD 10.3 billion by selling stakes in Jio Platforms from marquee tech investors including Facebook, Silver Lake, Vista Equity Partners, and General Atlantic, and KKR. Although the mad rush to raise money is to primarily cut Reliance's USD 21 billion net debt to zero, nonetheless, it helps to have its coffers full and deep-pocketed investors by its side.
According to a Techcrunch report, Reliance Retail is planning "to expand JioMart to more than a thousand districts in a year and also widen its catalog to include electronics and office supplies among a variety of other categories."