Sultan Gustaf Al Ghozali's life changed forever after news of how he sold hundreds of selfies in the form of non-fungible tokens (NFTs) went viral. On January 10, the Indonesian student minted 933 photographs of himself as NFTs and put them up for sale on OpenSea, the world's largest NFT marketplace. Within two weeks, the total traded volume of his images hit ETH 387, the equivalent of USD 945,000.
Spurred by Ghozali's success, many other Indonesians have followed in his footsteps by creating their own NFTs, including random images of babies and food. Some NFT creators have even minted images of their identification cards, inadvertently putting sensitive personal information like their names and addresses online. One particular creator even posted a caption accompanying his NFT that read, "I need money, so I sell my own ID card."
In the wake of this frenzy, dubbed the "Ghozali effect" by Indonesian netizens, the country's Ministry of Communication and Information Technology (KOMINFO) announced that it will work with OpenSea to block access to NFTs that are in violation of Indonesian law, according to a CNN news report. The ministry said in a press release that it will supervise NFT transactions in the country and take legal action against internet users who disseminate content such as those that breach personal data privacy regulations and intellectual property rights on NFT marketplaces.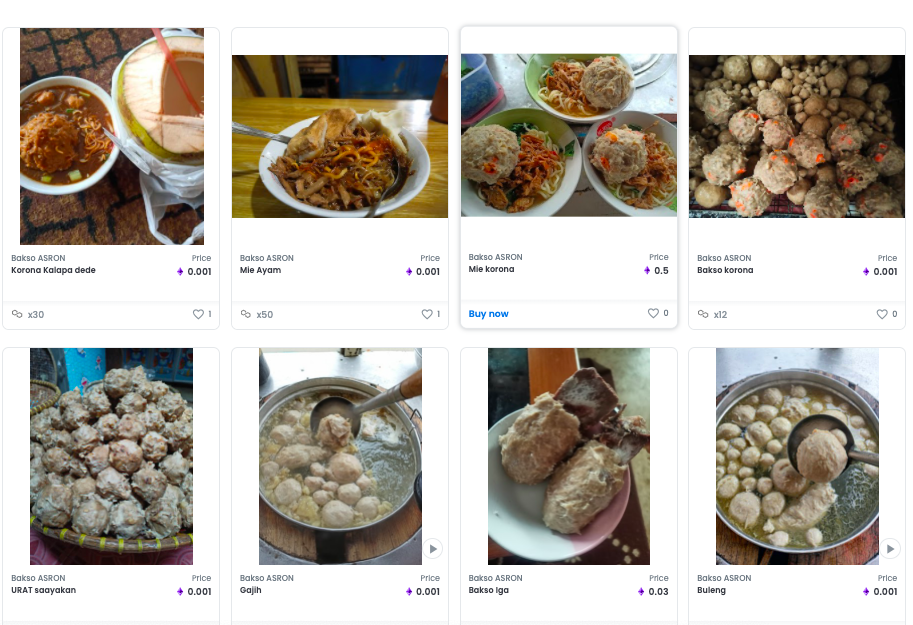 NFTs are data units stored on a blockchain, each associated with an asset, which is often a digital file. While the popularity of NFTs in Indonesia has soared in recent months, backed by local celebrities and influencers who have created and distributed their own tokens, the NFT minting rush has put the spotlight on digital and crypto literacy in Indonesia.
Defined by the American Library Association as the ability to use information and communication technologies to find, evaluate, create, and communicate information, digital literacy not only equips one with the knowledge of using digital tools such as booking a taxi ride through mobile apps, but also encompasses an understanding of why people buy and sell digital assets.
"New creators or sellers who hope to earn quick money may not understand that when they sell NFTs, they sell the copyrights and sometimes 'bragging rights' of a digital asset, usually digital artworks," said Asih Karnengsih, chairwoman of the Indonesian blockchain association. "Although almost anything can be minted as an NFT, it is ridiculous to sell and distribute personal data such as ID cards in public spaces, as this would put them in a vulnerable position against cybercrime."
In 2021, Indonesia's digital literacy index was measured at 3.49 on a scale of 5, up slightly from the previous year's 3.46, according to a survey conducted by KOMINFO. The study, carried out in 514 cities and involving 10,000 internet users aged between 13 and 70, revealed an increasing awareness of digital tools among locals and their growing desire to understand and adopt such tools.
As interest in NFTs grows in Indonesia, so has the number of NFT marketplaces. In the past two years alone, homegrown NFT trading platforms have been set up, including TokoMall by Tokocrypto, Paras, and Kolektibel. Yet, the rapid expansion of such marketplaces also introduces the chance of fraud. Creators and sellers must both do their research so that they don't get scammed, Karnengsih said.
To protect the interests of investors, some governments are implementing new regulations. In Singapore, the Monetary Authority of Singapore (MAS) has issued guidelines banning crypto trading platforms from advertising in public areas, including public transport, public venues, public websites, as well as on broadcast and print media. Companies are only allowed to advertise crypto services on their own websites, apps, and social media accounts.
This is in contrast to Indonesia, where the marketing and promotion of crypto and digital assets are openly carried out by crypto trading platforms, influencers, and celebrities. Karnengsih argued that it is not necessary to ban crypto ads in Indonesia.
"Here, crypto assets are regulated by the Commodity Futures Trading Regulatory Agency, or Bappebti, which has issued a whitelist of tokens that can be traded. So Bappebti will review every new coin that enters the local marketplace," said Karnengsih.
There were 9.5 million crypto investors in Indonesia in October 2021, and that number will likely continue to grow. This makes digital literacy an important prerequisite for people who are building their personal wealth. To this end, Karnengsih said, programs to educate the public about digital and financial literacy have been launched since 2017 by industry players and regulators such as Bappebti. These include workshops and seminars held at universities and communities across the country, as well as national and international blockchain events such as the annual Indonesian Blockchain Conference.
Karnengsih is confident that digital literacy in Indonesia will rise in tandem with crypto investment and usage. "I think the adoption of blockchain, crypto, and NFTs will be more widespread in the next two to three years, especially since there are already a few local metaverse projects that require digital assets like NFTs," she said.
Meanwhile, the general public needs more time to be familiarized with blockchain-based services and NFTs, given that they are relatively new technologies, she added. "I hope that industry players and the authorities can continue to collaborate to create programs that can boost the digital and financial literacy of the community."