Gojek has partnered up with health tech startup Halodoc to launch Check COVID-19, a free online medical consultation service for Indonesians who may be experiencing COVID-19 symptoms.
"Through this collaboration with Halodoc, we hope to provide millions in our home market with access to quick medical guidance and care, while supporting Indonesia's Ministry of Health in implementing national social distancing measures," said Gojek co-CEO Andre Soelistyo in a statement. This way, users can receive an early assessment and medical advice related to COVID-19 without leaving their homes—and without adding to the burden that has been placed on the country's medical system.
The service is now available on the Gojek app and links to Halodoc's app. When the service is initialized, users are prompted to answer a series of automated queries about their symptoms, such as whether they are coughing or feel like they might have a cold. They are also asked about their travel histories.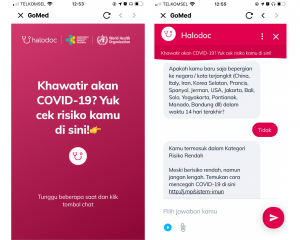 The guided assessment then directs users who are classified as medium to high risk to an online chat with a doctor for further diagnosis. This may lead to in-person assessment at a government hospital. Those who are categorized as low risk will receive information on preventative health measures.
This service also aims to reduce medical professionals' workload by lowering the number of people seeking help at medical facilities. The country currently lacks medical equipment, staff, and facilities to deal with the pandemic.
"Through Check COVID-19, our initial self-assessment system will help screen people and categorize them into low, medium, and high risk, so that the government's health system can be focused on caring for patients that have COVID-19. Halodoc will also offer free medical consultation with doctors within the COVID-19 section of the app, during this pandemic," added CEO of Halodoc Jonathan Sudarta.
This is the latest endeavor from tech companies in Indonesia to adapt their services amid the COVID-19 outbreak. Halodoc has already launched a coronavirus risk check chatbot on their platform to provide the public with reliable information about the disease; it can be accessed for free. Gojek also put in place new measures to prevent community transmission by introducing contactless delivery earlier last week.