Global players spent USD 245 million on Genshin Impact, a free-to-play and open-world role-playing gacha game from Chinese developer miHoYo, in the first month of the game's release from September 28, according to industry data provider Sensor Tower.
Only during the first week from its release, the game reported 200 million downloads on Apple's AppStore and Google Play, raking in about USD 60 million from in-game purchases. While players can start the game for free, the game makes money by encouraging gamers to buy in-game virtual currency to obtain weapons and new characters.  
Genshin Impact outpaced Tencent's evergreen titles Honor of Kings and PUBG Mobile, becoming the top-grossing mobile game worldwide the last month. Honor of Kings and PUBG Mobile ranked second and third with USD 216 million and USD 195 million revenue, respectively. Niantic's Pokemon Go and Mixi's Monster Strike followed, with USD 122 million and USD 107 million in revenue. (Genshin Impact is also available on PS4 and PC, but Sensor Tower date excluded sales on these two platforms.)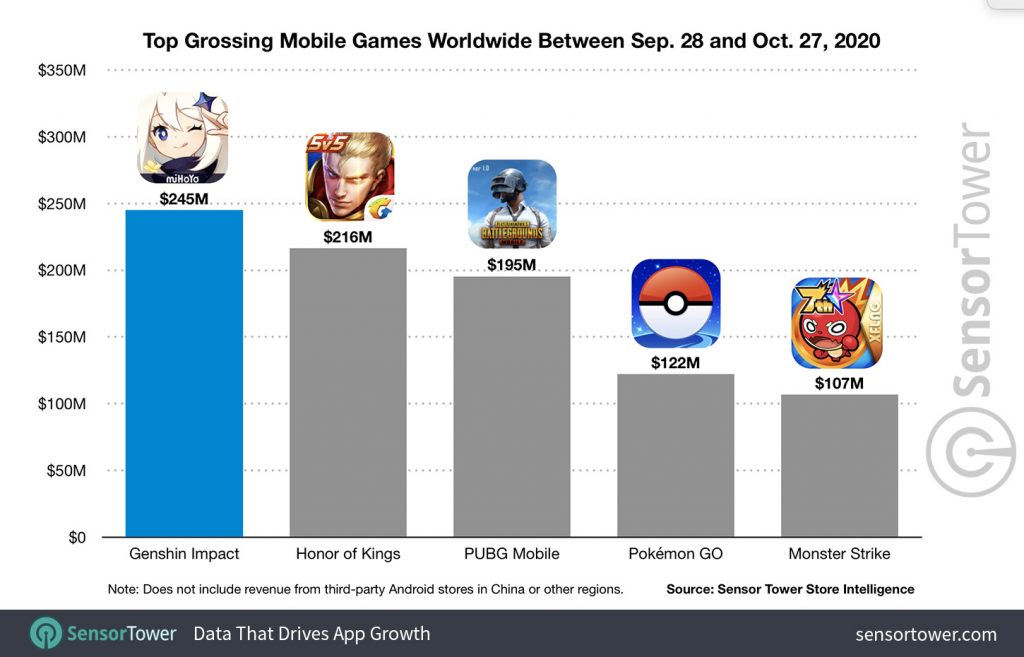 Revenues obtained by Genshin Impact during the first month by far exceed other major games global releases. Nintendo's Fire Emblem Heroes accumulated USD 70 million in player spending during its first month, while Epic's Fortnite picked up USD 25 million in its first 30 days on the App Store. Pokemon Go, however, grossed more in its first 30 days, taking in an estimated USD 283 million.
China was the largest market for player spending in Genshin Impact, generating more than USD 82 million last month, representing 33.5% of total revenue. Japan was the second-largest market with USD 59 million, while the US was third with about USD 45 million.

miHoYo's design on the open-world setting contributes to the immense popularity of the game, although Genshin Impact also been disparaged as a copycat of Zelda: Breath of the Wild. "Chinese game developers have long looked to capture Western audiences, without losing their audience at home," said Daniel Ahmad from Niko Partners, an expert on China's games industry, in the Sensor Tower report.
"Genshin Impact is a great example of how Chinese developers are succeeding in the West by focusing on high production values, popular gameplay mechanics, and deep progression systems."