To commemorate BNB Chain's third-year anniversary, Singapore-based Web3 gaming startup Ethlas is inviting gamers and crypto enthusiasts alike to participate in an exclusive event running from August 29 to September 15, 2023.
During this period, individuals can learn more about BNB Chain through a gamified experience presented within Battle Showdown, Ethlas' flagship and shooter-based battle royale game.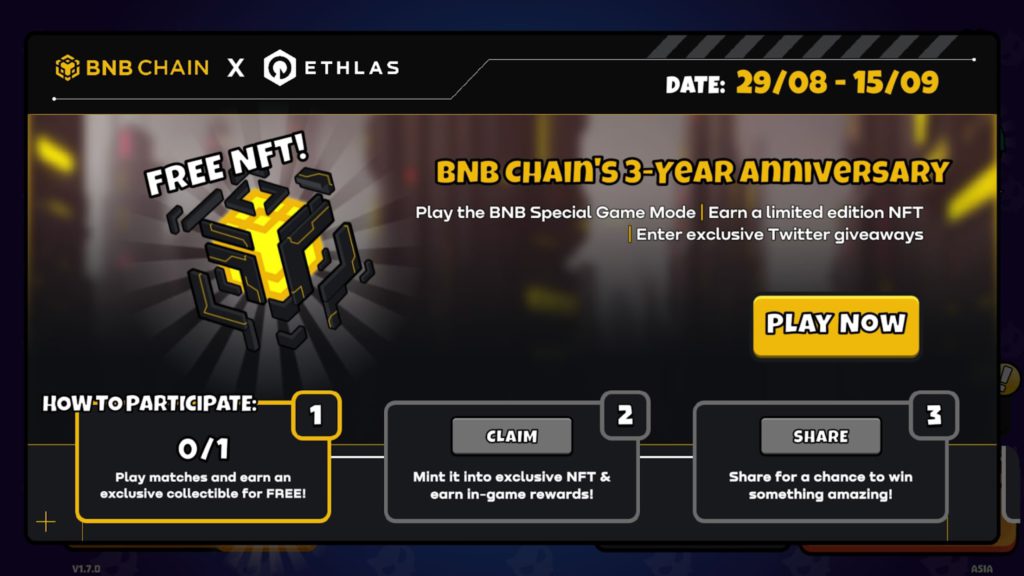 Ushering the next billion users
This campaign marks one of the first steps taken by both companies to usher in the "next billion users" for Web3.
Regardless of experience, players can immediately immerse themselves in a BNB-themed Battle Showdown game mode that offers insight into the world of Web3 through a familiar Web2-like gaming interface.
By incorporating familiar elements of mobile games, Battle Showdown offers opportunities for players to learn about the workings of BNB Chain. This engagement also provides them with a hands-on introduction to the world of digital collectible ownership.
Featuring integrations with over 30 leading NFT brands, Battle Showdown is powered by ReadyNFT, a software development kit (SDK) that enables developers to integrate playable NFTs from other Web3 communities into their gaming applications.
ReadyNFT is part of Ethlas Web3 Services (EWS)—an array of tools unveiled by Ethlas in July this year to accelerate mass adoption of Web3 by lowering the onboarding friction for developers.
Building a system of Web3 interoperability
The collaboration between BNB Chain and Ethlas aims to establish a new standard for Web3 interoperability and infrastructure, shaping the future of gaming.
By seamlessly merging Web3 on-chain activities into a familiar Web2-like gaming environment, this partnership will bridge the gap between traditional Web2 and blockchain-based Web3 gaming. This approach ensures players can enjoy an immersive gaming experience without needing to manage a steep learning curve amidst the transition.
"We are thrilled to embark on this groundbreaking partnership with BNB Chain for their third-year anniversary celebration. [Its] dedication to interoperability and shaping the world of Web3 aligns seamlessly with our vision, and we are excited to introduce [its] communities to a new dimension of interoperability through Battle Showdown," said Elston Sam, one of the co-founders of Ethlas.
BNB Chain's commitment to revolutionize gaming through advancements in Web3 interoperability and asset ownership complements Ethlas' mission to engineer the future of gaming. Together, they are laying the foundation for the next generation of gaming experiences.
Gamers and crypto enthusiasts of all Web3 proficiency levels can claim their exclusive free digital collectible and take part in this unique adventure by downloading the Battle Showdown app on the Apple App Store or Google Play Store.
For more information about Ethlas and its suite of Web3 solutions, visit the company's official website.
Check out the video below to learn more about Battle Showdown: