In a departure from our typical format, we're prefacing this week's Friday roundup with a question: is there a formula for startups to follow when it comes to fundraising?
About a year ago, our peers from Deloitte's Southeast Asia innovation team took a stab at answering this question. The team delved into the concept of the "valley of death," underlining the critical role of commercial viability throughout a startup's journey. Specifically, the phase between securing seed funds and the early-growth stage was singled out as the most precarious period a startup typically undergoes.
The premise is that startups lacking commercial viability will struggle to secure the funds they need to grow, therefore failing to survive in the long term. However, circumstances have changed significantly in recent times. While the valley of death concept remains broadly relevant, we've realized that navigating this critical phase demands a nuanced and sometimes creative approach. Investor dynamics are changing, and startups need to be agile and adapt accordingly instead of following a rigid formula.
Moreover, the archetype of an investor is also transforming over time. While venture capitalists and private equity funds are expected to retain their predominant roles in startup funding, alternative fundraising methods are surfacing. Crowdfunding, in particular, stands out.
If you have any thoughts about fundraising, our daily venture roundups, or anything you think might be interesting to draw our attention to, let us know at [email protected].
That's all for this week. If there is any news or updates you'd like us to feature, you can also get in touch with us via the email above.
Mesh Bio secures investment from East Ventures
The Singapore-based health tech startup has raised an undisclosed amount of funding from Southeast Asian venture capital firm East Ventures.
Mesh Bio will allocate the funds toward the development of digital twin technology applications for chronic disease management, as well as to expand its services across Southeast Asia, with a specific focus on Malaysia, Indonesia, and the Philippines.
"Mesh Bio's innovative approach and cutting-edge technology could potentially become one of the foundations to provide a better healthcare system for the region. We believe that predictive analytics and preventive healthcare can provide many potential benefits for society, and we believe that Mesh Bio will lead this revolution with its digital twin engine," said Willson Cuaca, co-founder and managing partner at East Ventures.
MoneyHero Group completes SPAC merger with Bridgetown Holdings
MoneyHero Group, a leading fintech platform in Southeast Asia, has completed its previously announced merger with Bridgetown Holdings, a special purpose acquisition company (SPAC) established through a collaboration between Pacific Century Group and Thiel Capital.
The merger was finalized on October 12, following approval from Bridgetown's shareholders in an extraordinary general meeting held on October 10. This merger values MoneyHero Group at an enterprise value of approximately USD 310 million and an equity value of USD 283 million, factoring in the net proceeds from the transaction. Through the contribution of cash held in Bridgetown's trust account, the fintech platform received around USD 100 million in gross proceeds, considering redemptions of approximately 36% of the latter's public shares.
MoneyHero Group's ordinary shares and public warrants are expected to debut on Nasdaq later today.
Account Labs backed with USD 7.7 million investment to launch UniPass
The Singapore-based Web3 wallet startup has raised USD 7.7 million from Amber Group, MixMarvel DAO Ventures, and Qiming Ventures.
Account Labs will use the funds to launch the UniPass smart contract wallet that utilizes account abstraction to simplify the complexity of Web3 wallet transactions that may deter adoption by retail users.
The startup will launch and test UniPass in the Philippines before potentially introducing it to other parts of Southeast Asia, such as Malaysia, Indonesia, and Vietnam. —e27
Floadia raises JPY 1.05 billion in Series D round
The Japanese embedded flash memory developer has raised JPY 1.05 billion (USD 7 million) from several investors in a Series D funding round.
Osaka-headquartered trading company Inabata and Hong Kong investment firm Cypress Capital underwrote a capital allotment of JPY 850 million, while the remaining JPY 200 million was raised through venture debt financed by the Japan Finance Corporation.
Floadia will use the funds to ramp up its sales activities and further develop its technology. The company has raised around JPY 4.95 billion to date.
Beyond Next Ventures establishes its third investment fund
The Japanese deeptech investment firm has announced the establishment of BNV Fund 3, its third fund, and achieved its first close with over JPY 10 billion committed out of its final target amount of JPY 25 billion.
The newly established fund draws on contributions from existing investors of Beyond Next Ventures' two prior funds, including MUFG Bank, Dai-ichi Life Holdings, Tokyo Century, among others. New investors are also taking part in the fund, including SMBC Nikko Securities, Mitsubishi UFJ Trust and Banking Corporaiton, FFG Venture Business Partners, and Yagami.
10 Minute School raises close to USD 5.5 million in pre-Series A round
The Bangladeshi edtech platform has completed its pre-Series A funding round, raising close to USD 5.5 million from returning investors including Surge by Peak XV Partners (formerly Sequoia Capital India and Southeast Asia), the sovereign venture fund of the Bangladeshi government, Startup Bangladesh Limited, among numerous angel investors.
Hyundai Capital Services acquires Paramitra Multifinance
Hyundai Capital Services, a financial services subsidiary of Hyundai Motor Group, has announced that it is acquiring Paramitra Multifinance. The acquisition will lead to the establishment of Hyundai Capital Indonesia.
The acquisition entails a share purchase agreement that will see Hyundai Capital Services undertake a 75.1% stake in Paramitra Multifinance. The finance arm of Sinar Mas Group, as well as Bank Shinhan Indonesia, a subsidiary of Shinhan Bank Korea, will become minority shareholders of the new company, holding a 15% and 9.9% stake respectively.
Indonesia is a key hub for Hyundai Motor Group's future mobility strategy. In 2022, it opened its first Southeast Asian product base in Indonesia and has since claimed the largest market share of Indonesia's electric vehicle market. Hyundai Capital Services has also been providing financial consulting and market research services in the country since 2020.
Masdar to invest USD 8 billion in Malaysia's renewable energy projects
The Abu Dhabi-based renewable energy company has signed a memorandum of understanding with the Malaysian Investment Development Authority (MIDA) to invest USD 8 billion in Malaysian projects that will provide up to 10 gigawatts of renewable energy by 2035. These projects will include ground-mounted, rooftop, and floating solar power plants, onshore wind farms, and battery energy storage systems.
"This important agreement will see the UAE and Malaysia deepen our partnership in the development of renewable energy, directly supporting the nation's national energy transition roadmap. Ahead of the UAE hosting COP28, it further demonstrates Masdar's and the UAE's commitment to supporting countries across the world, decarbonizing economies at home and abroad, for a just and inclusive energy transition," said Sultan Ahmed Al Jaber, the UAE's minister of industry and advanced technology. Al Jaber is also the chairman of Masdar and the president-designate for COP28.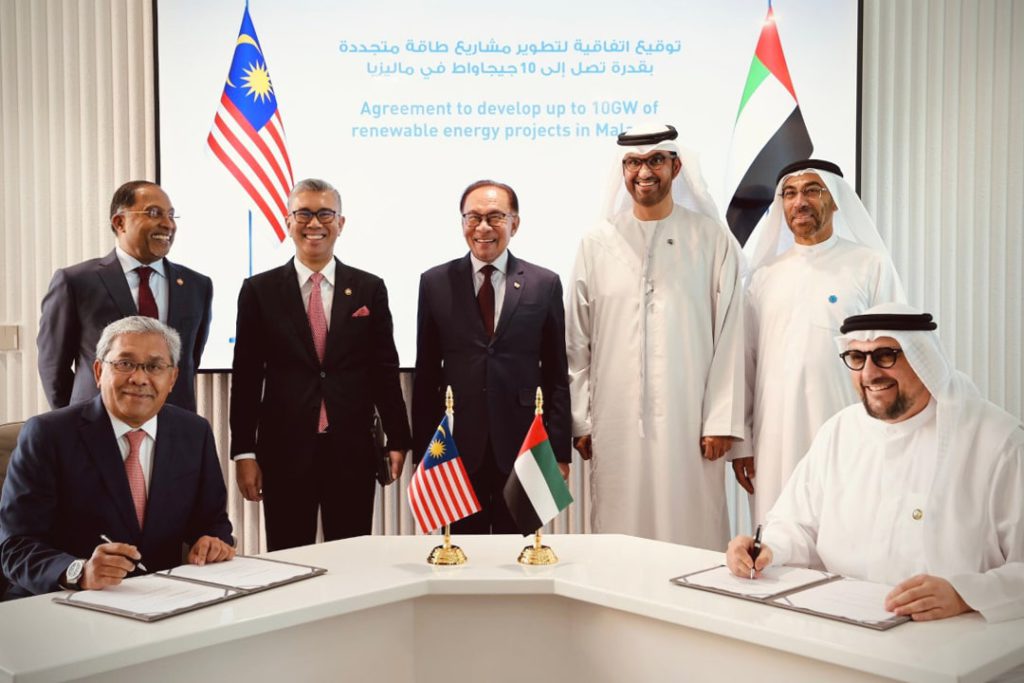 Recent deals completed in China:
Latest venture capital deals in India:
Luna, Eazy Digital, Phasio, and more led yesterday's headlines:
Luna, an Indonesian embedded fintech platform, has secured an undisclosed amount of funding in a financing round led by TNB Aura through its TNBA Scout initiative. Seedstars as well as existing investors 1982 Ventures, Century Oak Capital, and Prasetia Dwidharma also participated in the round.
Eazy Digital, an insurtech software-as-a-service platform, has secured USD 1 million in a seed funding round led by M Venture Partners, with participation from returning investors Wavemaker Partners, OneDegree, Ascend Angels, and Orvel Ventures.
Phasio, a manufacturing startup, has raised USD 2.5 million in a seed round jointly invested by Airtree Ventures, 500 Global, Entrepreneur First, and Gattaca Ventures. Phasio will use the newly raised funds to accelerate its go-to-market strategy over the next year. The funds will enable it to scale its engineering team to support growing demand for its platform, and improve the platform's features.
If there are any news or updates you'd like us to feature, get in touch with us at: [email protected].