Two major Indonesian mobile wallets, Ovo and Dana, are reportedly close to finalizing their merger, which has been in the works since September 2019 and might give them a shot at competing with Ovo's chief rival, Gojek's GoPay.
The consolidation makes sense. Ovo, which is backed by Lippo Group and Grab, has been in tight competition with GoPay. Various reports suggest these two platforms are dominating the Indonesian digital payments landscape in terms of user numbers, while Dana and state-owned LinkAja usually rank third and fourth, respectively. So when Ovo and Dana pool their user bases into one, it means that the new entity might just carry the largest market share.
Michael Hijanto, senior research analyst of Singapore-based consulting firm M2Insights, believes that through the merger, Ovo and Dana can direct their resources and develop a shared business strategy to compete with GoPay. "In terms of market share, Ovo is the preferred e-wallet of Grab and Tokopedia, and Dana is the preferred e-wallet of Lazada and Bukalapak. Both Ovo and Dana have significant consumer bases who are unlikely to switch to GoPay or Shopee Pay soon," he told KrASIA.
A tale of Ovo
Ovo was founded in 2017 by Indonesian conglomerate Lippo Group, whose business covers real estate development, media and communication, healthcare, and education. As part of Lippo Group, Ovo has the advantage of direct access to Lippo-affiliated retail businesses, which gave the platform immediate use cases in its first year of operation. On its 2018 report card, Ovo claimed to already have conducted 1 billion transactions.
Ovo is secretive about its financing. The only funding round where details were shared with the public was a USD 116 million investment from Tokyo Century Corporation in December 2017, when the Japanese investor acquired a 20% stake. In the following November, Southeast Asian super app Grab reportedly invested in Ovo to pave its way into Indonesia's burgeoning fintech scene.
Initially, Grab planned to bring GrabPay into Indonesia, but the payment platform failed to secure a license from the central bank, Bank Indonesia. This partnership between Ovo and Grab was a way for the Singapore-based company to sidestep that snag, with Ovo appointing former head of GrabPay, Jason Thompson, as CEO in April 2018. Prior to landing this role, Thompson's main duty at GrabPay was to "oversee the development of new payment tech and increase access to mobile payment services across the region."

Linking up with Ovo was a solution for another major platform too. The e-wallet of Indonesia's largest e-commerce platform Tokopedia, TokoCash, was suspended by Bank Indonesia in 2017, leaving Tokopedia with no choice but to seek a partnership with an external payments provider. The e-commerce firm reportedly made an undisclosed investment in Ovo in March 2019, and the two companies announced that they had formed a partnership a few months later.
Ovo became a unicorn last year, demonstrating its rapid growth and positive developments in two years of operations. In an interview with KrASIA, Ovo CEO Jason Thompson said the firm's monthly active users grew 400% per annum in 2019.
Yet there are signs that things aren't all smooth sailing at Ovo. In November, Lippo Group founder Mochtar Riady said his company sold 70% of its stake in Ovo due to the platform's unwieldy expenditure.
It is common for tech startups to burn cash to acquire as many customers as possible. In some cases, it may even be necessary. Nevertheless, if a company stays in the red, the strategy can be a heavy burden for investors. Tech in Asia reported that Lippo Group spent USD 50 million every month to keep Ovo afloat, although the claim was later denied by the company.
According to corporate data obtained by M2Insights in December 2019, Grab holds the most shares in Ovo, followed by Tokopedia, Tokyo Century Corporation, and then Lippo Group. Meanwhile, Dana is backed by Alibaba's financial arm Ant Financial and Indonesian conglomerate Emtek. Ovo and Dana have shared DNA; Alibaba has also invested in Tokopedia, while Grab, Tokopedia, as well as Alibaba are backed by SoftBank.

A Bloomberg report said the terms and timing of the merger between Ovo and Dana might change, and the deal may even fall apart. That is a consequence of the complexity of this possible consolidation.
"Ovo currently has a bigger market share than Dana in Indonesia, but it is difficult to say who will be the controlling shareholder. The new controlling shareholder may also depend on who will be investing more money into the new combined entity. We believe that a merger between these two e-wallets is not going to be simple," said M2Insights' Hijanto.
Since both companies process payments for the country's e-commerce giants, their merger will impact their partners as well. While Ovo has close ties to Tokopedia, Dana is an e-wallet integrated into the systems of Bukalapak and Lazada, and a sizable portion of Dana's gross transaction value is from these two platforms.
"We do not know whether Bukalapak and Lazada will be comfortable working with the newly merged Ovo-Dana if their biggest competitor, Tokopedia, is a significant shareholder of the e-wallet," Hijanto said.
E-commerce has been, and probably will continue to be, a large portion of Indonesia's digital economy. Therefore, it is reasonable to expect that both Ovo and Dana want to maintain their established partnerships in this arena.
Playing the long game
Indonesia has a population of more than 270 million, but more than half of the country's people don't have a bank account. Meanwhile, there were an estimated 175.4 million internet users in Indonesia per January 2020, translating into 64% internet penetration, according to a report by global social media marketing firm We Are Social and Hootsuite. Although Indonesians like to spend their time online, the report suggested that only 3.1% of the country's population use mobile wallets, meaning there is massive growth potential in this segment.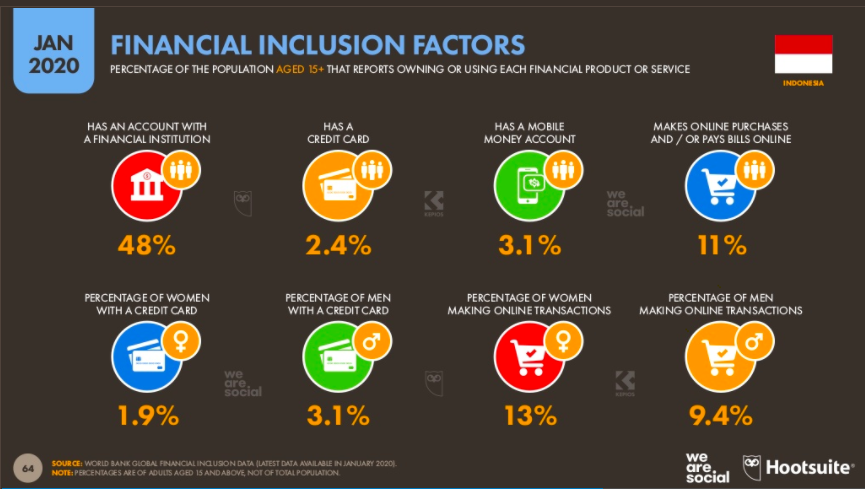 It is easy to suggest that Ovo and Dana want to merge to challenge GoPay, but seeing how mobile wallets still have a limited footprint in Indonesia, the industry has plenty of space for multiple players. Nevertheless, the market is a tough nut to crack; it comes down to cultivating the right partnerships and developing a sustainable usage model.
Former IT minister Rudiantara shares that view. He believes that a merger is the right move, considering how fintech payment platforms need to have "economies of scale" to keep pace with the country's consumer market.
"The competitors [of Ovo and Dana] are not only local payment platforms, but also mass-adoption messaging platforms like WhatsApp that have a very large user base here," he told KrASIA. WhatsApp has launched a payment feature in India and Brazil. Rumor has it that the tech giant will also bring the feature to Indonesia soon. "The number of WhatsApp users in Indonesia is much bigger than the number of mobile wallet users combined. WhatsApp Pay could be a threat to local digital payment platforms, especially since WhatsApp users may opt to pay using the messaging app for convenience," Rudiantara added.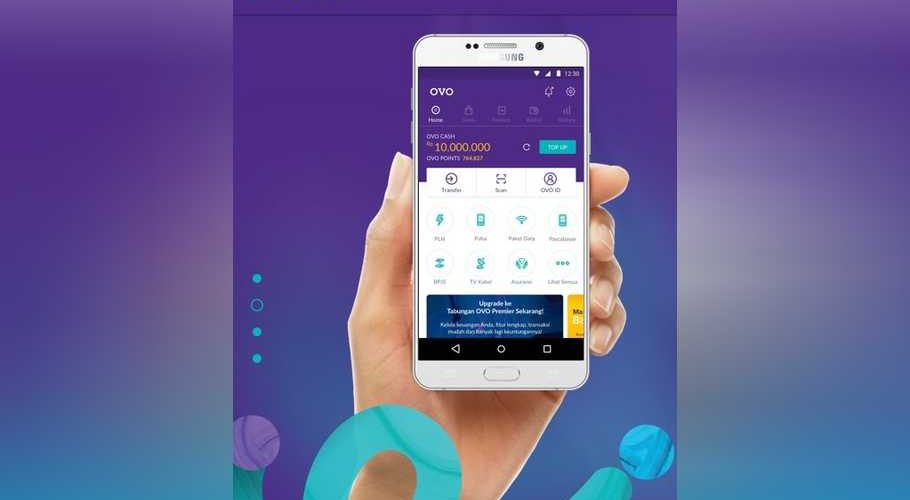 In order to thrive, a payments platform must provide comprehensive services, giving customers more reasons to spend time on the app. That means a mobile wallet needs to do more than just handle transactions, and Ovo is fully aware of that. Since the beginning of 2019, the company has been bringing additional financial services to its app.
In March last year, the platform launched a mutual fund investment feature in collaboration with Bareksa, the pioneer in this space in Indonesia. Then, Ovo introduced its pay-later feature in May, enabled by online credit and lending firm Taralite, which Ovo acquired earlier in the year. According to Daily Social's fintech report for 2019, pay-later was the third most popular fintech product in Indonesia, and Ovo was the most used app for pay-later services.
More recently, Ovo launched its accidental death and COVID-19 insurance coverage with Prudential. The firm will continue to focus on lending, e-investments, and digital insurance products this year, Ovo's CEO said in a recent interview.
Meanwhile, Dana recently landed a partnership with insurtech startup Pasar Polis to offer micro-insurance services through its e-wallet. Last year, Dana was also reportedly working on a pay-later product in collaboration with Akulaku, although the feature has yet to go live. That's all to say that when Ovo and Dana eventually join forces, the merged entity will be able to expand their offerings and provide a diverse package of financial products. This would give it a better chance to pull ahead as the preferred mobile wallet in the long run.
Like Ovo, GoPay also has an impressive roster of partners and investors, which includes Google, JD.com, Djarum, Facebook, and PayPal. With the investment from Djarum and JD, GoPay is integrated with Blibli and JD.id, which were the fifth and sixth most popular e-commerce platforms in Indonesia in the first quarter of 2020, according to data compiled by iPrice.
Partnership with Facebook and PayPal will allow Gojek and GoPay to tap into the American companies' user base in Indonesia along with their network of merchants. However, analysts doubt that GoPay will be an exclusive partner for Facebook in Indonesia, since the social network is reportedly in talks with three local fintech firms for mobile payment approval in the country. Reuters reported that the companies in question are GoPay, Ovo, and LinkAja, although there is no official confirmation yet.
"It is true that Gojek has secured funding from Facebook and PayPal, which will be a boost to GoPay. But, essentially, a big portion of Ovo's gross transaction value comes from Grab and Tokopedia, who are both unlikely to accept GoPay as payment option," Hijanto argued.
What about the rest?
Ovo, Dana, and GoPay are the leading companies of their type, but there are other platforms that have cultivated followings too, like LinkAja and ShopeePay.
LinkAja is affiliated with at least ten government-owned corporations, including the country's largest carrier Telkomsel, lenders Bank Mandiri, BRI, BNI, as well as oil and gas company Pertamina. These partnerships give LinkAja a potential pool of many customers.
LinkAja claimed to have at least 40 million registered users in 2019, and the platform has been developing new collaborations with various companies. In particular, it is the first major mobile wallet provider to offer shariah-compliant services. As a country with the largest Muslim population in the world, sharia fintech has gained traction in Indonesia over the past two years, marked by the emergence of new players in this segment, such as P2P lenders Alami Shariah and Investree. This is an edge that is, so far, unique to LinkAja, especially if it plans to offer lending, pay-later features, or investment products that are specifically designed for Muslim users.
Compared to other major operators, LinkAja has an asymmetrical approach to operating in fintech. Instead of directly competing with the likes of Ovo and GoPay, LinkAja has negotiated its way into becoming part of both of their ecosystems through Grab and Gojek. Last November, LinkAja became a payment option for both Gojek and Grab. And it is the only mobile wallet that can be used on both Tokopedia and Bukalapak.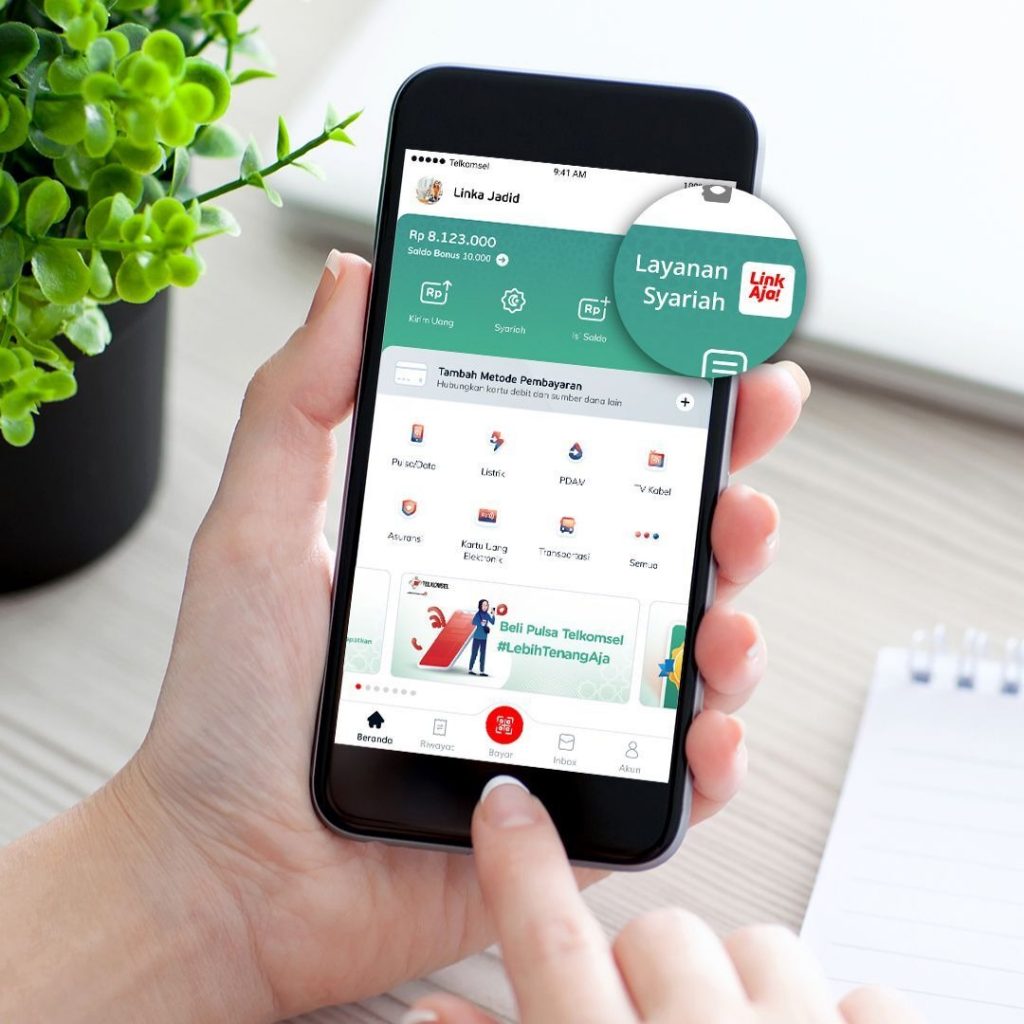 In an interview with KrASIA last year, LinkAja's then-CEO Danu Wicaksana said the platform has a target market that typically isn't taken into account by fintech platforms. It does not only target the middle class; it also caters to middle to low income groups that have not been served by digital financial services. The company does this by linking up with state-owned banks and corporations. LinkAja's users can withdraw money from the ATMs of BTN, BNI, BRI, and Mandiri, and it has sizable user bases in third-tier cities. It also works with public transportation and toll road operators. Moreover, Indonesian workers in Singapore can remit money to LinkAja accounts in their home country for only SGD 2.50 from Singtel Dash. With its niche market, it would be better for Ovo and GoPay to maintain close relationships with the state-owned LinkAja rather than compete against it.
Meanwhile, as a newer player, ShopeePay has been catching up after obtaining its BI license in November 2018. Initially, it was mainly used on the e-commerce platform Shopee, which has managed to surpass Tokopedia as the e-commerce platform with most Indonesian active monthly users in the first quarter of 2020.
According to Sea Group's quarterly report, Shopee Indonesia registered more than 185 million orders in the first three months of this year, or a daily average of over 2 million orders, and more than 40% of Shopee's gross orders in Indonesia were paid for through ShopeePay. That means ShopeePay has been able to gain high traction through e-commerce transactions alone.
But, like all other platforms, ShopeePay aims to rapidly expand its suite of online and offline third-party use cases and partnerships too. Today, you can easily find ShopeePay's promotional banners in shopping malls throughout Jakarta, side by side with GoPay and Ovo's own materials. It also recently paired up with a "merchant-centric" fintech platform called Youtap. ShopeePay said Youtap has quintupled its transactions by giving it access to a vast network of merchant partners, including the likes of McDonald's.
M2Insights' Hijanto believes that ShopeePay will continue to grow, especially with QRIS (QR code Indonesian standard), which is designed to improve connectivity in payment systems by issuing a single code to a merchant for all e-wallet platforms. ShopeePay can now be used to pay brick-and-mortar merchants that previously only utilized Ovo or GoPay. ShopeePay also has a pay-later service that was already listed in the top three most popular products of its type in 2019, according to Daily Social's fintech report.
The future of Indonesian fintech payments
The COVID-19 pandemic has played a role in boosting cashless payment adoption this year. Ovo saw its new user count grow by 267% after social distancing measures became necessary. Meanwhile, Gojek and GoPay have observed double digit growth in digital transactions, including for their pay-later features, in just a month after the onset of the outbreak. The pandemic has been an accidental boon for Indonesian fintech startups, particularly those that facilitate mobile payments.
Facebook's payment services may also shake up the scene in Indonesia and become a game changer for Indonesian consumers. Considering that Facebook has 136 million users in the country, while WhatsApp is on more than 180 million phones, their payment product will spur social commerce and digital payment penetration.
Speaking to local media Katadata, BRI Ventures' CEO Nicko Widjaja believes that Indonesia's fintech ecosystem has the potential to emulate the fintech payment landscape in China, which is led by two players, WeChat Pay and Alipay. Companies that have a smaller market share will choose to work with niche partners or merge with larger platforms. The consolidation of two strong players is a good way to strengthen the fintech ecosystem and accelerate the growth of financial inclusion.
One good example is mPOS platform Moka, which was recently acquired by Gojek. The acquisition integrates Moka's 40,000 business partners and Gojek's 500,000 merchants. This deal is expected to accelerate the digitization of small businesses in Indonesia.
E-wallets make money in several ways—commission from transactions, fees from merchants and service providers, as well as user fees. But with a relatively modest adoption rate, mobile wallet platforms are still trying to scale up before focusing on profitability. That means wooing customers by offering cash back and other promotions, as well as integrating with the most e-commerce and ride-hailing platforms.
These platforms also need to ensure customers stay on board. They do this by establishing partnerships that are relevant to their users, or acquire other fintech companies outright to add new services like capital loans and investment vehicles. Collaborations with conventional banks and major companies are also crucial, especially in non-metro cities and regions.
Bank Indonesia has issued payment licenses to 50 e-money operators as of May 2020. Given the large number of e-money license holders and increasingly fierce competition among them, chances are we will see even more wallets form unions to take on the rest.