Indonesian digital payments player Ovo is undoubtedly a newsmaker in the country's digital ecosystem. The company has grown rapidly in the past year and it has achieved many important milestones: it acquired lending platform Taralite and online investment platform Bareksa, invested in two tech startups, and rolled out the PayLater feature.
Ovo recently made headlines when Indonesia's then-IT minister Rudiantara announced that the company has entered the "unicorn club" as its valuation is USD 1 billion. According to the 2019 Indonesian Fintech Report by Daily Social, Ovo is the most popular e-wallet platform among Indonesians and it secured the second spot as the most used digital wallet in the country.
The tallest trees catch the most wind, as Ovo has been in the media spotlight in the past few months because of merger issues with a competitor, Ant Financial-backed Dana. Most recently, its parent company, Indonesian conglomerate Lippo Group, reportedly sold 70% of its stake in Ovo due to the latter's large expenditure.
Responding to the rumors, Ovo CEO Jason Thompson, remained neutral and said that he doesn't really think of market speculation and wants to focus on further growing the business instead. With such dynamic competition in the Indonesian fintech landscape today, it is likely that we'll see more of Ovo in many local and international news outlets in the future.
KrASIA recently met with Jason Thompson at the 2019 Wild Digital Conference in Jakarta, and he discussed the company's strategies going forward.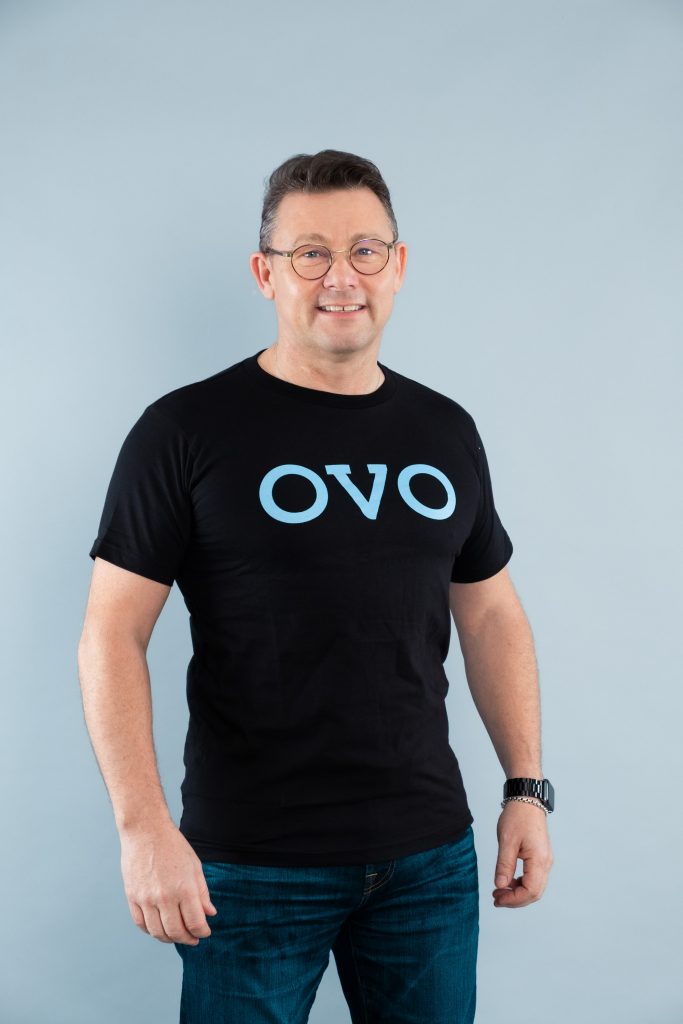 KrASIA (Kr): Looking back at what Ovo has achieved this year, what stage is the company at now?
Jason Thompson (JT): Firstly, we are genuinely humbled to be recognized as the fifth unicorn. The whole team was really excited, and this accolade is great for business. It shows external investment, how rapid the growth of fintech in Indonesia has been and we are the only true fintech unicorn, but honestly, we feel that we just started.
However, it also forces a lot of pressure on us because the expectations are higher than ever—from Bank Indonesia, the government, and more importantly, from our customers. Looking back at this year, we've had a really tough but successful year. Our organization is growing, we really cemented ourselves as the number one payment platform in the country, we developed new services, and we've had a great year working with Grab and Tokopedia.
We've got some great metrics, as well. In 2019, we had more people transact with us thanks to the many partnerships we created in the ecosystem. Our annual transactions were 27.7 times higher than the previous year. We have increased total payment value by 18.5 times and in-store value facilities by 6.8 times. Ovo's monthly active users grew 400% per annum this year.
I believe that financial literacy and inclusion have five challenges. The first is to get people to register on the platform, the second for them to top up, and the third is to encourage them to pay with our platform. The fourth and the fifth are to make them re-top up and finally, pay again with the same app. Now that people store their money with Ovo, we believe that we can drive financial literacy for savings, investments, and others.
Kr: What is Ovo's focus in 2020?
JT: The three focus areas for me in 2020 include accelerating growth for lending, most of that will focus on merchants and some on consumer lending. The number two priority is to execute with Bareksa for e-investment.
I think we can learn from China's success story with digital investment players like Yu'e Bao and see how we can execute it here in Indonesia. Number three is a focus on insurance via a partnership with Prudential. We're still developing insurance products and expect to release them next year. So we are moving from payments into financial services this and next year.
As with payments, we'll apply the open ecosystem for financial services. For example, for lending, we have consumer lending with Tokopedia through our PayLater feature. We also have Ovo Dana Tara, a capital loan specifically for our merchants, and Ovo Talangan Siaga, a special short-term loan for Grab partners and agents. It's a hybrid of merchants and consumer lending agents, and we'll scale this next year.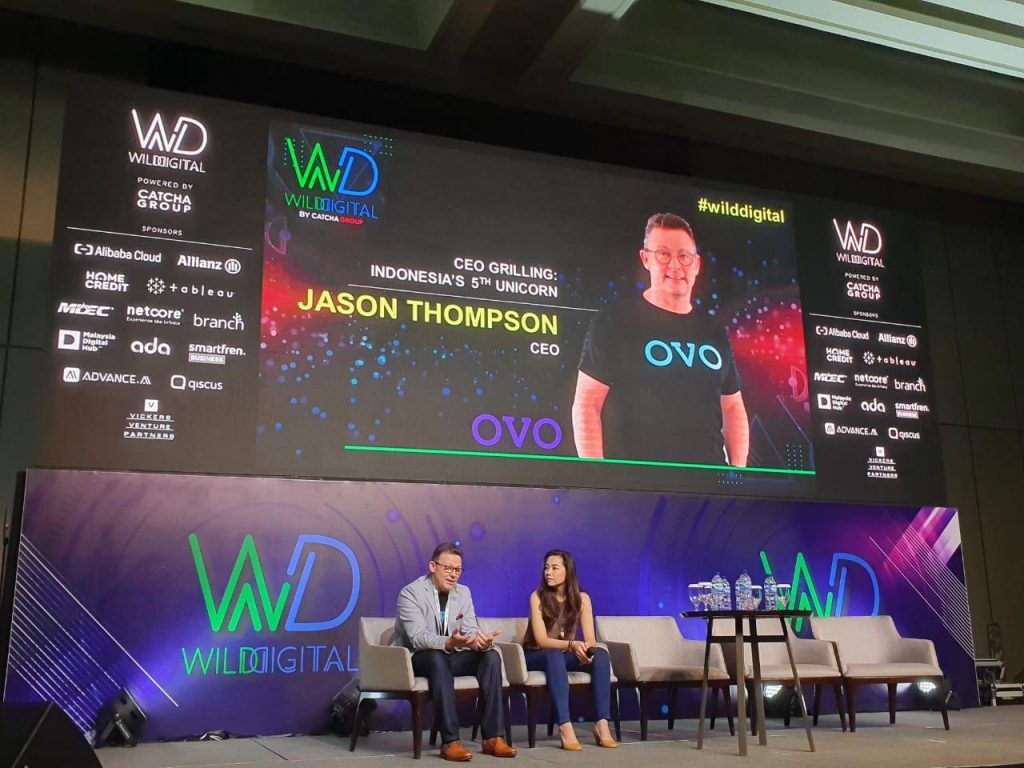 Jason Thompson at Wild Digital Conference 2019. Photo courtesy of Wild Digital.
Kr: How have you positioned Ovo among its Indonesian digital wallet competitors?
JT: Our biggest competition is still cash because e-money payments currently only make up of  2.3% [of payments] in Indonesia, so I don't think that the [mobile wallet] market is congested. Although many people want to enter the market by launching an e-wallet platform, it is difficult to sustain in Indonesia unless you have the right partnerships and usage model.
Our focus is to achieve sustainability, and that's why we are investing more in financial services as we believe this is the right path to maturity and sustainability in the long run. We believe that as long as we serve our partners, merchants, and customers well, we will be successful in this market.
Kr: Entering Ovo's third year, do you think that money-burning strategies like cashback and promotions are still relevant? 
JT: I think cashback is important as a stimulus at a point in time, but it is not sustainable. It's like a physics problem; if you're going to move a large object, you need to have a huge amount of energy at the beginning of the movement, but once you get the momentum, then you can reduce that energy. With payments, the energy comes from subsidies.
We have a clear roadmap to sustainability and profitability, and we'll reduce this [money-burning marketing] significantly next year. It's not just us, I believe that our peers have also invested in a similar way to establish their business. So cashback or other promotions are still important but we have to rationalize them and there must be a path of subsidies' corrections.
Kr: What's the nature of Ovo's partnership with Grab now, considering that Ovo is no longer the sole payment partner in Grab's ecosystem?
JT: We're an independent organization, so our relationships with Grab, also with Tokopedia, are mostly focused on execution. My teams spend a lot of time to think and plan about what can we do with Grab or Tokopedia. We have to serve them in the best way but we are not in an exclusive contract.
Now Grab has LinkAja in its ecosystem and Tokopedia has many payment offerings. We're not in a privileged position with our partners, we have to work hard, otherwise, we'll lose our position because the partnership is based on value exchange. We don't believe in exclusivity as it is not good for the market and consumers.
Kr: Ovo has invested in two startups this year, new retail startup Warung Pintar and ad tech platform StickEarn. Are investments also part of your strategy going forward?
JT: These were very strategic moves, although relatively low in value. For StickEarn, we believe that engaging consumers through interactive marketing is critical, so we felt that the value exchange between the companies was very close. StickEarn is doing great things and they will be successful in Indonesia.
As for Warung Pintar, their existence is critical because nobody was defending the warung or street stalls before. When I first came to Indonesia, I quickly realized that warungs are central to Indonesian culture, but nobody really takes care of them.
Warung Pintar learned their problems and thought about how they could bring a different model for warungs so they can serve more in the community. They provide the warungs with digital support and infrastructure including payments, and I'm really excited about the work we're doing here.
Investments in these two companies involve specific purposes. It is really about working strategically to drive financial inclusion but I wouldn't expect to invest in more five or ten companies in the future because we're not a platform for entrepreneurs. Our mission is to serve the market, and one way is by establishing a strategic partnership with other organizations and see how we can exchange and maximize our values.
Kr: Ovo has been dealing with many rumors this year, one of the biggest is the merger with Dana. How are you addressing this issue?
JT: What I can tell you is I don't really think about noisy speculations out there. The fintech landscape is dynamic, I feel that people like to speculate about fintech players like what they do in football, you know, every season football fans will predict which clubs will buy which players, and so on [laughs].
What will happen in 2020 is that the market will start to fracture. It may lose people because the global investment environment is changing rapidly, and if businesses don't have a clear strategy, it will be a tough year for them. So we're focusing on execution and closely watching the market, which already takes 18 hours a day of my life so I have no capacity for anything else.
Kr: Are you planning to raise capital soon?
JT: We probably will raise the capital sometime during the first half of next year. We're exploring that opportunity but we have no announcement yet about the potential investors or clear timeline for now.
Kr: How do you view the mobile payments landscape in Indonesia today?
JT: Globally, Indonesia is the centre of fintech right now. China, to a large degree, is hard to touch because there are already too many dominant players with Ant Financial currently leading [the market].
What I see is that the fintech revolution is happening here and that more organizations are trying to come to Indonesia, both legally or illegally. We have to ensure that we protect our ecosystem, economy, and domestic income. The development of regulations is the key to ensuring a healthy business and ecosystem, and I genuinely think that Bank Indonesia has been doing well and been supportive so far. I believe fintech in Indonesia is maturing and will reach its inflection point in three to five years.
This interview has been edited for length and clarity.