Launched in June 2019, Indonesia's state-owned e-money platform LinkAja had a large mandate that was to take the place of the Indonesian government's "national non-cash movement" that aims to raise public awareness about the benefits of cashless instruments to accelerate financial inclusion to all citizens without exception.
LinkAja integrates existing e-payment services provided by the state-owned banks—Bank Mandiri's e-cash, BRI's T-bank and My QR, BNI's Yap! and UnikQu—as well as Telkomsel's TCash. As a new kid on the block in the digital payments sector, it competes with incumbent players including market leaders Go-Pay and Ovo that have the advantage of being integrated with on-demand ride-hailing apps.
However, as it is backed by state-owned corporates, LinkAja also has its own competitive advantage.
The platform plans to integrate with all public transport operators, from suburban rail KRL commuterline, the MRT, the light rapid transit, and Jasa Marga that manages the road tolls.
In June 2018, KRL commuterline alone recorded a daily average number of one million passengers per day, which gives LinkAja a large pool of potential customers.
Nonetheless, LinkAja CEO, Danu Wicaksana denied that LinkAja aimed to dominate the market but was instead open to collaboration with other digital payment platforms.
And it looks like that he is staying true to his word.
Shortly after its launch, LinkAja announced a strategic collaboration with Go-Jek to add non-cash payment options for various services within the Go-Jek ecosystem. This surprising collaboration was welcomed by users of both platforms.
LinkAja claims to have 22 million registered users and the company aims to double it to reach 44 million by the end of this year.
KrASIA recently met with LinkAja CEO, Danu Wicaksana, to discuss what strategies he has prepared to achieve this ambitious target.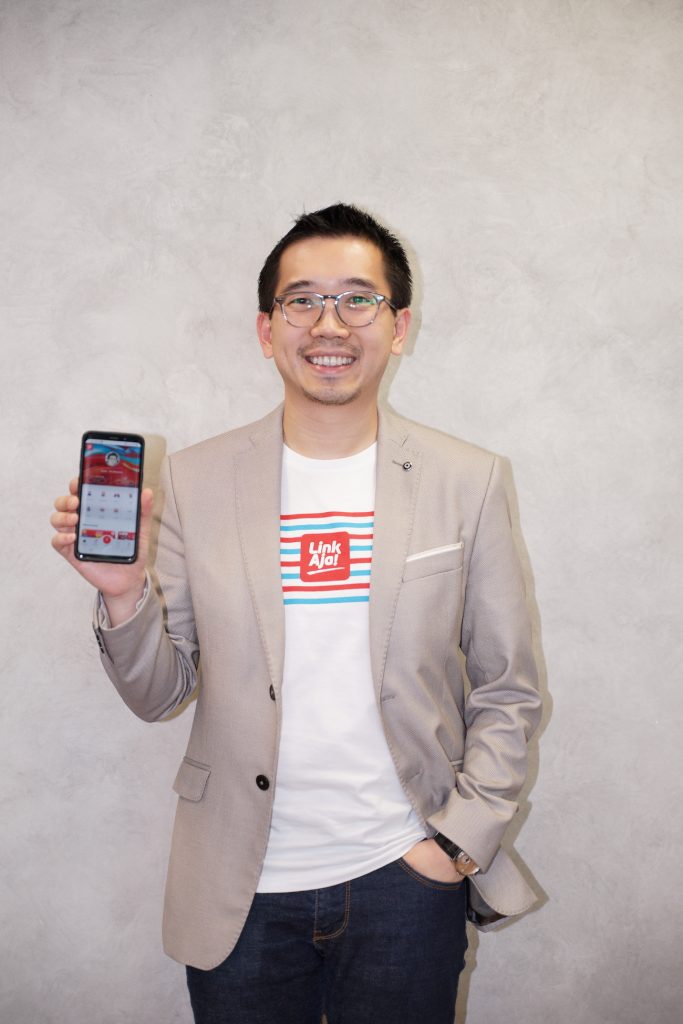 KrASIA (Kr): Why was the launch of LinkAja delayed three times?
Danu Wicaksana (DW): Our operations started in March and we only had six weeks to integrate all state-owned electronic money. This meant that there were a lot of adjustments and improvements that needed to be made.
Initially, we intended to launch after March, but it was too close to the presidential elections. Our shareholders wanted to have a massive launch with one hundred thousand guests, but we didn't get permission because it clashed with the campaign season. So we postponed and looked for a period after the election but the situation wasn't safe either as there were a series of protests in Jakarta so we had to postpone it again for after the Eid Holiday. The delays were only due to safety concerns and not because of bureaucratic or system obstacles as some may be thinking.
Kr: Many predict that LinkAja would have difficulties challenging more nimble competing platforms as LinkAja is backed by state-owned companies that are known for their love of bureaucracy. How true is that concern?
DW: I understand this concern.
But based on personal experience—since half of us were from Telkomsel's TCash—I think that private companies don't always grow fast as people think and neither are government-linked ones very slow.
Relevant experience is one of the reasons why TCash was merged with other e-money platforms.
So with half of LinkAja's team are from TCash and the rest being professional hires—such as our IT team—our shareholders don't interfere much in LinkAja.
So I can assure anyone with concerns that old bureaucratic red-tape won't be found in LinkAja.
Kr: What makes LinkAja different from competitors?
DW: Unlike the existing platforms that seem to be more focused on users' lifestyles, LinkAja will address all aspects of our users' needs.
We focus on eight business transactions, mass transportation including refueling and tolls, mobile phone credit and Internet, bill payments, retail merchants, e-commerce, donations, remittances, and financial services including lending.
We don't intend to steal market share from existing platforms because we have a different target market. Not only we target the middle-class, but we also cater to a middle-to-low income group that has not been served by digital financial services so far.
For example, LinkAja can help supervise the distribution of subsidized LPG that is aimed at the low-income group. In reality, many middle-class people, even small F&B vendors use this LPG, meaning it is not distributed where it is needed and therefore harms the government and the people who really need it. With data that we have at LinkAja, we can ensure that only low-income groups can buy subsidized LPG through our platform.
Kr: How do you plan to reach your target of 44 million users?
DW: Unlike startups, we will not be doing any aggressive money-burning but we'll focus on the essential use case and continue to improve our technical capabilities and partnerships to accelerate innovation and the type of services we can offer users.
For example, we are working with Jasa Marga Toll Operator to test a cardless toll payment system using Radio Frequency Identification (RFID) in the form of a sticker that is attached to the cover of a car's headlights. In its initial stage, users will need to download the app named FLO and top-up credits via LinkAja. We hope to enable the whole process to work through the LinkAja app. There are currently 20 toll gate points that have installed with RFID scanners and we hope to get at least 200 toll gate points running this system by the end of this year.
Kr: Does LinkAja provide a lending facility?
DW: We serve as a platform only for online lenders like Kredit Pintar and TrustIQ and not as a lender ourselves because we don't have an OJK license that is needed to be a lender. Users can apply for individual loans on LinkAja but they will be directed to our partners' system to proceed further.
Besides online lending, we also have other unique financial services including a payroll system for our B2B clients. Here, large corporations that have a substantial number of non-formal workers and employees who usually get paid by cash which is certainly unpractical and unsafe. However, as most of the population in Indonesia still own cellphones, we can distribute their salary through our platform which benefits both employees and companies.
Other important features are cashless withdrawal service from more than 40,000 ATMs in Link's network, and remittance service for Indonesian migrant workers in Singapore through a partnership with Singaporean telco Singtel.
These services are the embodiment of our commitment to encourage financial inclusion for all. With LinkAja, even those who don't own bank accounts can make digital transactions within a single platform.
Kr: Please tell us more about LinkAja's collaboration with Singtel?
DW: In addition to remittance services, collaboration with Singtel enables LinkAja users to do cross-border payments in Singapore through Singtel's VIA network. So LinkAja's users can make transactions to any merchants with a VIA QR Code.
This service is in line with the Indonesian Standard QR Code (QRIS) program by Bank Indonesia which is to be implemented in the second half of 2019. With QRIS, one code can be used by various payment system providers at every merchant.
We are quite proud because LinkAja is the first digital platform to apply QRIS abroad. We are also preparing this service to be used in Thailand because we have the same Europay Mastercard Visa (EMV) QR Code standard as Singapore and Thailand.
Kr: Will LinkAja collaborate with WeChat Pay and Alipay, considering that these two Chinese platforms are cooperating with two of LinkAja's shareholders, BNI and BRI?
DW: LinkAja doesn't have any plans to cooperate with WeChat Pay and Alipay but it is true that two of our shareholders are their partners in Indonesia, in accordance with Bank Indonesia's regulations.
However, WeChat Pay and Alipay can only be used by Chinese nationals in Indonesia. When they make a transaction, their local bank partners will handle the settlement so that payment transactions are recorded in the national payment gate system.
Kr: What do you see in the future for LinkAja?
DW: We are optimistic about all of the offerings in LinkAja. We are targeting positive cash flow within four years and all our shareholders committed to this goal. Plus, we don't have to worry about competition because LinkAja's main mission is to provide financial access to all Indonesians so we're open for collaboration with any platforms or institutions that have the same goal.