"Fast" has always been a label attached to Luckin Coffee. In the second quarter of this year, the Chinese coffee company's total revenue reached RMB 6.2 billion (USD 848.7 million), competing head to head with Starbucks China, which racked up RMB 5.9 billion (USD 807.6 million) in net income for the same quarter. It's worth noting that Starbucks has been cultivating the coffee market for over 24 years, while Luckin Coffee opened its first store less than six years ago.
As of the end of this year's second quarter, the total number of stores operated by Luckin Coffee reached 10,836, officially entering the five-figure range. Only four other Chinese food-related brands have accomplished this feat, including:
Prior to Luckin Coffee, the fastest brand to establish 10,000 stores was Zhengxin Food Group, which took around 11 years.
Last year, however, a fierce competitor unexpectedly emerged in the coffee industry: Cotti Coffee. In the span of less than a year, Cotti Coffee has established over 5,000 stores nationwide, which seems miraculous but also controversial.
Cotti Coffee's fast-paced growth
A conspicuous feature of Cotti Coffee is its connection to Luckin Coffee. This can be attributed to Cotti Coffee's founding team, comprising Lu Zhengyao and Qian Zhiya, former chairman and former CEO of Luckin Coffee respectively. Both Lu and Qian left Luckin Coffee following the company's financial scandal in 2020. Thus, it's not surprising that Cotti Coffee's "Luckin genes" are apparent.
One aspect is store location, which aligns closely with Luckin Coffee's. Cotti Coffee's stores are generally small-scale, resembling Luckin Coffee's pick-up stores. In terms of franchising, Cotti Coffee also adopted the same cooperative model by collecting service fees based on gross and operating profit instead of charging franchising fees. According to Bohu Finance, Cotti Coffee's business development team has emphasized to external parties that the company's founders and team are from the original Luckin Coffee team, and that the products, supply chain, and business model are identical to Luckin Coffee's. These claims are unfounded in reality, as both companies are unrelated.
Another aspect is burn rate. On one hand, Cotti Coffee invests heavily in marketing. For example, it partnered with Argentina's national football team last year to launch a series of co-branded World Cup products. This helped the company gain significant exposure following Argentina's victory in Qatar.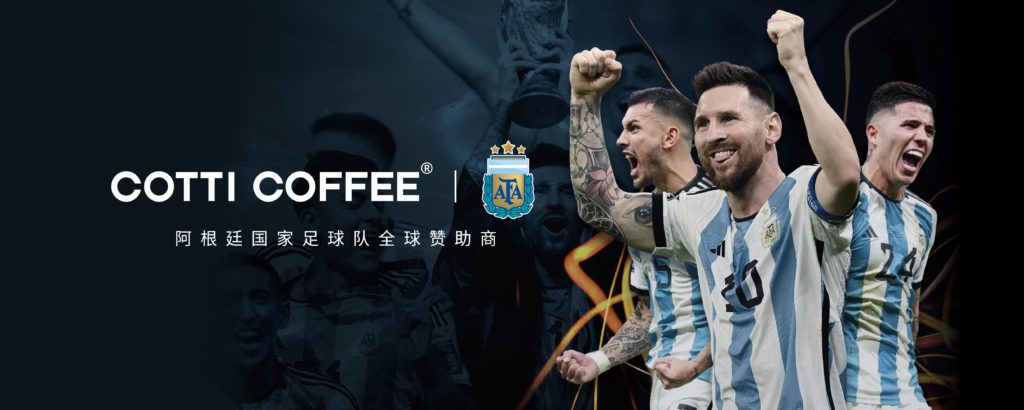 On the other hand, Cotti Coffee uses low prices to drive growth. In February this year, it initiated a two-month "Coffee Carnival" campaign, pricing over 70 of its products at prices as low as RMB 9.9 per cup. Similar campaigns followed suit starting May this year, including the "Summer Iced Drinks Season, 9.9 Yuan Everyday" marketing campaign and the "8.8 Yuan For Any Purchase" Douyin campaign. Cotti Coffee has also been launching a variety of growth activities, including programs that allow customers to drink coffee for free in exchange for bringing in new customers.
The results have been evident. The "Coffee Carnival" campaign helped sell over 1.53 million cups of coffee within two weeks, and in less than a year, Cotti Coffee has opened over 5,000 stores and even expanded its operations overseas.
Luckin Coffee responded by introducing a RMB 9.9 coupon in May this year, and subsequently initiated a regular RMB 9.9 weekly promotion a month later. In August, Luckin Coffee chairman Guo Jin announced during an earnings conference that the RMB 9.9 promotion would be extended to last for at least two years. Luckin Coffee's sales grew massively afterward, especially for popular products such as an alcohol-infused latte that was collaboratively developed with Chinese state-owned alcohol producer Kweichow Moutai. The first-day sales volume of that product exceeded 5.42 million cups, earning over RMB 1 billion in revenue.
Whether Cotti Coffee can stay competitive in the coming years remains unknown, but some of Cotti Coffee's franchisees have started to break even.
The other side of the coin
According to Luckin Coffee's semi-annual report, the number of its paying customers for the second quarter of this year reached 43.1 million after it introduced the RMB 9.9 coupon, representing a 107.9% year-on-year increase. At the same time, the company's general and rental expenses decreased by 3.5% and 1.6% respectively, demonstrating an overall improvement in operational efficiency. By combining its scale (of over 10,000 stores) with its digital operational capabilities, Luckin Coffee can still make a profit selling each cup of coffee at RMB 9.9.
Cotti Coffee's situation, however, seems less optimistic.
Firstly, sales have significantly declined, especially after Cotti Coffee began to raise its prices. In July, Cotti Coffee changed the terms of its Douyin group-buying coupon, raising the promotional price in increments from RMB 9.9 per cup of coffee to RMB 13.5, RMB 14.9, and so on. The following month, it discontinued the "9.9 Yuan Everyday" promotion, and also removed the RMB 8.8 store-exclusive coupon. The discounted price of RMB 8.8 subsequently applied only to its coconut milk latte product.
With Cotti Coffee frequently raising its prices, its franchisees have started to comment on social media platforms like Xiaohongshu and Douyin about the significant decline in sales they have started to experience. Bohu Finance quoted a Cotti Coffee employee who stated that the daily sales volume of a Cotti Coffee outlet in a second-tier city is only 200 cups. Some netizens even shared that some Cotti Coffee stores closed after just one month of operation after spending three months to complete renovations.
Increasing its prices has made Cotti Coffee less appealing to consumers, and by extension, franchisees. The main factor that enabled Cotti Coffee to open so many stores within a short span of time has been the efforts of its large pool of franchisees. So how long can Cotti Coffee, which relies heavily on its franchisees, sustain itself?
A report by 36Kr states that Cotti Coffee's fast-paced expansion isn't a proactive strategy of the company, but a reflection of "market demand." According to a survey conducted by a coffee industry experts, there are three main groups of franchisees who joined Cotti Coffee:
The first group consists of those who were previously part of Luckin Coffee and made money through Luckin Coffee's franchising model. They joined Cotti Coffee after Luckin Coffee tightened its franchising policy.
The second group includes franchising novices who want to start a business but are unsure of what to do. They joined Cotti Coffee after being attracted by its investment and promotional activities.
The third group falls somewhere in between the first two. It comprises franchisees who believe Cotti Coffee has a shot at success since its core team has been successful before and hold a significant track record.
However, according to a report by Amber Consumer Research Society, statistics for June and July 2023 show that most of the 20-odd stores in the city of Linyi are experiencing a decline in sales.

The RMB 8.8 strategy proves unprofitable for Cotti Coffee, leaving franchisees waiting for a return on investment. At "normal prices", Cotti Coffee is struggling to increase its sales, making losses harder for franchisees to stomach.
Furthermore, Cotti Coffee is also frequently facing supply chain issues related to product quality control, facilities, among others. Several media reports have indicated that Cotti Coffee's stores utilize a variety of coffee machines, lacking consistency in brand and model. Franchisees have also complained about Cotti Coffee's erratic delivery schedules, which have affected their businesses. According to a netizen who posted on Xiaohongshu (also internationally known as Red), a Cotti Coffee product was unavailable for over a week at a store because there was no stock in the company's warehouse at all.
Meanwhile, Cotti Coffee franchisees need to stave off not only intense market competition, but also internal pressures driven by the company's pursuit of rapid, large-scale growth. Some franchisees have expressed that shortly after they opened their stores, new Cotti Coffee outlets emerged within a one-kilometer radius.
These issues have led to a growing chorus of pessimism about Cotti Coffee in the market, suggesting that the company has much to do if it hopes to remedy the situation.
Plenty of homework to be done
Coupling low prices with rapid store expansion is not a completely new business strategy—it was something attempted by other players in the past, including Mixue Bingcheng and Luckin Coffee. However, these companies have the edge of being benchmarks in their respective markets. Under the glamor of operating over ten thousand stores, Mixue Bingcheng has built an effective supply chain, while Luckin Coffee has innovated to develop unique products and digitalized its business operations.
So, what Cotti Coffee needs to figure out urgently is not how to become the next Luckin Coffee, but to discover an identity that fits what Cotti Coffee is (or was meant to be).
On this point, perhaps looking at recent tea trends can offer some valuable insights.
Heytea leveraged new media effectively, turning it into a form of social currency by creating scenes where customers have to wait hours before they can get their hands on a cup of tea. At the same time, it capitalized on shifts in consumer preferences, abandoning slightly lower-priced ingredients used in traditional media tea and opting for high quality tea, cheese, and milk, positioning its brand more effectively.
Naixue (formerly known as Nayuki), with its large-scale stores and high-end product concept that amalgamates milk tea with European pastries, became the first publicly listed milk tea brand. Shanghai's Auntea Jenny tapped into the growing demand for healthier options among the younger generation by focusing on fresh fruit teas, carving out a sizable spot for itself in the market. The Alley successfully broke into the market by adopting a "tea plus milk tea" approach, becoming the top dog for several years. New tea drinks are booming, and brands are staking their claim by developing and showcasing their unique selling points.
In the case of Cotti Coffee, while it managed to attract customers quickly through low and subsidized prices, it's ultimately not a long-term solution.
Leaving aside other factors, competing solely based on price pits it not only against strong competitors like Luckin Coffee, but also a steady stream of emerging companies selling ultra-low-priced coffee. For example, even in Shanghai where rent is steep, Cubic3 is selling premium coffee for prices as low as RMB 5 per cup (the original price is RMB 10, but only RMB 5 is chargeable if customers bring their own cup).
Cotti Coffee's current low-price business model doesn't have much appeal, and it's hard to say how long its franchisees will continue to support it.
To survive in this increasing competitive market, Cotti Coffee needs to develop its unique way of standing out while addressing issues with its supply chain and operational capabilities.
It's worthwhile to note that this problem doesn't apply solely to Cotti Coffee. Even Luckin Coffee lacks the branding it needs to avoid entering a price war. Otherwise, it wouldn't have needed to resort to launching a regular RMB 9.9 promotion.
The key difference in circumstance between Luckin Coffee and Cotti Coffee is that the former still has time to adjust and grow. On the contrary, Cotti Coffee needs to adapt quickly. China's coffee market is already highly saturated in its first- and second-tier cities. From the perspective of companies hoping to contend for market share in third- and fourth-tier cities, there's no time to wait anymore.
This article was adapted based on a feature originally written by and published on Bohu Finance (WeChat ID: bohuFN). KrASIA is authorized to translate, adapt, and publish its contents.