China's coffee war is extending beyond the country's borders.
On August 15, Chinese branded coffee chain Cotti Coffee opened its first store in Kuningan City Mall in Jakarta, Indonesia, after opening its outlet in Seoul, South Korea one week earlier. The brand is also planning to expand into other Southeast Asian markets including Vietnam, Thailand, and Malaysia. Cotti Coffee's first outlet in Japan is reportedly under development in Tokyo.
Cotti Coffee was established in 2022 by Luckin Coffee's founding team. After admitting to financial fraud in April 2020, founder Zhengyao Lu, also referred to as Charles Lu, stepped down from Luckin's management. He subsequently founded a pre-packaged food brand and a noodle chain with 6,000 outlets, before reestablishing his foothold in the coffee industry by starting Cotti.
Replicating Luckin's business strategies
Cotti adopts business tactics that are similar to Luckin's. Its marketing is aggressive, discounts are massive, and prices are kept affordably low.
Cotti offered its drinks at discounted prices during its trial operation period, averaging RMB 9.90 (USD 1.38) before further lowering them to RMB 8.80 (USD 1.22). New customers also get their first cup of coffee from Cotti at a nominal price of RMB 1 (USD 0.14).
Notably, when Cotti became the global sponsor of Argentina's national football team in June earlier this year, it pushed out RMB 1 coffee promotions in the same month.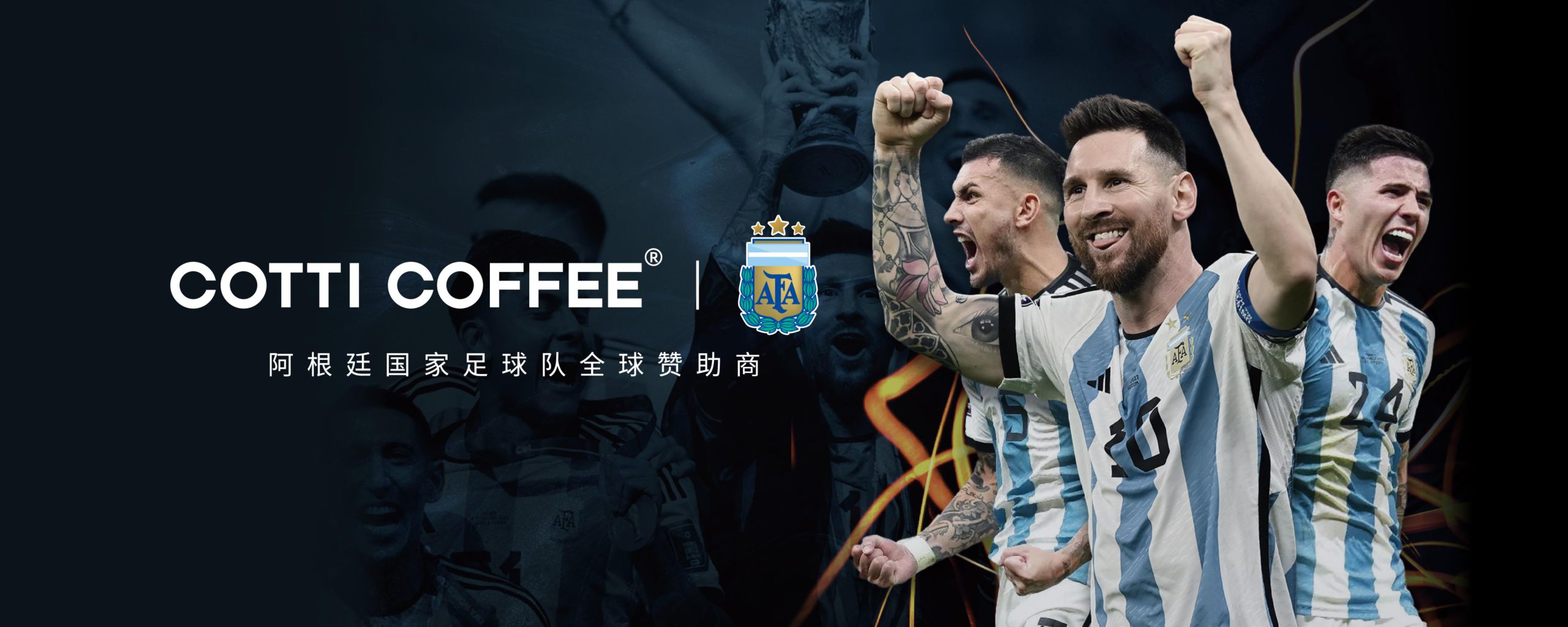 According to Value Planet, Cotti Coffee's store locations mirror Luckin's. For example, in Chinese first-tier cities, around 60% of Cotti's stores are located in office areas, while 64% of Luckin's stores are situated in similar districts. In shopping areas, Cotti accounted for 20% of stores, while Luckin made up 17%. In residential areas, Cotti's market share was 17%, compared to Luckin's 13%.
The distribution is similar in third-tier cities too. Both Cotti and Luckin situated around 30% of their stores in shopping areas. In office areas, both held a comparable share of the market, with Cotti at 23% and Luckin at 21%.
Unlike Luckin's direct and joint venture model, Cotti relies heavily on its franchise model. According to a study conducted by a coffee industry insider, there are three main types of Cotti franchisees: former profitable Luckin franchisees that turned to Cotti due to changes in franchising policies, franchising novices attracted by Cotti's aggressive promotions, and those in between the two categories.
Bringing the coffee war overseas
Luckin Coffee expanded into the Singapore market in March 2023, with over nine stores now within five months. Similar to the pricing strategy it utilized in China, new customers in Singapore can purchase their first drink at a discounted price of SGD 0.99 (USD 0.72).
When Cotti opened its stores in Seoul, prices of its drinks were discounted and started at just KRW 1,500 (about USD 1.36), while its drinks are selling at around IDR 18,000 (USD 1.17) in Indonesia.
The success of Cotti's expansion into Indonesia remains to be seen. With a strong coffee culture, Indonesia is already home to established local brands such as Kopi Kenangan and Janji Jiwa. In addition, Cotti will need to contend with the multinational branded coffee chain Starbucks, which currently operates over 500 stores in Indonesia as of August 2022.