Despite going viral and topping the download charts within two days of its debut, a Chinese face-swap app has courted controversy over its potential violations of user data protection.
Zao uses deepfake-like artificial intelligence technology that allows users to replace the face of actors or actresses in the hottest movies and soap operas with their own by simply uploading a selfie. Users can then share Zao-produced video clips, GIFs and memes with friends on social platforms like WeChat and Weibo.
Officially launched Friday, Zao has quickly skyrocketed to the top on China's Apple app store free download charts. Then backlash kicked in.
Given the massive adoption of facial scan payment in China, some users are worried that uploading their photos to a public platform could cause financial identity theft. Alipay, one of China's two biggest digital payment platforms, reassured its users on Sunday that current face-swap apps cannot bypass security checks of facial recognition payment.
"Even if there is a very minor probability that an incident of identity theft occurs, such a loss will be fully covered by insurance," the statement on Weibo read.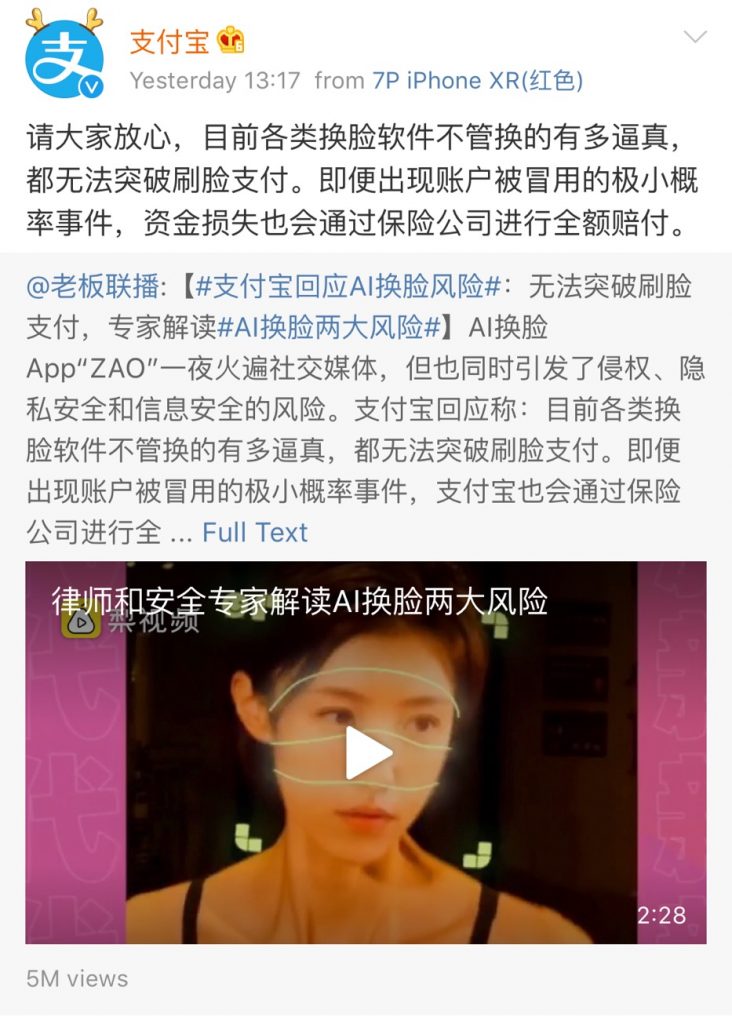 On the same day, top messaging app WeChat banned the external links shared from Zao, saying "the app has security risks."
Many users and media reports have lashed out at what they say is Zao's unfair agreement that users barely read thoroughly before clicking "agree" to commence the service.
Zao allows users to upload new footage to do face-swapping, but according to the original version of its terms of service, "before uploading and posting your content, you grant us (Zao, Zao-related firms and Zao users) a worldwide, royalty-free, irrevocable, perpetual, transferable sub-licensable license to use. "
Industry observers say that the clause was designed to avoid violations of copyrights and portrait rights, shifting the blame to users if they upload unauthorized footage.
"The clause is not valid from a legal standpoint," Wang Jun, a lawyer at Beijing TA Law Firm, told Sina Tech News.
Succumbing to widespread pressures,  Zao updated terms over the weekend, adding a special notification that states user content on its app would not be used in any other forms without user's permission, and that Zao would erase data from its servers if users delete their uploads.
"We understand the concerns about users' privacy. We have received your feedback and we need more time to fix the issues which we didn't take into consideration," Zao said in a post on Sunday.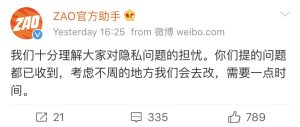 The controversial app is backed by Nasdaq-listed MoMo, a location-based social networking app and the developer of China's Tinder Tantan, according to Chinese business data provider Tianyancha.