2023 has been a polarizing year for China's burgeoning new energy vehicle (NEV) industry with some companies reaching milestones and others facing harsh realities. On one hand, Li Auto managed to turn a profit, Nio and Xpeng Motors struggled with sales, and just earlier this month, WM Motor filed for bankruptcy.
Despite these challenges, the Chinese automotive market continues to attract fresh capital from investors. In June this year, Middle Eastern investment institutions started displaying a keen interest in Chinese NEV companies. Multiple Middle Eastern investment firms have since signed strategic investment agreements with prominent Chinese NEV players. Examples of these deals include a USD 5.6 billion investment in Human Horizons by Saudi Arabia's Ministry of Investment, CH-Auto Technology's joint venture with the Manaseer Group from Jordan, and Nio raising more than USD 700 million from the Abu Dhabi government.
Beijing-based carmaker, BeyonCa, backed by Renault and Dongfeng Motor, was the latest to sign a memorandum of understanding with Riyadh-based Al Faisaliah Group (AFG) on October 23. A strategic cooperation agreement was also signed with Q Auto, an automotive distributor in the Middle East.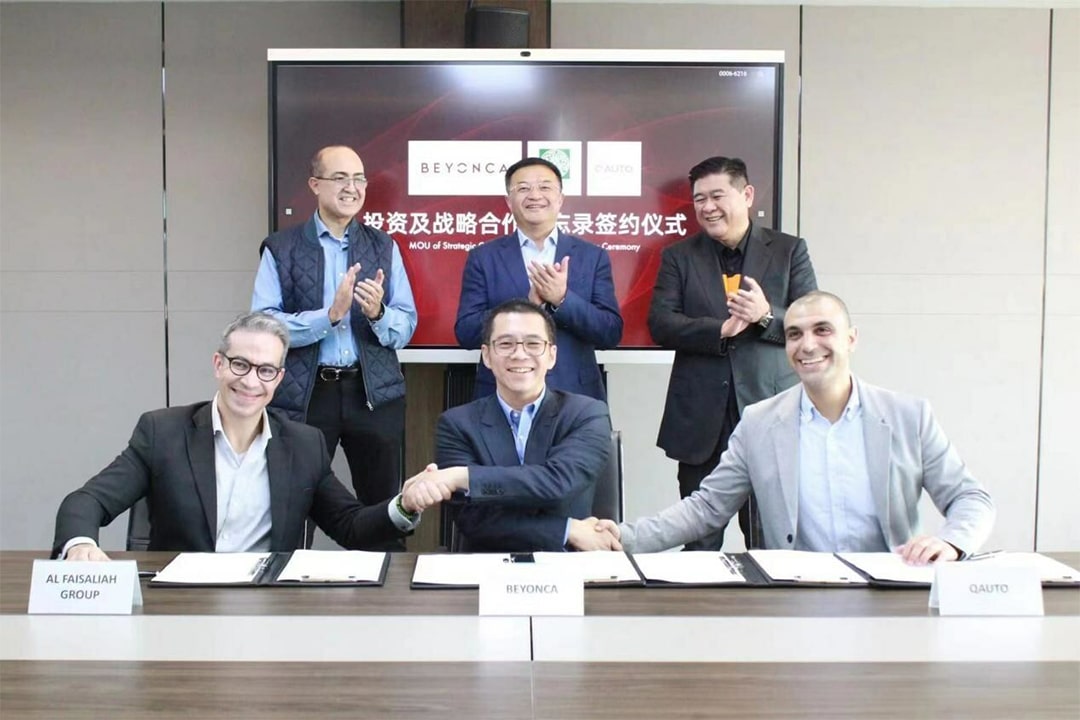 BeyonCa, which stands for "go beyond the car," was founded in June 2021 with a registered capital of USD 200 million by Soh Weiming. Soh was previously the vice president at Volkswagen Group and currently serves as CEO and Chairman of Renault China.
Soh believes that premium electric vehicles, pegged at the price range of RMB 500,000 (USD 68,300) or more, will enter a period of rapid growth from 2025 to 2030. He also highlighted the maturation of supply chains and technological ecosystems, particularly in the areas of fast charging and autonomous driving, as key factors that will lead the EV industry. These factors position luxury EV companies as competitive high-end manufacturing brands with a global reach.
It has not been smooth sailing for BeyonCa: when it first launched, the company faced initial skepticism due to its Chinese name's resemblance to Bentley and the steep price tag of its first concept car.  Shortly after its unveiling, BeyonCa was reported to have retrenched 600 employees.
However, this strategic cooperation and investment in BeyonCa may signal a potential turning point in the company's journey since its brand launch.
Ziad Al-Tunisi, CEO of AFG, expressed his admiration for the technological capabilities and business vision of BeyonCa. "It's not just a car—it's a lifestyle. I hope that our partnership will advance to help introduce the EV industry into Saudi Arabia," Al-Tunisi said.
Marwan Emile Faddoul, chairman of Q Auto, said the company intends to establish an EV production hub in the Arab region through its cooperation with BeyonCa.
Facilitated by capital and enhanced efforts in courting NEV firms, the Middle East has not just become a prominent target for Chinese automakers but also the likes of South Korea's Hyundai Motor and American electric luxury sports car brand,Lucid. Chinese automotive companies must therefore prove their mettle in the local market.
Drawing on the challenges that carmakers have faced in Europe and Southeast Asia, nailing the domestic market is vital for success. While Soh's strategy of focusing on luxury EVs might turn out right, BeyonCa's sales plan suggests that over 60% of sales will still need to be secured in the Chinese market. This means that BeyonCa, a newcomer that has yet to establish a significant overseas presence, must make a strong debut in the Chinese market to lay the foundation for success.
As of now, with its first model delayed from its initial release and a brand image lacking a distinctive "tech label," BeyonCa faces the task of convincing consumers to embrace a new entrant in an increasingly competitive industry.