During the opening ceremony of the recent Asian Games held in Hangzhou, China, the United Arab Emirates (UAE) delegation caught the world's attention with a notable gesture: its delegates made their entrance while waving the national flags of China and the UAE simultaneously.
This gesture appears symbolic of the deep-rooted and amicable relations between China and the UAE. Notably, the UAE is set to join BRICS on January 1, 2024, cementing the partnership between the UAE and China as well as other member nations of the multinational alliance.
Beyond diplomatic ties, the economic and commercial ties between the UAE and China have recently blossomed, with a strong emphasis on investments. The UAE has been offering financial support to various Chinese enterprises and the broader economy in China.
The UAE is a federation of seven emirates and has Abu Dhabi, its capital, as its largest. Abu Dhabi is the country's second most populous city after Dubai, and comprises 87% of the UAE's total land area. It also boasts abundant oil and natural gas reserves.
According to the latest data released by the World Bank, as of July 2023, the UAE's gross national income per capita reached USD 87,729 in 2022, ranking seventh globally. With a modest population size of 9.365 million in 2021, the UAE stands as a nation with an unusually high concentration of millionaires, earning it the moniker of "desert princes."
Localization is key
The UAE's commitment to investing in China is well-established, noting its plans to inject up to USD 10 billion into the country. Over the past five years, Middle Eastern investors have become increasingly active in China's venture capital landscape. These efforts are being led by key players like the Abu Dhabi Investment Authority (ADIA) and the Mubadala Investment Company, which are prominent sovereign wealth funds from the UAE.
According to the Sovereign Wealth Fund Institute (SWFI), as of October 2023, Mubadala's assets under management are approximately valued at USD 287 billion. The fund began investing in China in 2015 by partnering with the China Development Bank and the State Administration of Foreign Exchange to invest USD 10 billion in strategically important and commercially viable projects in China through the China-UAE Fund, primarily through indirect investments.
In April this year, a Mubadala delegation, led by deputy CEO Waleed Al Mokarrab Al Muhairi, visited Shenzhen to exchange insights. "We have a strong local investment team with a deep understanding of the Chinese market," Al Muhairi said. It is evident that local engagement is a top priority, underlined by Mubadala's decision to establish local investment teams of their own.
According to reports by China Star Market, Mubadala's China investment management team comprises seven members, led by Mohamed Abdallah. Notably, a member of the team is Jiang Lidong, a local executive with over seven years of experience at CPE Yuanfeng and TPG.
This year, Mubadala also set up an office in Beijing, staffed by approximately 10 individuals responsible for Chinese investments. Mubadala has expressed its commitment to further invest in China while simultaneously attracting more Chinese enterprises to expand to the UAE and the broader Middle East, fostering industrial development in the region.
Investing in the new economy
The UAE's investments in China have focused primarily on the new economy. The majority of these investments have been targeted at companies operating in industries with significant potential for growth. Thus far, the UAE has invested in over 20 Chinese companies, including well-known firms like electric vehicle manufacturer Xpeng Motors and short video platform Kuaishou.
This aligns with ADIA's investment strategy, which entails investing flexibly in a wide array of high-growth sectors, including transportation, finance, artificial intelligence, e-commerce, healthcare, robotics, and new energy vehicles. This strategy does not rule out venturing into traditional industries. ADIA has invested in such areas on occasion. Last year, it financed an investment in Chinese agricultural company Shiyue Daotian.
Abu Dhabi-based sovereign wealth funds generally deploy large quantum of capital in deals, typically in the range of billions of RMB and predominantly after the Series B stage. Their financial prowess allows them to focus primarily on high-level companies, making it more challenging for smaller startups to attract their interest.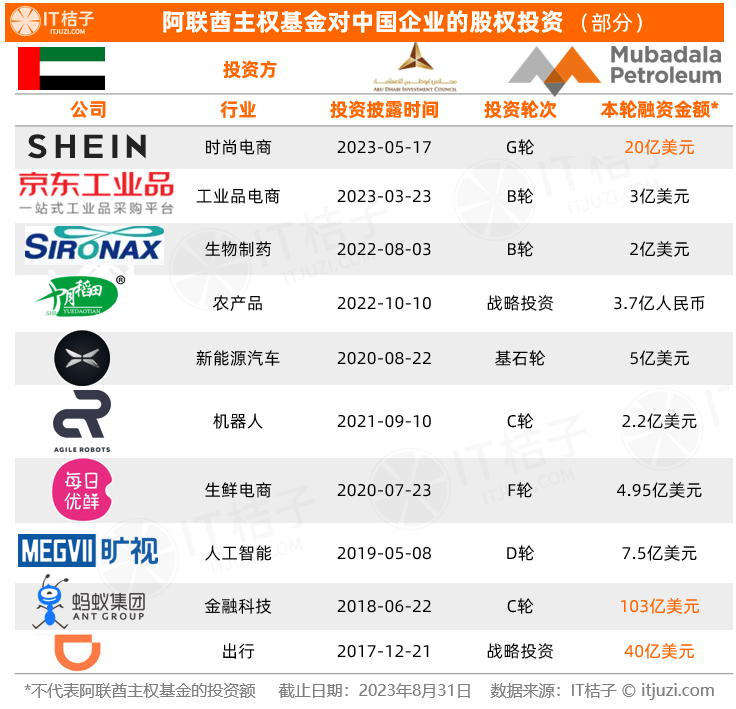 In May, Mubadala participated in Shein's USD 2 billion round at a valuation of USD 66 billion. Shein's revenue in 2022 reportedly reached USD 23 billion, outpacing H&M (USD 22.3 billion) and closely trailing Inditex, the parent company of Zara (USD 35.3 billion). It also recorded a net profit of USD 800 million.
Mubadala's investment in Shein is just one of several deals in China that saw the participation of Middle Eastern investors:
At the end of 2017, Mubadala invested in Didi, participating in a USD 4–5 billion round alongside SoftBank Group. That was the first direct investment by a Middle Eastern entity into the Chinese new economy.
ADIA was one of the investors that participated in Ant Group's USD 10.3 billion financing round in 2018, which was the largest in China's history. Subsequent reports claimed that the total investment amount was actually USD 14 billion, but this information could not be verified.
In 2021, Mubadala invested in biopharmaceutical company Ignis Therapeutics. The company raised USD 180 million at Series A level, which is the earliest stage that the Middle Eastern investor has ever invested at. Mubadala's participation also highlighted the attractiveness of China's life sciences industry.
The UAE's sovereign wealth funds also participate in cornerstone investment deals for companies poised to go public, such as Kuaishou, Joy Spreader Group, Huisen Household, and Xpeng Motors. Cornerstone financing is pivotal in Hong Kong and the US stock markets, providing critical support and validation for companies preparing to go public. Cornerstone investors often secure favorable shares at advantageous prices.
In August 2020, during Xpeng Motors' US IPO, its investors included Mubadala and the Qatar Investment Authority. Months later, in January 2021, Kuaishou secured USD 2.45 billion ahead of its IPO in Hong Kong, with contributions from ADIA and Temasek. The two entities subscribed to a total of 165 million shares, accounting for 45.2% of the total offering.
Additionally, China's A-share market has also attracted Middle Eastern investors. According to partial statistics, the Kuwait Investment Authority has invested in 42 A-share listed companies in China as of the end of Q1 this year, and is among the top ten shareholders in 29 of these companies. Meanwhile, ADIA has invested in 34 A-share listed companies in China, becoming one of the top ten shareholders in 18 of them.
The UAE has also been committing funds through Chinese investment institutions, serving as limited partners (LPs) with deep pockets which have become increasingly attractive to Chinese general partners.
In November 2021, Bits x Bites, China's first venture capital fund specializing in early-stage investments in food and agricultural technology, announced the completion of its second-phase US dollar fund, raising USD 100 million. The LPs in this fund include Middle Eastern sovereign wealth funds such as Disrupt AD, which is backed by ADQ, the state-owned holding company for Abu Dhabi's non-oil sectors. ADQ established Disrupt AD in 2021 as an investment platform to promote entrepreneurship and innovation, with the goal of maximizing value and bringing long-term economic benefits to the UAE.
As mainstream American LPs are hesitant to commit funds in the Chinese market for various reasons, venture capital and private equity firms in China that peg to the US dollar are increasingly under pressure. From this perspective, interest from the Middle East has been a holy grail, enabling them to raise funds from an alternative source while their American counterparts continue to adopt a wait-and-see stance.
Beyond sovereign wealth funds and the UAE 
Sovereign wealth funds aren't the only ones investing from the UAE—some high-risk investment companies and private equity funds have also been following suit.
In 2022, G42, a Middle Eastern artificial intelligence and cloud computing company, led the establishment of the G42 Global Expansion Fund (42XFund) with a scale of USD 10 billion. 42XFund invests in new technology in emerging markets, focusing on late-stage growth companies with disruptive technology and mature business models. The fund is headquartered in Abu Dhabi and has offices in Shanghai, Singapore, and Jakarta.
To support its investment activities in China, 42XFund recruited Jason Hu in March this year, appointing him as its head of China. Hu was the former head of strategic investments at JD.com. The same month, 42XFund invested in JD Industrials, a subsidiary of JD.com focused on industrial products and services. 42XFund co-led the investment with Mubadala in a USD 300 million Series B funding round.
Apart from the UAE, other Middle Eastern countries including Qatar, Kuwait, and Saudi Arabia have also increasingly been investing in China, and for good reason. While these countries possess rich oil resources, they have long had concerns about relying too heavily on the industry. Dipping into foreign markets like China enables them to diversify their investments to reduce their reliance on the oil industry and mitigate associated risks.
This article was adapted based on a feature originally written by Wu Meimei and published on ITjuzi (WeChat ID: itjuzi521). KrASIA is authorized to translate, adapt, and publish its contents.