On Tuesday (October 17), Chinese technology giant Baidu unveiled Ernie 4.0, the latest version of its large language model, claiming that its capabilities are on par with those of ChatGPT creator OpenAI's GPT-4 model.
The announcement was made by Robin Li, co-founder, chairman, and CEO of Baidu, at Baidu World 2023, the tech giant's annual flagship technology conference, which returned to an offline format for the first time in four years. The event was held in Beijing this year.
In an official statement released by Baidu, the company described Ernie 4.0 as a "next-generation and [the] most powerful foundation model offering drastically enhanced core AI capabilities."
"Ernie 4.0 has achieved a full upgrade with drastically improved performance in understanding, generation, reasoning, and memory. … These four core capabilities form the foundation of AI-native applications and have now unleashed unlimited opportunities for new innovations," said Li during the event.
To demonstrate the capabilities of Ernie 4.0, Li also conducted a comprehensive demo of the new Ernie Bot, which runs on the latest version of the model.
During the live demo, Li prompted Ernie 4.0 to generate a variety of advertising materials. In one example, he started by providing a stock photo of the Chang'an Qiyuan A07 electric vehicle, asking the artificial intelligence model to generate two images of the same EV in a spring landscape while showcasing the speed of the car. He subsequently prompted the model to utilize the same material to generate a poster as well as a marketing video.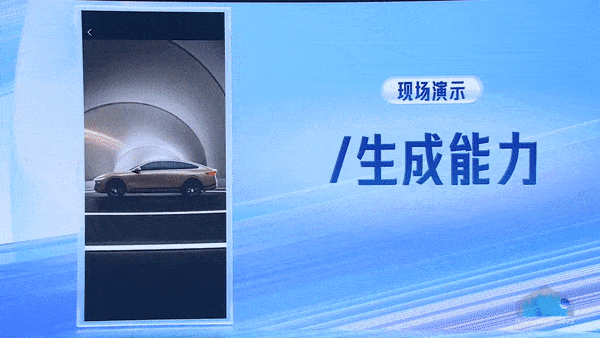 The improved features of Ernie 4.0 is expected to distill into Baidu's suite of apps, products, and solutions, including Baidu Search, Infoflow, Baidu Maps, and more, enhancing their functionality:
Baidu Search will soon be able to aggregate and summarize information from various internet sources and consolidate them into answers to be presented in a variety of modals, including text, images, and dynamic graphs. It will also suggest more relevant content streams while remaining customized to user preferences. An interactive chat interface will also be added to serve more complex searches and enable users to iteratively refine their queries.
Baidu Maps will be integrated with the company's AI capabilities, enhancing various functions including navigation, ride-hailing, restaurant recommendations, hotel bookings, and more. The AI integration will also enable the map app to proactively suggest subsequent courses of action to users during their trip.
Infoflow, a smart workplace app and assistant developed by Baidu, will be equipped to aid in office task execution through natural language processing. It will eventually be updated with the capability to handle a range of functions, including setting meeting agendas, summarizing important insights from chat histories, preparing meeting briefings, and even facilitating flight bookings.
Baidu first introduced Ernie 3.0 in March to a limited number of users, before it launched the 3.5 version in June. The AI model became publicly accessible after government approval was secured by Baidu on August 30.
In China, Baidu is one of several frontrunners in AI and LLM development, with developments in this field unfolding quickly after Beijing declared its interest in making AI a key industry. The country wants to become a global leader in AI by 2030.
Ernie 4.0 is not yet available to the general public, but Baidu has already invited some people to trial the new model. Baidu did not provide a timeline on the integration of the AI model with its search engine, maps, as well as other tools and services.