Late into the evening of August 30, while most of us were preparing to turn in for the night, some in China were eagerly anticipating an announcement. That announcement finally came through in the final hours preceding midnight, when the Chinese authorities disclosed the first batch of large language model (LLM) products that have been approved for public use.
A total of eight entities secured approval for their respective LLM products, with five hailing from Beijing and the remaining from Shanghai. They include:
These approvals have swiftly made the products accessible to the public, available for download and usage shortly after the announcement was made. For example, when the curtain rose on the approval of Baidu's Ernie Bot at around 11:00 p.m., ending its beta and waitlist era, the tech giant's official accounts were quick to break the news over social media, simultaneously making the tool available for download from its app store and website.
Other entities that obtained approval, such as SenseTime, quickly followed suit by opening up their applications for the masses.
The approvals have been a long time coming, noting the rapid growth in interest and development of artificial intelligence and LLMs since the year's inception. As AI remains an emerging field, Chinese authorities have exercised caution, dedicating the bulk of the year to mandate and oversee a comprehensive review:
On April 11, 2023, the Cyberspace Administration of China (CAC) introduced an administrative framework drafted to govern generative AI services. This framework underscores prerequisites for the provision of public services using generative AI products, which are significantly based on LLMs. Safety assessments, algorithmic procedures, and content accuracy were crucial tenets highlighted in the framework.
A juncture emerged on June 20, 2023, when the CAC disclosed details about the filing of deep synthesis service algorithms. The list included a total of 41 algorithms, encompassing popular applications such as Meituan, Kuaishou, Taobao, Damai, KuGou Music, and Baidu's Ernie Bot.
The entities that have obtained approval will now hold the privilege of prioritizing AI product launches for the masses, gaining a first-mover advantage in securing market share, especially within China.
According to Robin Li, founder, chairman, and CEO of Baidu, the company will be able to begin collecting a wealth of real-world user feedback following Ernie Bot's approval. This will enable Baidu to further enhance its LLM and iterate more quickly to improve user experiences.
The following sections delve into the LLMs that have secured approval:
Baidu
Baidu's Ernie Bot stands as China's first generative AI product developed by a Chinese tech company. It also holds the distinction of being the world's first of its kind from a major conglomerate. The product initiated invite-only testing on March 16 of this year. However, its foundational model, Wenxin LLM, made its debut much earlier in China, back in 2019. The recently enhanced Wenxin LLM 3.5 has consistently secured the top spot in over ten authoritative international evaluations.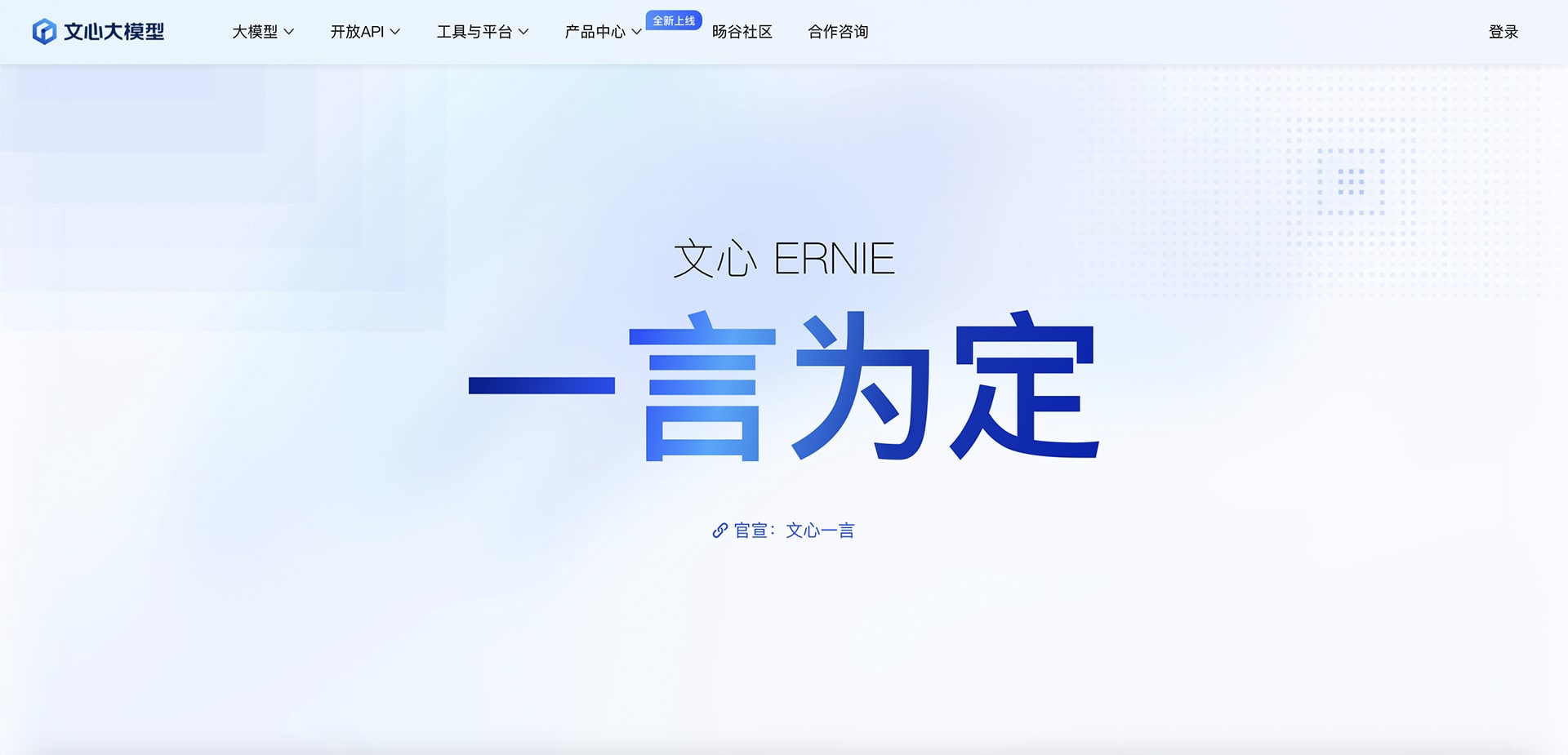 Douyin Group
On August 17, 2023, Douyin Group (formerly ByteDance) announced the commencement of the external testing phase of its AI chatbot, Doubao, which translates to bean bun. It is built upon the company's proprietary Yunque LLM and encompasses a range of functionalities, including conversational bots, writing assistants, and language learning aids. Doubao is accessible on both web and mobile platforms, and users can log in using their phone number, Douyin account, or Apple ID.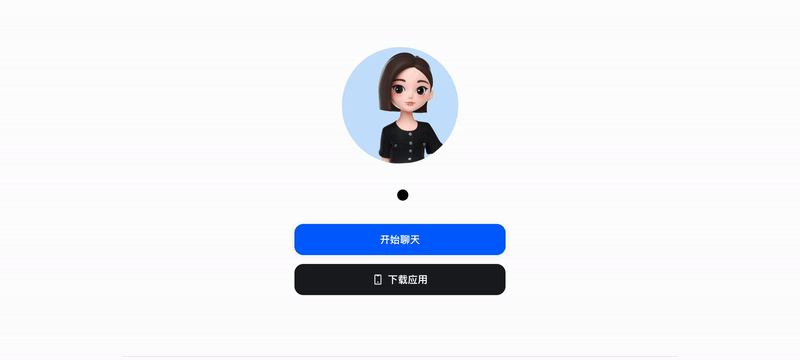 Zhipu AI
Established in 2019, Zhipu AI was among the first wave of Chinese companies to develop LLMs. The company is a spin-off of the technology transfer from Tsinghua University's Knowledge Engineering Group.
Currently, Zhipu AI has released a range of products, including the bilingual trillion-dialogue model GLM-130B, an open-source bilingual chat model ChatGLM-6B. Both models can be accessed using the company's model-as-a-service (MaaS) platform, Bigmodel.ai, which also encompasses products like CodeGeeX and CogView.
Based on ChatGLM, Zhipu AI has also introduced a B2C application this year. It is also collaborating with several Chinese internet giants and state-backed enterprises to explore applications in the B2B space.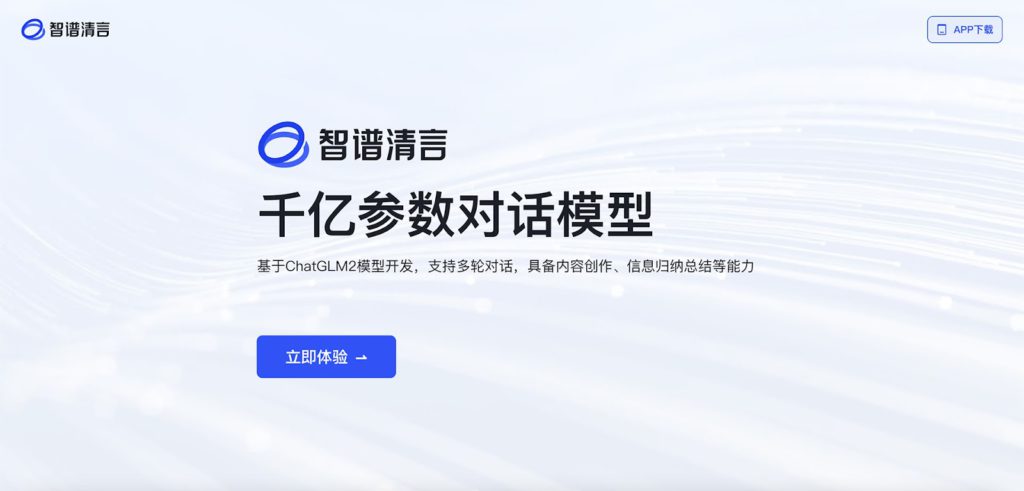 Baichuan AI
Established in 2023 by Wang Xiaochuan, founder of Chinese technology company Sogou, Baichuan AI introduced its bilingual language model Baichuan-7B in June this year, comprising seven billion parameters.
A month later, it followed up with the release of Baichuan-13B-Base, which is a general purpose LLM that has been trained on 13 billion parameters. Concurrently, the company also introduced dialogue model Baichuan-13B-Chat, accompanied by two quantized versions, INT4/INT8.
In August 2023, Baichuan AI announced the launch of its next-generation LLM, Baichuan-53B, which targets corporate users and focuses on text generation.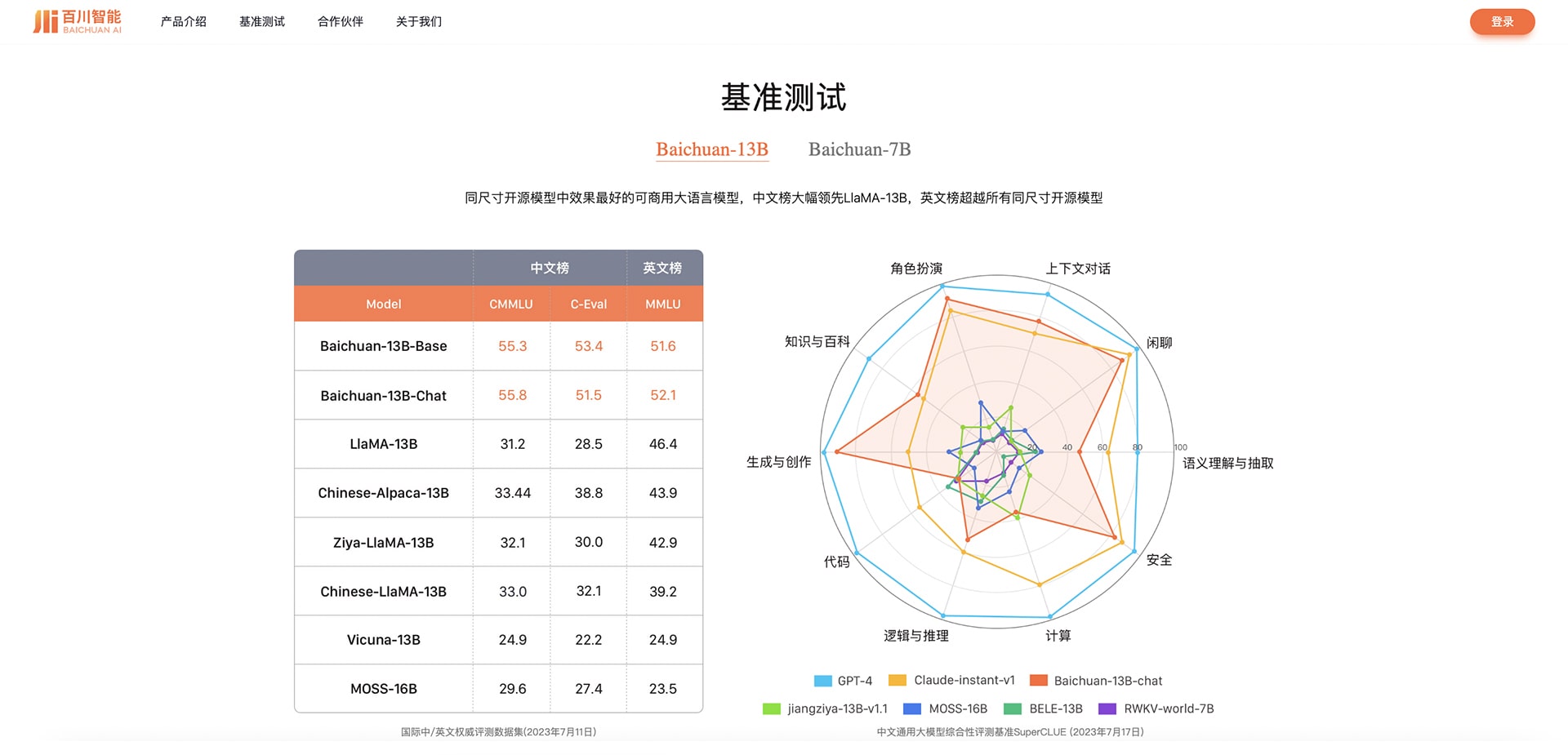 Institute of Automation (Chinese Academy of Sciences)
The Institute of Automation, established in October 1956 by the Chinese Academy of Sciences, is the earliest national research institution for automation in China. In 2021, It launched Zidong Taichu, a cross-modal general AI platform.
Built on a domestically developed platform, Zidong Taichu ostensibly boasts tens of billions of parameters and encompasses multiple modalities, including visual, text, and speech.
In June this year, a second version of Zidong Taichu was released, introducing new modal data such as videos, sensory signals, and 3D point clouds. The LLM is presently utilized in various industries including healthcare, logistics, government, among others.
SenseTime
SenseTime unveiled its SenseNova LLM in April this year, which offers an array of capabilities including natural language processing, content generation, automated data labeling, and custom model training. Among its products include content generation platforms such as SenseChat, SenseMirage, SenseAvatar, SenseSpace, SenseThings, and SenseAnnotation—each tailored to cater to a variety of use cases. SenseChat's second and latest version has recently been released, boasting parameters in the tens of billions.

MiniMax
Founded in 2021 by Yan Junjie, former vice president and head of general AI technology at SenseTime, MiniMax has released three foundational model architectures: text-to-visual, text-to-audio, and text-to-text. The startup has also introduced a self-developed general LLM "ABAB", named after the sound of baby babble. It has also rolled out virtual chat software named Glow and a generative AI product called Inspo.
MiniMax is currently one of the highest-valued Chinese startups in the LLM sector. According to Reuters, MiniMax's valuation exceeds USD 1.2 billion, after completing a new round of financing worth over USD 250 million in June this year.
Shanghai Artificial Intelligence Laboratory
Shanghai Artificial Intelligence Laboratory, also known as Pujiang Lab, was established in 2020 by the Shanghai AI Innovation Center.
In 2021, Pujiang Lab, in collaboration with SenseTime, the Chinese University of Hong Kong, and Shanghai Jiao Tong University, released the general vision-based model, Intern. To date, the Intern LLM comprises parameters in the tens of billions. It includes three foundational models: InternLLM, InternLM, and LandMark. It also encompasses an open-source system tailored for large model research and application.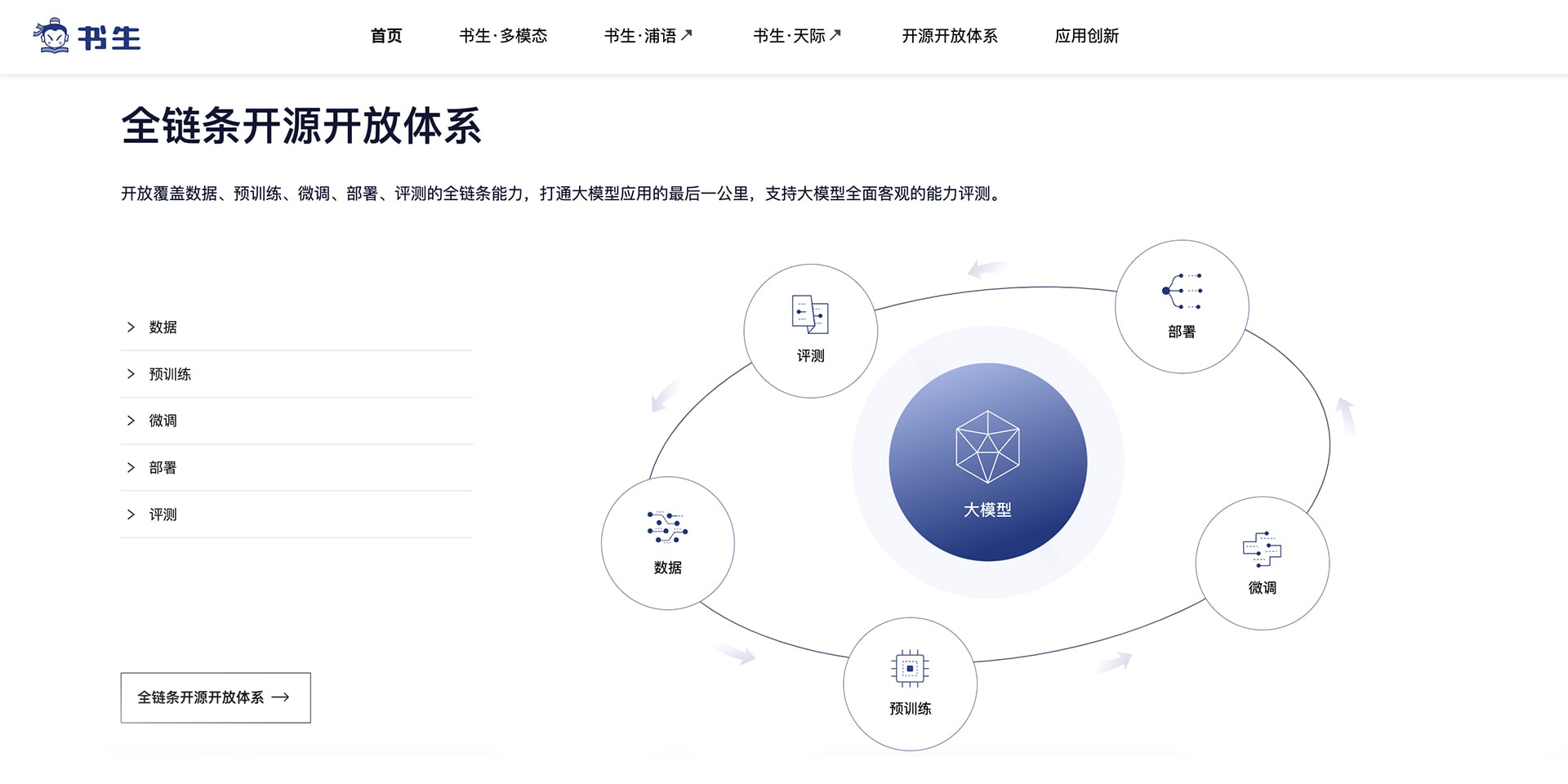 KrASIA Connection features translated and adapted content that was originally published by 36Kr. This article was written by Su Jianxun, Deng Yongyi, and Shang En for 36Kr.