Agriculture plays an important role in Southeast Asia's economy. It accounted for 12% of the region's GDP in 2020, supporting many people whose livelihoods are rooted in this sector.
Modernization and the adoption of new technologies can bring about further economic growth in the region. Indonesia-based Avirtech provides data processing and drone-based solutions to improve farmers' crop yields and formulate deeper understandings of conditions in their fields.
One of Avirtech's products is a drone used for crop spraying. When it is airborne, the drone captures images of the area it flies over to identify weeds. An AI algorithm calculates the amount of herbicide that is needed to eliminate the unwanted plants. It also maps out a route so that it avoids spraying areas with open soil. This prevents the overuse of herbicides, limits crop exposure to chemicals, and saves costs.
Another product of Avirtech is a mapping drone that can perform land surveys. By gathering data with ground sampling distance of less than 3 cm—meaning each data point that is gathered is no more than 3 cm away from the next—users will be able to access a highly detailed topographical representation of crop areas. These images can then be analyzed for anomalies, such as checking for weeds.
Avirtech has also developed an IoT plantation platform called BIOTA, which connects and processes real time inputs from devices to monitor weather conditions, soil moisture, pH levels, and amount of UV light. By automating the monitoring process, farmers reduce labor costs and time that would have been needed to inspect these manually in the past. They can then plan and react to any changes that may affect their crops.
Avirtech is led by founder and CEO Randy Ferixson, with Terry Mulijana (CTO) and Wilson Ong (COO) rounding out the senior leadership team. The trio's professional backgrounds in software development, drones, and entrepreneurship is making Avirtech a promising startup in indonesia. The company has grown to over 350 staff, operates in four countries—Indonesia, Thailand, Malaysia and Singapore—and has a client base of over 60.
With what it sees as a massive opportunity within Southeast Asia with 106 million hectares of land within their addressable market and only 200,000 of that serviced by Airtech, the team is ready for further growth in 2022 and beyond.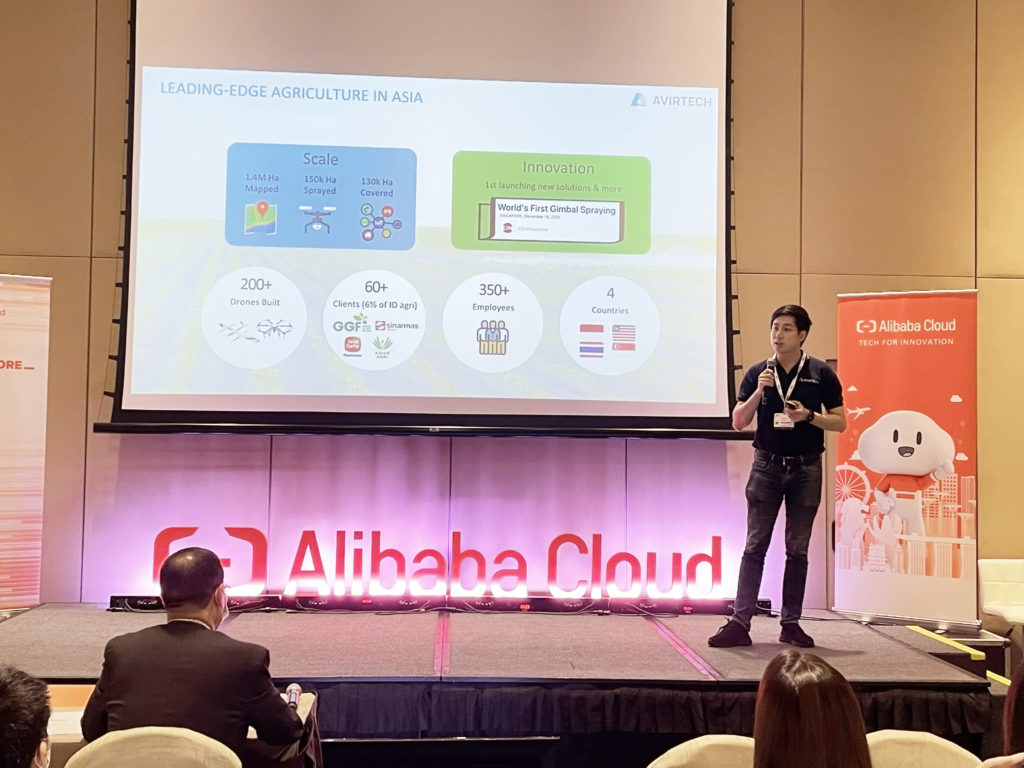 Avirtech was a finalist at the Project AsiaForward Alibaba Cloud Global Startup Accelerator Singapore Demo Day, held on June 1, 2022 at the Singapore EXPO.