More buildings are built every day to meet the growing demands of modern society. Some will become apartment buildings to serve housing needs, while others could be developed into a variety of amenities, such as schools, hospitals, and shopping malls. They come in all shapes and sizes, but most buildings are built from the same material: concrete.
Concrete is used in construction because it is both strong and durable. It is straightforward to make—cement reacts with water and other ingredients to form a matrix that hardens over time into the stone-like material, which becomes the structure of buildings.
But this process—known as concrete curing—needs time for the concrete to reach its target strength. Otherwise, the structure may crack, crumble, or collapse in a matter of months, resulting in catastrophic consequences.
A method used to determine whether concrete has cured sufficiently is cube testing. It involves taking samples of concrete from the main batch, letting it cure, then crushing it to measure its compressive strength, revealing the structure's hardness. Cube testing is practical, but there are several ways in which it can be improved.
First, concrete cubes harden and gain strength slower than the actual structure due to differences in curing conditions. It is common for the actual structure to reach the required level of hardness before the tests indicate accordingly.
Second, cube testing is performed by certified third-party testing facilities. It takes time to transport cubes to these facilities, and depending on demand, there may be additional waiting time.
Third, cube testing is resource-intensive and unsustainable. For example, constructing an apartment in Singapore will require an average of 3,600 cubes to be tested. Cubes are difficult to repurpose once they have been crushed, and the tests result in 4,800 tonnes of CO2 emissions per year.
Singapore-based outfit ConcreteAI has developed a solution to complement cube testing, offering builders, concrete suppliers, and precast manufacturers the ability to monitor the concrete curing process in real time. The solution is simple—a sensor with probes is deployed to collect data points related to strength and temperature in the structure. Data collected is transmitted for analysis and visualization to provide on-site visibility of the structure's integrity.
ConcreteAI's solution can reduce the amount of time traditionally required to complete casting and concreting activities by up to 20%. With real-time visibility of concrete strength, builders can optimize their resource and manpower allocations to reduce associated costs. The solution also relieves the reliance on cube testing, reducing the number of cubes used per project. ConcreteAI's hardware is also resource-efficient—its sensor transmitters are reusable once a project has concluded.
ConcreteAI is backed by the NUS Graduate Research Innovation Program (GRIP) and Enterprise Singapore. It plans to expand its operations, obtain product certification, and pursue further development this year.
The startup is run by a team of four, comprising Qingyang Chang (CEO), Xiyi Ooi (CTO), Isaac Siow (business and marketing), and Peter Lim (mechanical design). The team hopes their solution can improve the productivity, sustainability, and quality of construction projects not only in Singapore, but around the world.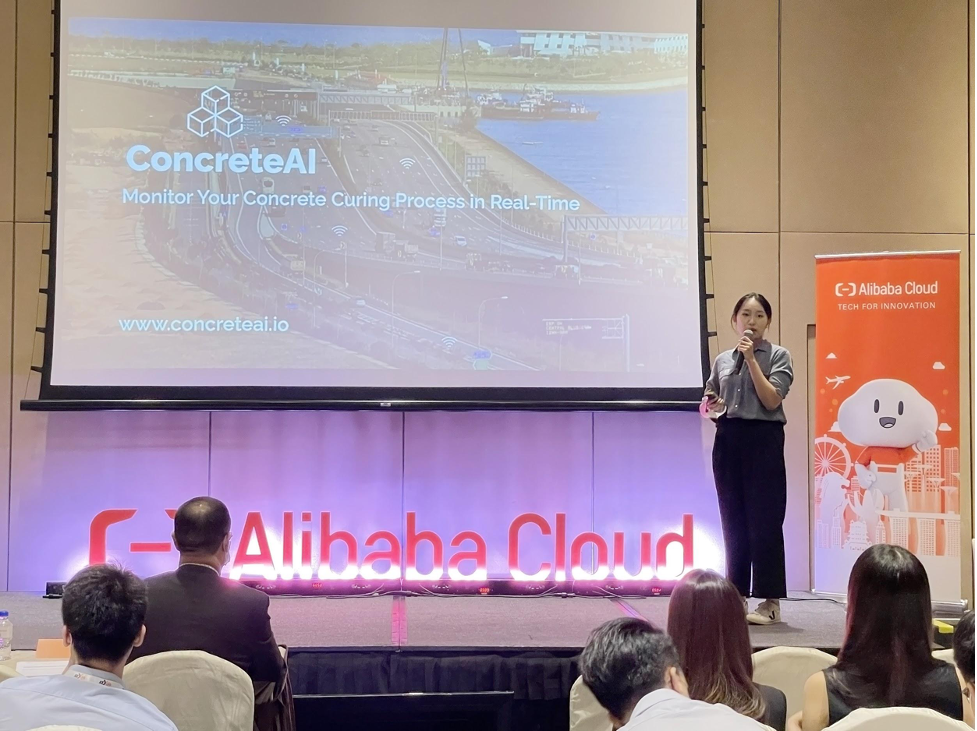 ConcreteAI was a finalist and the Asia Star at the Project AsiaForward Alibaba Cloud Global Startup Accelerator Singapore Demo Day, held on June 1, 2022 at the Singapore EXPO.