When food delivery company Zomato, which went public in a stellar market debut earlier this July, posted widened losses for the third quarter of 2021 on Wednesday, it made a slew of announcements charting out its game plan for the next few years to assure its shareholders. The list comprised pulling the plug on nonperforming arms, pumping capital into core businesses, and tapping growth opportunities beyond food by investing in the hyperlocal e-commerce ecosystem.
The company's income from operations grew 21% to INR 10.2 billion in Q3 2021 over the last quarter, while losses rose 19.4% to INR 4.3 billion. However, compared to the previous year, operating revenue increased 140%, whereas losses spiraled up 90%.
Overall, adjusted revenue in the quarter ended September 2021 stood at INR 14.2 billion, a 22.6% growth quarter-over-quarter (QoQ) and 144.9% growth year-over-year (YoY). Zomato's food delivery business in India constituted 88% or INR 12.5 billion of the total revenue.
In a blog published on Wednesday, Zomato founder and CEO Deepinder Goyal said the losses were incurred during the quarter as the company invested in its food delivery business growth.
He explained that Zomato increased spending on branding and marketing for customer acquisition and made investments in growing its market share in emerging geographies. The company spent an incremental INR 400 million in branding and marketing as compared to Q2 of 2021. Rising delivery costs and fuel prices also contributed to climbing losses.
Zomato's customer traffic from India shot up to 59 million average monthly active users in Q3 of 2021 compared to 45 million in the last quarter. Meanwhile, driven by the soaring number of transacting users, its India gross order value in the quarter grew by 19% QoQ and 158% YoY to INR 54.1 billion.
Goyal believes the restaurant community is getting back up on its feet after a prolonged phase of uncertainty over the past 18 months.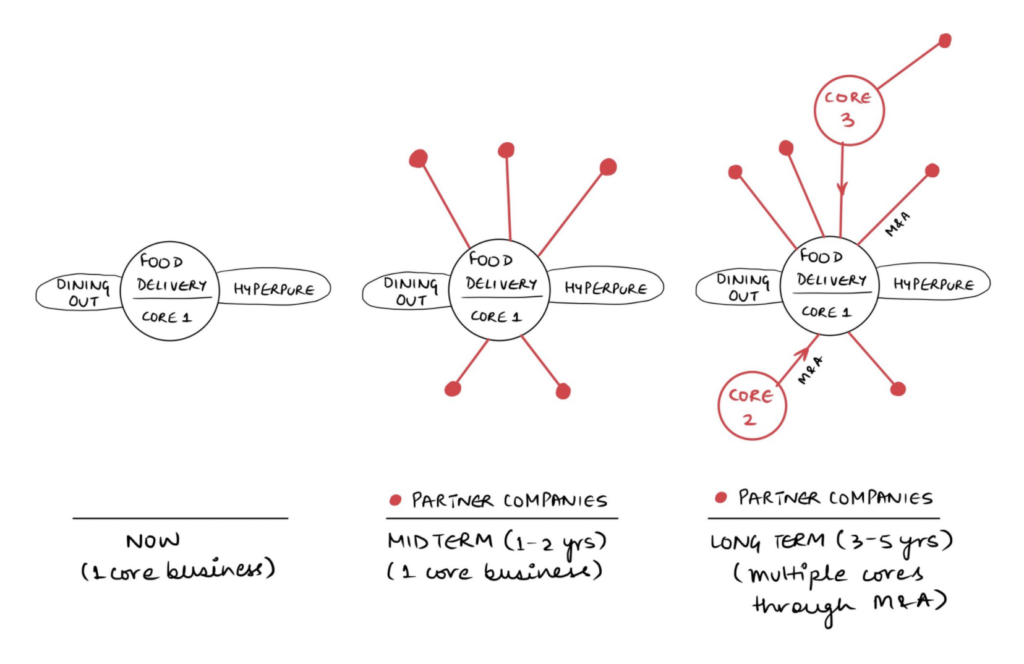 Charting out the next phase of growth
Goyal outlined Zomato's long-term strategy that entailed key priorities for the next few years. This includes divesting or shutting down unprofitable businesses to cut down losses, investing in its core food business vertical, and building multiple core businesses through mergers and acquisitions while creating a hyperlocal e-commerce ecosystem.
Goyal noted that the company's core food-related businesses—food ordering and delivery, dining-out, and B2B supplies for restaurants under Hyperpure—will remain the key value drivers for Zomato for the next few years.
"We are going to continue investing heavily in market creation, in addition to investing in ecosystem companies around our food delivery business so that the cost of running a better food delivery business goes down over time," he said.
Zomato is currently in talks with various restaurant point-of-sale players and e-vehicle fleet operators to evaluate investments. It will also invest over USD 50 million in Hyperpure over the next 18–24 months.
"These are all complex businesses, and we want our entire team to stay focused on these most important value drivers for our business," Goyal said. "Keeping this in mind, we are in the process of divesting or shutting down our non-core businesses, which were not going to significantly move the needle for our shareholders in the long term."
In line with its broader strategy, the company is in the process of selling Fitso, a sports discovery platform it acquired in January 2021 for INR 800 million (USD 10.7 million), to Temasek and Tata Digital-backed health and fitness startup Curefit for USD 50 million.
"To cultivate a great long-term partnership with Curefit, we are also investing cash in Curefit. Net USD 50 million cash investment plus the value of the Fitso business (worth USD 50 million) will give us a cumulative shareholding worth USD 100 million in Curefit," Goyal said. For Zomato, this will translate into a 6.4% shareholding in Curefit.
"This will help us potentially explore cross-selling benefits between Zomato and Curefit, as we see food and health becoming the same side of the coin in the long term," he added.
Moreover, Zomato is ceasing operations in Lebanon—the only international business it is left with (other than dining-out business in the UAE) after halting the rest of its international operations last year. The company is also shutting down its direct-to-consumer experiment in nutraceuticals, which it unveiled in March 2021, to focus on selling nutritional supplements.
The businesses that Zomato is divesting or shutting down contributed less than 1% to its adjusted revenue and 13% to its adjusted EBITDA loss (a loss of earnings before interest, taxes, depreciation, and amortization) in Q3 2021, Goyal noted.
Instead, to dabble in the D2C space, Zomato is investing USD 75 million in Shiprocket for about 8% stake as part of a larger USD 185 million round, he said. Shiprocket offers shipping and fulfillment services to direct-to-consumer (D2C) brands and omnichannel sellers and currently serves over 60,000 brands and merchants in categories such as apparel, electronics, beauty and personal care, and grocery.
In addition to Shiprocket, the company has also "signed definitive documents for investing about USD 50 million in Magicpin for a 16% stake as part of a total round size of USD 60 million." Magicpin drives omnichannel growth for local retailers and has a network of 170,000 plus paying merchants in 50 cities across sectors like fashion, food, electronics, grocery, pharma, and entertainment.
Goyal said the company has already committed to investing USD 275 million across four companies in the past six months, including a USD 100 million investment in Grofers in August 2021. He plans to deploy another USD 1 billion over the next one to two years to build a hyperlocal e-commerce ecosystem by investing in companies in the segment. A large chunk of this money is "likely to go into the quick-commerce space."
"We believe the next ten years in the Indian internet ecosystem will be unprecedented and will create a tremendous amount of wealth and progress for our country," Goyal said. "This has fuelled our ambitions further, and we are now thinking about how we can create a USD 10 billion business with revenue in a few years."