Hong Kong-listed Xiaomi, the world's fourth-largest smartphone maker, posted strong Q2 2018 performance ending June 2018 against a backdrop of market uncertainty that saw it go public at a US$54 billion valuation, nearly half of its initially proposed $100b.
The company turned its $1b pre-IPO loss into RMB 14.6b ($2.1b) in profits for the recent quarter, bolstering the hopes of investors. It posted revenue growth of 68.3% year-on-year (YOY) from RMB 26.9b to RMB 45.23b, while gross profits increased by 47% YOY from RMB 3.85b to RMB 5.65b.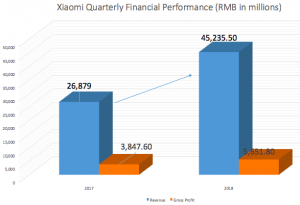 Xiaomi's stock prices raced upwards by 3% to HKD 18.22 on Thursday morning, confirming a positive response from investors over its maiden quarterly results post-IPO.
The recent P2P clampdown in China, which saw a number of people addressing their grievances on social media on the losses they incurred due to P2P loan defaults on Xiaomi's platforms, as well as apparent cracks in its Indian smartphone business had limited effects on its maiden financial performance as a public firm.
Some industry analysts are bullish on Xiaomi's international expansion plans in India, as well as the major European economies of France and Italy.
Francisco Jeronimo, an IDC analyst, highlighted that Xiaomi has surged quickly to become the fourth largest smartphone maker in Italy and the seventh largest smartphone marker in France;  Xiaomi launched in these countries only in Q2 2018.
Xiaomi's surging revenue this quarter is mainly driven by increased sales for its smartphones and hardware devices, rather than internet services. This highlights the uncertainty surrounding its market positioning, with its founder Lei Jun claiming it is an Internet firm rather than a hardware manufacturer.
Following the latest earnings announcement, Lei Jun reiterated in a comment to the SCMP: "Eight years ago, I came up with a crazy idea, which was to build a smartphone business based on the business model of an internet company,"
In a report by the Financial Times, Shou Zhi Chew, Xiaomi's CFO, argued Xiaomi is a new corporate species, providing Internet services and e-commerce in addition to its offerings in the smartphone and hardware space.
While Xiaomi's revenues are still largely reliant on smartphones and hardware, it's effort to pivot into the Internet services space has started to bear fruit, with its related ad revenues growing by 63.6% to RMB 4b. However, the company needs to highlight that user traffic, rather than hardware, is Xiaomi's greatest asset.
With limited gains made on Xiaomi's stocks, parts of the investor community remain sceptical of Xiaomi's ability to use its smartphones to successfully drive traffic to its own app store in the future. Despite these concerns, Xiaomi remains committed to its original business model and claims that it will remain committed to the 5% profit margin cap rule for all of Xiaomi's hardware.
Editor: Shiwen Yap, Ben Jiang