China's smart-home product maker Viomi Technologies saw a volotile debut on the Nasdaq on Tuesday, as an initial 5% jump – from US$9 apiece, the lower end of a $9 to $11 price range – during its opening that led to a daily high of 10.95 (rises by 21.67%), with the gain melted away just as quickly to end the day at $9.01 per share, or up less than 1%.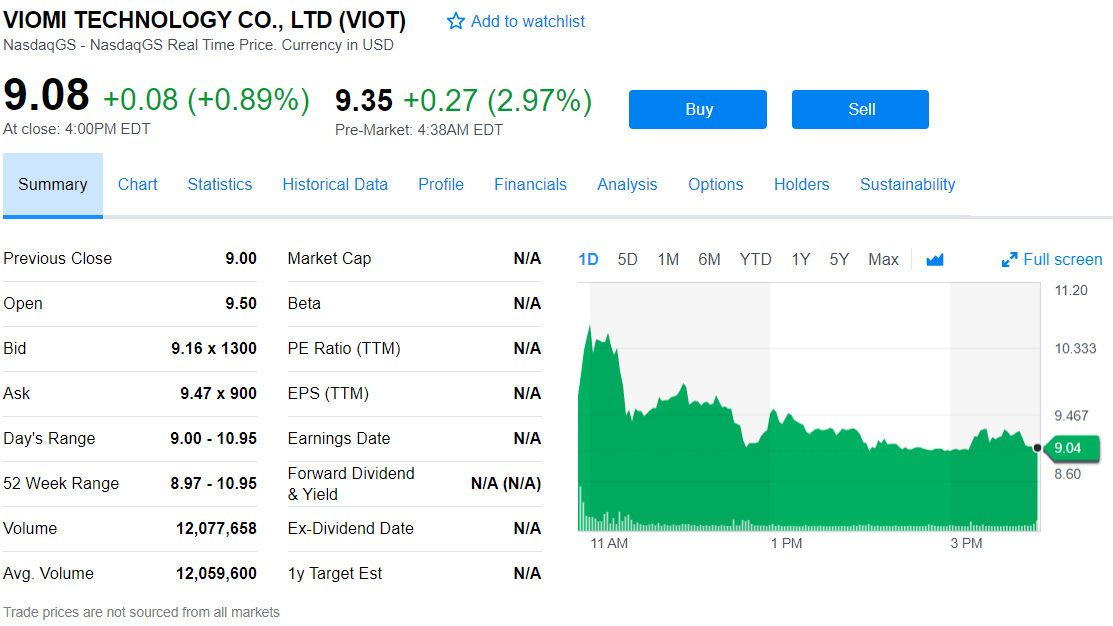 Viomi raised US$102.6 million from the initial public offering (IPO).
Viomi is the third strike of the Xiaomi camp, with another Mi eco-chain company Huami and Xiaomi per se already listed on the NYSE and HKEx respectively.
Founded in 2014, Viomi – the internet-connected home appliance seller- experienced very quick growth that was largely built on Chinese smartphone maker Xiaomi's ecological chain. In the run-up to its public debut, Viomi's net revenue grew by 179.4% from RMB 313 million (US$46 million) in 2016 to RMB 873 million (US$127 million) in 2017, and it jumped again to surpass the RMB 1 billion (US$146 million) mark by the first half of 2018. The annual net revenue growth to date is close to 300%.
This Guangdong-headquartered firm's prolific growth is, in part, buoyed by China's booming Internet of Things (IoT) industry as a whole. Viomi's prospectus which cites iResearch data revealed that China's smart home market is set to continue to grow at a compound annual growth rate (CAGR) of more than 20% in the next few years and is likely to achieve a total of RMB 865.2 billion (US$126 million) in sales number as a whole by 2022.
Currently, 80% of Viomi's revenue comes from its smart water purification products. Xiaomi owns a 19.5% stake in the company is also the key client that accounts for 60% of Viomi's revenue.
TAKEAWAYS

– This latest public debut is a sign that Xiaomi's ecological system could be working. After Huami, now comes Viomi. Both of these are companies are part of Xiaomi's ecological chain.

– The proceeds raised from this debut is nearly half the targeted amount when Viomi first filed for its Nasdaq IPO about a month ago. And this could potentially make it harder for Viomi  to reduce its future dependence on Xiaomi amidst growing competition for a larger slice of the large IoT market in China. Other players like Haier and Midea Group are also inputting the latest technology to improve on their smart home appliances.

– This mirrors the same trend in the Western world. This week we saw how Amazon is now doubling down on its reach in the global smart home market, that's forecasted to grow into a US$53.45 billion industry by 2022, according to Zion Market Research. Thus, it is likely this is just the beginning of the race among Chinese and the US tech giants in the smart home space.
Editor: Ben Jiang