Tencent launched WeChat Pay, its payment platform for transactions with third-party merchants, in Istanbul Airport yesterday in an attempt to make payments easier for Chinese tourists visiting Turkey.
According to Istanbul Grand Airport (IGA), the company which built and now operates the airport, Chinese travelers are the second biggest spenders at the airport after Turkish travelers. With the launch of WeChat Pay, it hopes to further increase their shopping volume.
WeChat Pay allows users of WeChat, the do-everything app with over a billion monthly active users in China, to make payments on their mobile phones. In 2019, Turkey hosted nearly 400,000 Chinese visitors and is expecting even more once travel resumes after the COVID-19 pandemic.
"Turkey is an important destination for Chinese tourists, and the system will make the visit of Chinese travelers to Turkey more comfortable," Turkey's Culture and Tourism Minister Mehmet Nuri Ersoy posted on Twitter. He further added that the service will expand to other popular travel destinations for Chinese tourists such as Cappadocia, Ephesus, and Ankara.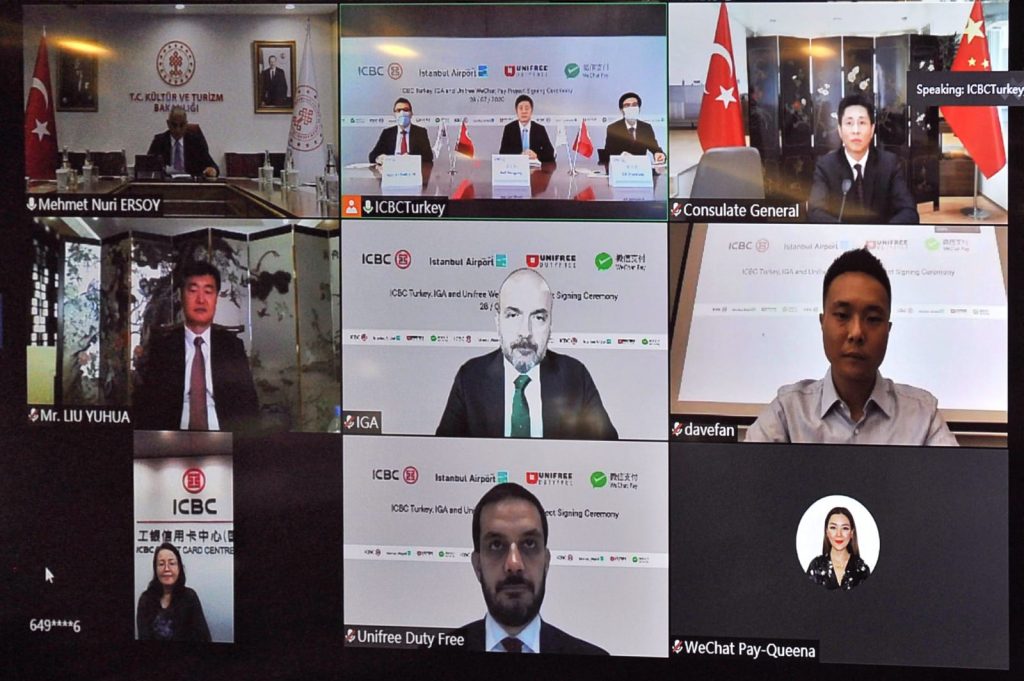 The introduction of the online payment method at the airport was a joint effort of the Turkish subsidiary of the Industrial and Commercial Bank of China (ICBC), Tencent, IGA, and the airport's duty-free shop UNIFREE, according to a press release issued by Tencent.
To officially launch the initiative, an online signing ceremony was held on July 28, with participation of the Chinese consul general in Istanbul Cui Wei, the embassy's economic and commercial counselor Liu Yuhua, and Turkish Minister of Culture and Tourism Nuri Ersoy.
Online payments are far from popular in Turkey. Almost 60% of the people prefer to use credit cards. There are also few e-wallet initiatives from commercial banks like İşbank, whose customers can transfer money and make payments electronically—but this function is not widely used.
"For now, WeChat Pay is only targeting Chinese tourists in Turkey and does not have plans to expand its business among Turkish users," a Tencent spokesperson told KrASIA.