As a second wave of the COVID-19 pandemic sweeps through Israel, Europe, and many parts of the US, millions are once again sheltering in place (or on lockdown, like in Israel) and taking precautions to physically distance from others.
For months now, this has meant a spectacular increase in e-commerce to purchase goods and essentials, and no-contact deliveries where bags and boxes are left outside homes by delivery people.
In this reality, Israeli company Flytrex, which specializes in food and consumer goods deliveries via drone systems, has a clear advantage.
Since launching in 2013, Flytrex has conducted drone delivery services in Reykjavik, the capital city of Iceland, in collaboration with AHA, one of the country's largest e-commerce companies, and has delivered burgers and fries via drone to golfers at King's Walk Golf Course outside Grand Forks, North Dakota. In 2018, it expanded its drone delivery services to North Carolina, where it was selected by the Federal Aviation Administration (FAA) to participate in its UAS Integration Pilot Program (IPP) in partnership with the North Carolina Department of Transportation.
Earlier this year in the midst of the first wave of the pandemic in the US, Flytrex launched a delivery service for sheltered-in-place shoppers in Grand Forks, where people could select from some 100 Walmart items and have their orders delivered to homes' backyards or designated areas in apartment complexes.
Now, Walmart is deepening the relationship with Flytrex, launching a service to deliver goods via drone to shoppers in North Carolina.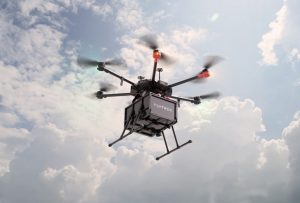 "We're starting a pilot together with Walmart in Fayetteville in North Carolina. A few select customers will be able to receive deliveries right to their backyards," Flytrex CEO and co-founder Yariv Bash tells NoCamels in a phone interview.
Customers will use a mobile app to browse a catalog of some 200 items, which includes everything from ketchup to toothpaste to diapers, Bash explains.
The automated drones will take off across the street from the Walmart location and will be able to travel a distance of up to three miles carrying a package weighing up to 6.6 pounds (2.9 kg). Flytrex drones can make drop-offs directly in backyards from 80 feet in the air.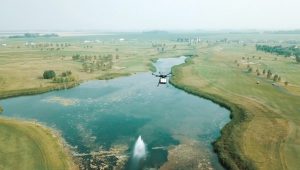 The drones are operated using a smart and easy control dashboard, which will help the company gain valuable insight into the customer and associate experience, from picking and packing to takeoff and delivery, Walmart senior VP of customer product Tom Ward wrote in a company statement.
Walmart also "hopes to boost its delivery business in post-pandemic days, when it will be more vital than ever. That still feels like a bit of science fiction, but we're at a point where we're learning more and more about the technology that is available and how we can use it to make our customers' lives easier," Ward added.
With so many consumers still cautious about heading to a physical store, Walmart has stepped up its efforts to compete with companies like Amazon in online sales and pickup and delivery options. Last year, the company rolled out a next-day delivery service to match a similar offering from Amazon. Last month, its began offering a Walmart+ subscription membership program that promises same-day deliveries on groceries and general merchandise.
In late August, Amazon received federal approval to begin testing commercial deliveries of its Prime Air drone fleet. The certification came under Part 135 of FAA regulations, which gave Amazon the ability to carry property on small drones "beyond the visual line of sight" of the operator. UPS also received the go-ahead from the Federal Aviation Administration to do the same.
Now Walmart is stepping up its efforts to do exactly that. "In the next two months, we hope to reach a much bigger geography. This could help hundreds if not thousands of families," Bash says.
Bash also indicates that before the company can really move forward, it must be approved by the FAA in a process that is essentially the same one that a Boeing 787 jetliner would need to clear before it flies. "We should be getting that by the end of the year," Bash says.
Delivery within minutes
Bash founded Flytrex in 2013 with business partner Amit Regev, who was Bash's flatmate while he was working for SpaceIL, the Israeli company with aspirations to land an Israeli spacecraft on the moon.
The company's operations debuted its delivery services in August 2017 in Reykjavik, the capital city of Iceland, in collaboration with AHA, one of the country's largest e-commerce companies.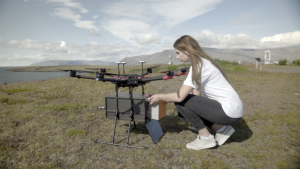 While the company's activities in the US have only been in select locations, he says projects in North Carolina appealed to the company for a number of reasons.
"It's first in flight. That's where the Wright brothers took off," he tells NoCamels, "Besides that, [the state] is part of a new FAA pilot program that has a few centers throughout the US, and we're part of the North Carolina centers, so most of what we're doing is there under that umbrella."
In May 2018, Flytrex was selected to participate in an Unmanned Aircraft System (UAS) Integration Pilot Program established by the FAA to expand testing of commercial drone operations, alongside tech giants like Google, Intel, and Uber. The program allows ten state, local, and tribal governments to "partner with private sector entities, such as UAS operators or manufacturers, to accelerate safe UAS integration," the FAA said at the time.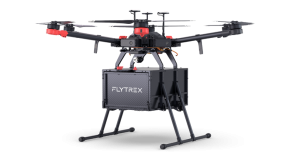 The selected locations across the US for the participating companies include Raleigh, North Carolina; San Diego, California; Reno, Nevada; Durant, Oklahoma (Choctaw Nation of Oklahoma); Topeka, Kansas; and Memphis, Tennessee.
The program was significant for the drone tech company in its efforts to break into the US market.
Drone delivery
While a pilot project in the Israeli coastal city of Netanya has been postponed, Bash says the company aims to continue its efforts in the US.
And while Walmart might see Amazon or other e-commerce companies as competitors, Bash says Flytrex doesn't.
"I have no problem connecting to the Uber system as I'm connecting to the Walmart system. I'm just a delivery guy," he says, "And Amazon basically has a lot of competition. Once Amazon starts doing their own home deliveries, the rest of the market will need to find a similar solution."
"They're not my competitors," he adds, "I'm a delivery company. If Uber would like to deliver food using drones from Flytrex—with pleasure."
This article first appeared in NoCamels, which covers innovations from Israel for a global audience.