The Vietnam War ended 47 years ago, but its remnants persist. There are hundreds of thousands of unexploded land mines, grenades, and cluster bombs buried in Vietnamese soil that continue to injure or kill people decades after the conflict ended. In 1982, seven years after the end of the war, Dung Trinh was a 12-year-old boy living in Hanoi when a retired soldier gave him what he thought was an inert grenade as a memento. As a kid, Trinh was intrigued by the small, old handheld explosive. One day, driven by his burning curiosity, Trinh pulled its safety pin. Seconds later, the grenade exploded. Trinh lost his left arm.
Two years after the accident, Trinh got his first prosthetic arm. But he periodically needed replacements to fit his growing body. His family couldn't afford them.
"After ten years without wearing an artificial arm, I found an orthopedic hospital that offered an affordable one. But the technology wasn't advanced at the time. The arm was heavy, and it was very uncomfortable," Trinh told KrASIA.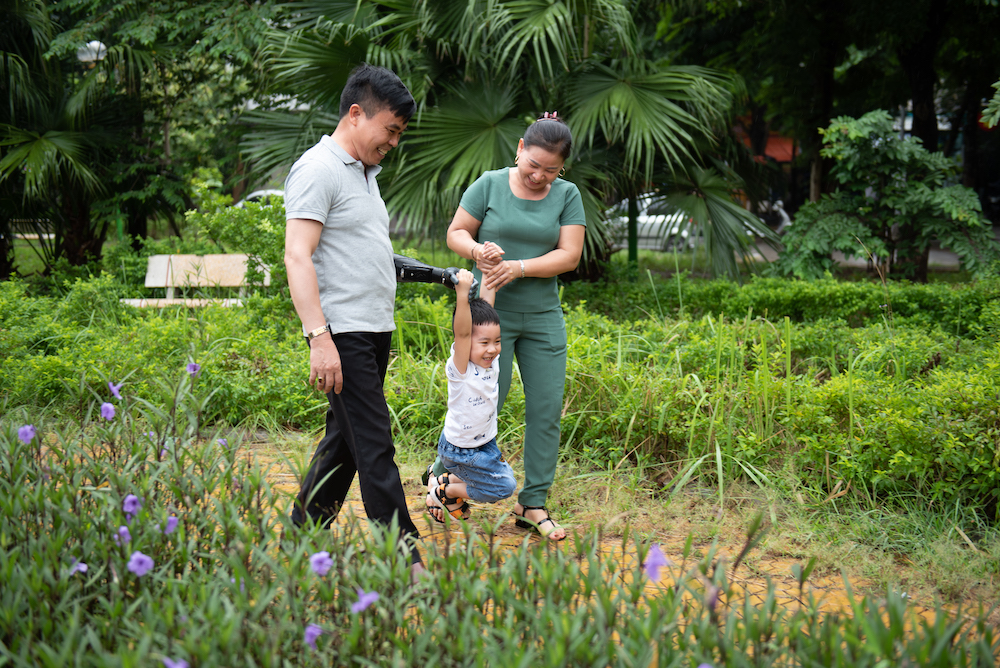 In the 2000s, it still wasn't easy to gain access to wearable medical devices in Vietnam. There was no information online, so Trinh and his family had to go from one hospital to another, often in different provinces, to seek assistance. The trips drained a lot of time and money, and the hospitals that had prosthetics only offered limited options.
"Over the past 40 years, I have used several prosthetic arms. Most of them didn't have fingers, some had a hook attached to the arm to carry light bags. My last artificial arm had fingers but they weren't functional," he said.
Trinh is a member of the Hanoi association of persons with physical disabilities. In late 2018, the association introduced him to Vulcan Augmetics, a startup based in Ho Chi Minh City that makes modular robotic prosthetics. The startup had just expanded to Hanoi at that time, and Trinh had the opportunity to meet the team and learn about its products.
"Vulcan's arm is light and the fingers have many functionalities. I can do many things that I couldn't do before, like opening a bottle with my prosthetic fingers and riding a bike," Trinh said. Now, he helps his family run a small store that sells construction materials, and the arm from Vulcan makes it possible for him to perform daily tasks without hassle. Trinh also loves the way his arm looks. "It's really nice but I hope Vulcan will have skin color options in the future so it would look more like a normal arm."
Trinh was one of the 30 beneficiaries of Vulcan's nonprofit project, Uplift, through which the company gives away prosthetics to people who can't afford them. The objective is to help them gain confidence and a sense of independence.
Vulcan Augmetics was founded in 2018 by two expatriates living in Vietnam—Rafael Masters, who hails from the United Kingdom and is now CEO, and Akshay Sharma, who is originally from India and serves as CTO.
Masters drew from personal experience when he established Vulcan with Sharma. "I grew up about 200 meters away from one of the biggest disabled colleges in the UK. Many of my teenage friends were in wheelchairs but they led amazing lives. They had support and access to technology that would give them full lives," Masters told KrASIA.
After graduating from university, Masters relocated to Vietnam. While there, he realized that people with physical disabilities living in a developing country had to navigate different circumstances than those in the UK. "In the developed world, people have financial support, insurance, and healthcare that give patients access to prosthetics after they undergo amputation. This is not the case in developing countries. You get amputated and that's it. There is very little support for the amputees and their families," said Masters.
Vulcan Augmetics combines traditional manufacturing processes with 3D printing and injection molding to create customizable and upgradable prosthetics. Their prices start at USD 1,100, making them more affordable than most prosthetic arms, which on average cost USD 2,600, according to Masters. "The frame is made of metal, where we use traditional mass manufacturing methods. All plastic parts are currently made through 3D printing, but we'll be using injection molding more to make the peripheral or accessory parts in the future," said Masters.
Vulcan's prosthetics are modular, and the components plug and click together like Lego pieces. If one part breaks, the startup will ship a replacement component within five business days to users.
"The starting model is cheap and efficient. Users can upgrade to our more advanced models over time," Masters added. "For the base model, we use off-the-shelf components. We put an adjustable mechanical device inside the hand so it has multiple functions."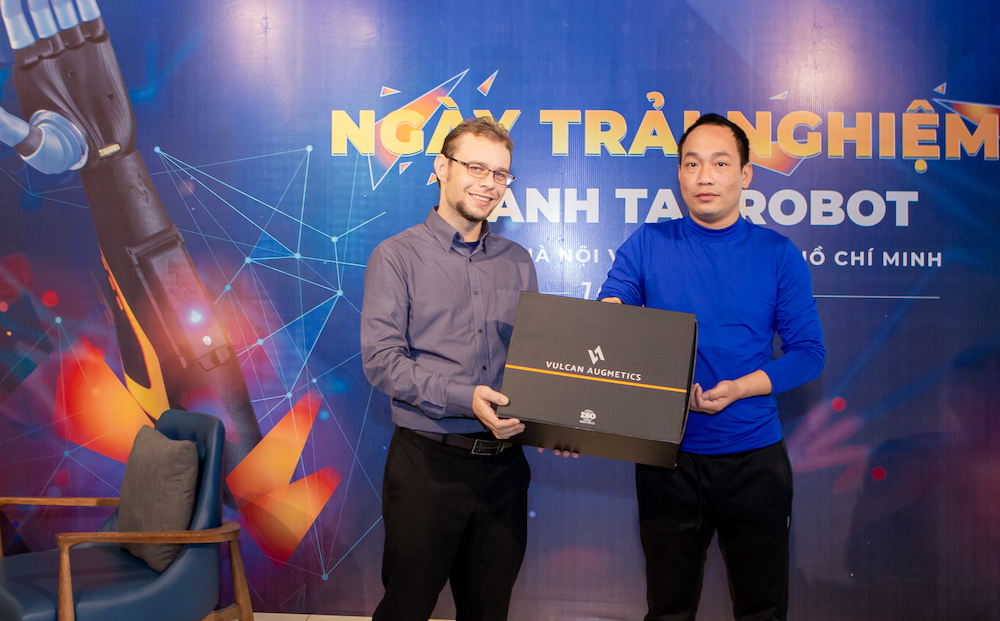 Vulcan's arms provide the ability to grip a range of daily household objects. The fingers are strong and dexterous enough to perform tasks such as opening jars, cutting food, driving a motorbike, and taking photos. "One of our users is even able to drive up to eight hours a day with the arm," Masters said.
Vulcan partners with 17 major hospitals and clinics with orthotic and prosthetics services in Vietnam. This gives amputees an easy way to connect with Vulcan's team. Most Vulcan Augmetics users are young people aged 18 to 40. Therefore, the arm is designed to look sophisticated, as the team wants users to feel proud while wearing them.
"If you're wearing a piece of thousand-dollar technology, you should be showing it off, loud and proud. However, we're looking at offering skin-colored gloves for older users, as they usually want to blend in more," said Masters.
Moving forward, the startup plans to expand its product offerings. This is possible because the technology for the prosthetics, including machine learning to read biosignals, can be leveraged across all wearable robotics, including mobility devices and stroke rehabilitation devices.
Vulcan Augmetics is also eyeing regional expansions to Thailand, Malaysia, and Indonesia in the near future, although Masters didn't share the exact timeline. The company's vision is to serve 38 million disabled people globally. "We're a Vietnamese company and we're proud of that. We want to showcase that countries in Southeast Asia can be tech leaders and innovators, not only in software, but also in the hardware and robotics industries," Masters said.