Last August 7, over 275,000 viewers got their phones connected at the same time to short-video platform TikTok to watch a virtual concert featuring Grammy award-winning singer The Weeknd, or to be more specific, a digital-avatar of the Canadian artist.
On a floating stage with shining neon lights, The Weeknd performed most of the hits from his latest album, After Hours, plus an exclusive track release. With each song, visual effects changed. The digital-avatar danced on the top of a skyscraper in a mysterious cyberpunk-style city, and a few minutes after, he was driving fast in a futuristic tunnel.
"The Weeknd Experience" was produced by virtual entertainment company Wave and record label Republic Records, and officially livestreamed on ByteDance's app TikTok. The online show lasted nearly 30 minutes and drew over 2 million total unique viewers, while videos shared with the #TheWeekndEXP hashtag collected over 1.3 billion views, according to TikTok. The event also raised USD 350,000 for the Equal Justice Initiative, a non-profit organization that provides legal representation to prisoners who might have been wrongly convicted.
The Weeknd is only the last of an array of artists that have gone online, or via their digital avatars, to hold massive concerts last year amid the COVID-19 pandemic. In April, rapper Travis Scott's virtual avatar performed inside Epic Games' Fornite world. A few months later, in June, R&B singer John Legend streamed his first-ever virtual live concert, also hosted by Wave in partnership with People. Pop singer Billie Eilish dabbled into the online concert arena in October with the show "Where Do We Go? The Livestream", following the cancellation of her world tour. Her show, where she appears singing in animated environments with LED screens and extended-reality (XR) effects, charged users USD 30 per viewer and received positive reviews from media outlets around the world.
More such events are already programmed for 2021, such as K-pop band Blackpink, which will host its first-ever online concert to be streamed on YouTube at the end of January, and Australian DJ Alison with her Wonderland's virtual performance scheduled in February, presented by Wave.
"The key to online performances is that the presentation is so special and cannot be replicated offline," Sun Yi, manager and director at Space Circle, a Chinese label that managed over 25 online concerts in 2020, told KrASIA.  
Due to the coronavirus pandemic and countrywide lockdowns, the demand for online shows surged drastically, Sun explained. Locations, filming techniques, visual and audio effects are tailored for every artist, which makes organizing online events very different compared to traditional concerts, she added.
"In the future, people will probably turn it into a regular thing. There's still room to explore new forms and possibilities," she said. "We really found uniqueness and creativity in online concerts, and we're looking forward to organizing more this year for musicians."
Sun explained that Chinese consumers are more familiar with livestreamed online concerts performed by real artists, while virtual shows, with digital avatars, have not been quite popularized yet. However, as the market evolves, it could become a major trend in the long term. Her team is also looking to integrate more virtual elements in online concert production, she said.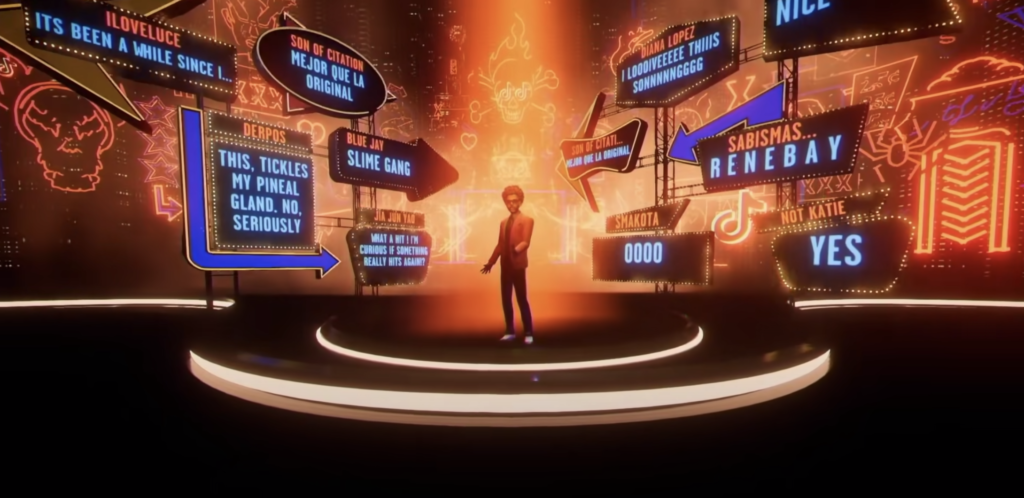 Growing investment
Big Chinese entertainment firms are betting on the trend. Tencent Music Entertainment (TME) recently inked a deal with Wave, the company behind The Weeknd and John Legend's virtual shows, to take a minority stake in the California-based startup. The intention is to air more virtual entertainment experiences in China across its platforms, including QQ Music, Kugou Music, Kuwo Music, and WeSing, according to the company.
The collaboration will allow the duo to develop virtual concerts for TME Live, an online live performance project launched by TME in March. "The move is an important step forward in our efforts to integrate technology and music," said TC Pan, vice president of content cooperation at TME, in a press release.
For celebrities, virtual concerts and online shows also open up a massive market to reach broader audiences. For instance, Billie Eilish's online concert was rebroadcasted in China by TME on its streaming platforms, which are used by 646 million users monthly.
Sun Nan, was one of them. "I prefer online concerts because the background and the audio are fabulous, and we can watch Billie through different camera angles," he said.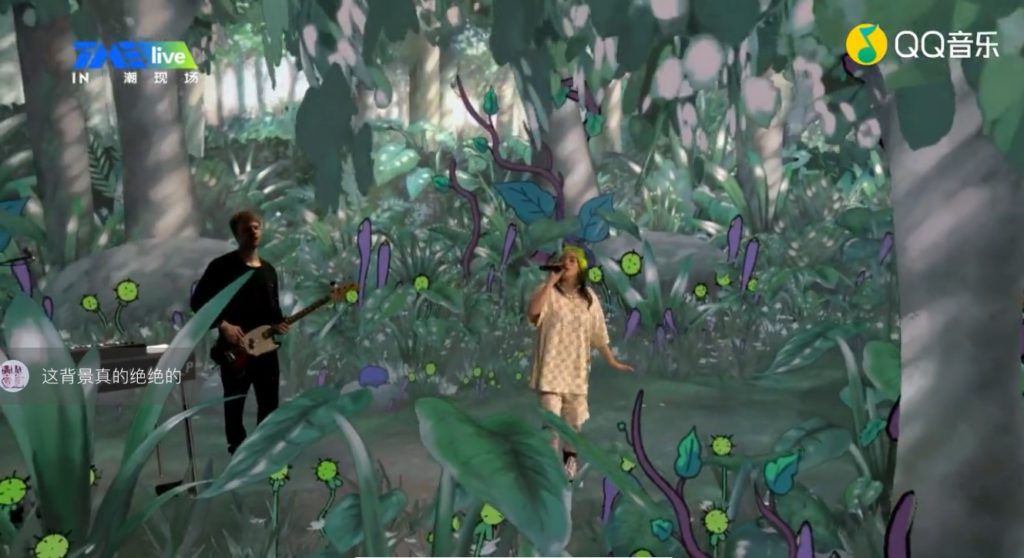 The allure of virtual idols 
Aside from virtual concerts where protagonists are real artists (or their digital avatar), virtual idols —artificially created virtual beings that can sing and dance— are also attracting the eyeballs of youngsters, especially those considered as Gen Z —people born from 1995 to 2010.
Chinese video platform Bilibili has been investing in the virtual show trend. In July, it invested in Lategra, a Japanese XR live entertainment production technology company that provides support to several virtual idols. The fund will be used to strengthen and expand the firm's XR live entertainment production platform, Lategra engine, in Japan and overseas markets, according to the firm.
Luo Tianyi is probably the most notable virtual idol in China, with more than four million followers on microblogging site Weibo, and two million on Bilibili. "She" is a cartoon character-like hologram, created in 2012 by Shanghai Henian in collaboration with Japanese musical instrument manufacturer Yamaha Corporation. The female icon, like Japanese Hatsune Miku, can sing, dance, and even sell goods on e-commerce livestreaming events. Luo Tianyi also performs occasionally as a visible hologram on a real stage, breaking the wall between the two-dimensional world and the three-dimensional reality.
"Virtual idols' performances have visual effects that real people can never achieve. For example, they can turn into flower petals, bubbles, or suddenly fall from the sky. At the same time, they show real emotions, just like real idols, making me feel connected," Guan Jiaqi, a 21-year-old fan of Luo Tianyi, told KrASIA.

Like human celebrities, virtual idols can earn revenue by appearing in concerts, ads, livestreaming events, or by selling merchandise. In August, Vsinger, the division of Shanghai Henian which manages Luo Tianyi, held a livestreaming concert on Youku featuring six Chinese virtual idols, including Luo Tianyi, Yan He, Le Zhengling, and Mo Qingxuan.
A few months later in October, Chinese video platform iQiyi kicked off a talent show, titled "Dimension Nova", solely targeting virtual contestants, where 31 virtual creations have to sing and dance in front of real judges to win the competition. On Weibo, the show generated over 6.9 million comments and posts, which attracted 690 million views, according to the BBC.
The market size for virtual idols is expected to hit RMB 1.5 billion (USD 210 million) by 2023, a rapid increase from its value in 2018, at just RMB 100 million, as reported by Global Times.
The show must go on
The COVID-19 pandemic has disrupted the live entertainment business, bringing major changes in the industry, while it has forced players to embrace new technologies and creativity to keep consumers engaged.
"I think online concerts are innovative and open up a door for the pandemic-bruised entertainment industry, but limitations are also there," said Wang Hailong, a show manager and operator of Fourth Music Region, a music-related popular Chinese social media account.
"The soul of performance is being in the scene. The online form is much less interactive and real. Another limitation is that online performances work better for musicians who are already well-known compared to those who are new to the audience," he said.
He thinks that most people will still prefer to go to physical concerts after mitigating the pandemic's impact. "Online concerts is not the way to let those fans fully release their passions."
However, show industry insiders, including music labels, artists, concert producers, and management companies are seeking a sustainable business model to maintain the industry in these difficult times. Perhaps, virtual shows and online events could remain valuable options in the future for people residing far away from big cities where usually major concerts are held.
Yet, even if many are probably secretly wishing to go back to full-venue outdoor concerts, the live entertainment industry won't be able to snap back to normal immediately, and so, virtual shows and online concerts can be a valid substitute, until we can all experience the real deal again.