Vietnam-based online marketplace Sendo is raising US$51 million from eight Asian investors, including SBI Holdings, Daiwa PI Partners, Softbank Ventures Korea, and Beenos, according to Nikkei Asian Review.
Founded in 2012, Sendo primarily works with micro. small, and medium enterprises  (MSMEs), which make up 98% of enterprises in Vietnam, to help them sell their wares online. These MSMEs typically have a headcount of fewer than 10 people.
Sendo will use the fresh capital to introduce its business to consumer marketplace SenMall and grow its payment offerings, including that of its mobile wallet and e-money solution SenPay. SenMall currently features a large international selection of brands, such as Unilever, Daniel Wellington, Oppo, Okamoto, and Braun. The split between Sendo and SenMall is similar to how Alibaba addresses different types of shoppers with its Taobao and TMall.
Sendo currently has more than 10 million items from around 300,000 merchants, according to Nikkei. It sells anything from electronics to apparel to skincare products. Having achieved a yearly gross merchandise volume of US$330 million, Sendo says it aims to reach US$1 billion in gross merchandise volume (GMV) by 2020.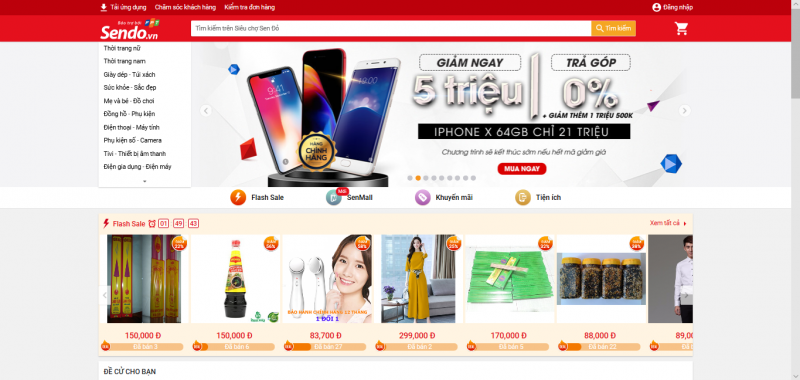 The Vietnamese e-commerce landscape is heating up with an influx of funds pouring in from foreign investors. From China, giants like Alibaba, JD.com and Tencent have all got skin in the game. Alibaba now owns Lazada which operates regionally and is currently the biggest e-commerce player in Vietnam. JD.com and Tencent have backed Tiki and Shopee respectively, both bringing strong competition to the fray. Even US e-commerce behemoth Amazon announced plans for Vietnam, starting by supporting businesses in exporting their goods out of the country.
In April, Japan's Scroll Corporation also bought a 26.9% stake in Cat Dong Trade and Services JSC, the parent company of several smaller Vietnamese e-commerce sites.
In 2014, Sendo secured US$18 million in a Series A fundraising round from SBI Holdings, Econtext Asia, and Beenos.
Editor: Nadine Freischlad