Venture Capital (VC) investment in Indian startups dipped by 22% totaling USD 1.74 billion funding in the quarter ended March 2020 across 126 deals, according to a new report by research firm Venture Intelligence.
In comparison, Indian startups bagged USD 2.22 billion in VC funding across Seed to Series F round in 196 transactions in the first quarter of last year. India recorded a 7.5% lower investment this quarter as compared to the Q4 2019 which had witnessed USD 1.88 billion investment across 176 transactions.
This quarter's largest funding was USD 114 million round led by Singapore-based investment firm Temasek in fitness startup Curefit, which was followed by USD 110 million raised by edtech startup Unacademy from General Atlantic and Facebook.
Fintech startups, predictably, grabbed the most attention from the VCs, "attracting 19 investments worth USD 380 million." Digital insurance company Digit bagged the largest fintech investment worth USD 84 million from A91 Partners, Faering Capital, and TVS Capital. Healthcare and health tech companies took the second spot attracting 17 deals worth USD 282 million.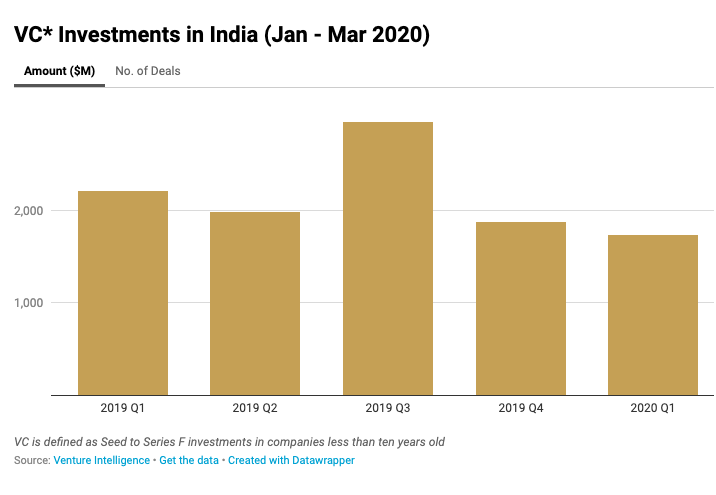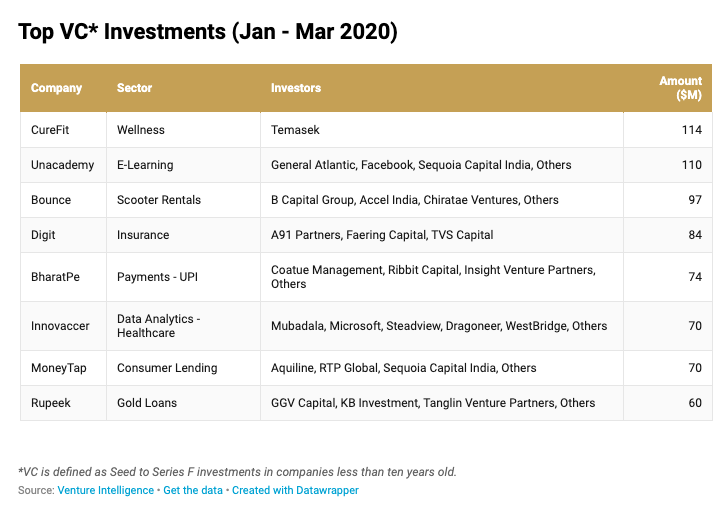 However, the number of investments fell by 36% over the first quarter last year and 40% compared to the previous quarter.
The decline in deal volume implies that investors may have become more choosey in picking up the startups. VCs across the world have tightened their purse string after SoftBank-backed WeWork's initial public offering (IPO) was delayed in September last year.
While the country saw a decline in economic activity late last year, it was nothing in comparison to the global outbreak of the novel coronavirus. As the country is in a 21-day lockdown, a majority of the startups are going through a rough patch, and in many cases are seeing zero revenue.
"While VC investors in India seemed to have shrugged off the chilly winds emerging from the US (owing to the WeWork IPO fiasco and Uber stock price slide of late 2019), the coronavirus contagion infected the ecosystem sharply starting mid-March," said Arun Natarajan, founder, Venture Intelligence.
"We can expect VC investors to be highly selective when it comes to making new investments in the months ahead and to be focused more on helping existing portfolio companies survive the downturn," he added.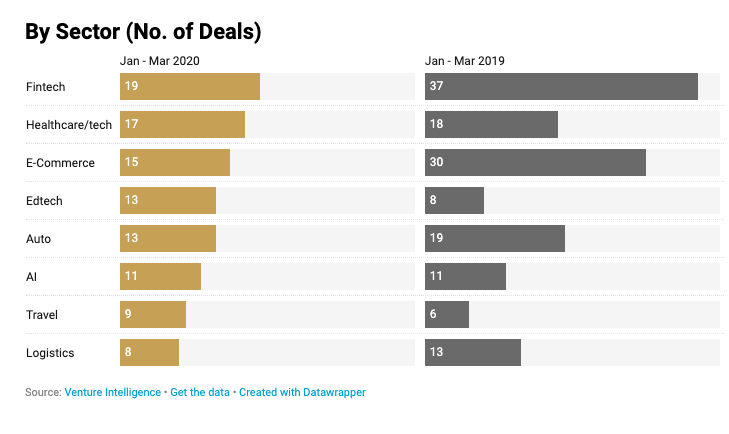 The industry veterans KrASIA spoke to said a lot of deals that were in the early stages are being shelved as the pandemic has affected business operations for the majority of startups.
Meanwhile, local media Economic Times (ET), citing data from research firm Tracxn, said the number of Seed and early-stage deals fell 37% to 228 in the first quarter of the year ended March 31, compared to the corresponding period last year.
"The data also suggests that the number of publicly disclosed deals fell 18% between February and March alone," it said.
As VCs put their weight behind their portfolio companies which have been impacted by business closure due to coronavirus lockdown, they are not looking at new deals at the moment.
Anup Jain, managing partner at Orios Venture Partners told ET that the next three months would be critical for deals, saying "funds will now disproportionately preserve dry powder to finance their own portfolio companies."
"At the same time, fewer people are starting up and deal flow is down by at least 30-40%, thereby shrinking the pool of new businesses as well," he said.