This year's seven-day Lunar New Year holiday has been tepid for airlines, hotels, and other businesses that typically thrive during the week-long break. Many people were encouraged by the government to scrap travel plans because a new wave of COVID-19 outbreaks was unfolding throughout the country.

But for those who weren't under lockdown and still had the itch to seek new surroundings, there were other options. Bookings for weekend getaways in idyllic towns or mountain areas, road trips, and staycations at luxurious villas became the main lines of business for Trip.com, the largest online travel agency (OTA) in China.
Recently, KrASIA spoke with Trip.com's chairman and co-founder, James Liang, who is also a research professor of applied economics at Peking University. We found out about Trip.com's business performance over the last two years, and Liang shared his predictions for the future of China's tourism industry.
The following interview has been edited and consolidated for brevity and clarity.
KrASIA (Kr): How would you rate Trip.com's performance over the last two years?
James Liang (JL): Trip.com performed well during a very difficult period.
The group was under great pressure at first. Trip.com spent a huge amount of money to refund customers when trips were canceled [before business operators like hotels could return funds to Trip.com]. We took a great risk when there was a financial crisis in the industry.
But after that, we recovered, and the company's financial results were good in the first half of 2021. Trip.com will have a bigger market share and better market position after we move past the pandemic.
Kr: Aside from maintaining sufficient cash flow to support industry partners, what did Trip.com do to overcome business difficulties in the past two years?
JL: We had to be creative about marketing channels. Livestreaming, for example, is a good way to promote prepaid travel packages during the pandemic. Merchants are willing to give steep discounts to attract consumers, who can arrange their trips flexibly. It's also a good way for us to connect with our business partners. We have been doing it for two years now and have achieved good results.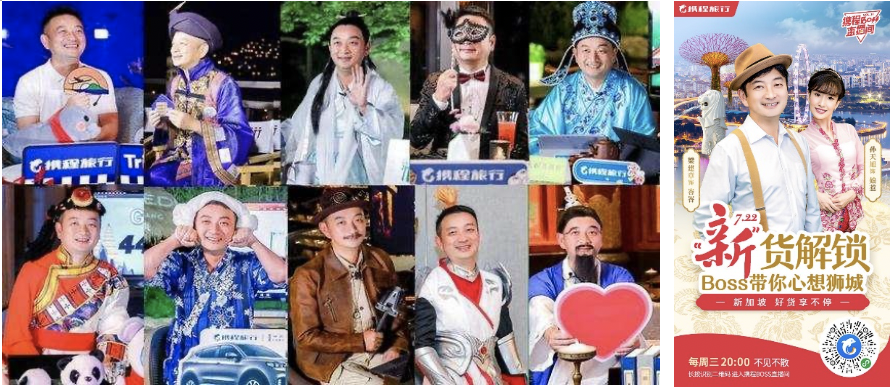 Then, we had to discover new possibilities within our domestic market. We had to be very sensitive regarding the types of products that would become popular. When international travel is limited, we must look for substitutes locally and quickly identify the right marketing channels to promote them.
In the first half of 2021, parts of our domestic business grew by more than 30%. Destinations like Xinjiang and Tibet were popular between April and June.
Internally, Trip.com continues to innovate and increase its corporate efficiency.
Kr: You hosted Trip.com's weekly livestream sales yourself. What was that like?
JL: I started out as a newbie and gradually learned how to promote our products. Tourism products are very interesting. I wore all kinds of outfits to showcase the local characteristics and culture of the destinations. And I had to develop skills like participating in crosstalk, doing tongue twisters, and even playing a bit of rock and roll.
Kr: What will change for the tourism sector when the pandemic becomes a thing of the past? How should businesses prepare for that?
JL: In the long run, business trip volume will fall. Meanwhile, leisure, especially high-end vacation trips, will become more popular. That will be part of the "revenge spending" to be unleashed.
The format of travel packages has also changed. High-end customized trips have become more popular, the size of travel groups has shrunk. Travel agencies should take that into consideration.
For domestic tourism merchants, especially those who offer high-end travel options, hotel stays, and time at resort complexes like Disney, the most difficult time is over. Many of our customers have made these bookings. For operators who only offer business trips, things may still be difficult.