In 2012, at the age of 20, Trung Nguyen was the chief technical officer and a co-founder of aspiring startup Lozi. At the time, Lozi was a social network for food bloggers.
The startup was popular among Vietnam's teens and young adults, with 8 million users at one point. It received a seven-figure investment led by Golden Gate Ventures in 2015.
But as the startup grew, Nguyen felt like his path was diverging from the other co-founders' trajectories.
Nguyen left the company in 2015, spent nearly three years in Ho Chi Minh City working as a software engineer for Anduin Transactions, a Silicon Valley-based company with a platform that makes investment deals faster, more efficient, and more transparent.
Nguyen was interested in the accountability facilitated by Anduin's platform, so when people in Vietnam started talking about blockchain, it clicked immediately. But others were more interested in Bitcoin and other cryptocurrencies; some companies were running cons through initial coin offerings.
For Nguyen, the promise of blockchain wasn't in quick, risky profits. As an avid gamer, he was more interested in CryptoKitties, one of the world's first blockchain-based games, where players can buy, sell, and breed virtual cats that are unique and validated by the Ethereum network's architecture.
Nguyen recognized how blockchain technology could potentially bring forth a new way of building games.
Axie Genesis
In 2017, a few months into playing CryptoKitties, Nguyen was hooked. "I ended up having 1,000 virtual cats," he said during an interview with KrASIA in Ho Chi Minh City. "It triggered my interest and imagination."
Fascinated by the economy that formed within the game, Nguyen invested about USD 600 to play CryptoKitties. Then, he realized that he could make a blockchain-based game of his own, combining the elements of true ownership and the advanced genetic system found in CryptoKitties with the competitive gameplay of the Pokémon series or Neopets.
Over the course of several months, and with help from a group of Nguyen's friends, Axie Infinity began to take shape.
Players control Axies, which are fantasy creatures based on Axolotls, the Mexican walking fish with amazing regeneration capabilities. The game's title is a reference to this quality, as well as a description of how players can create countless types of Axies on the platform.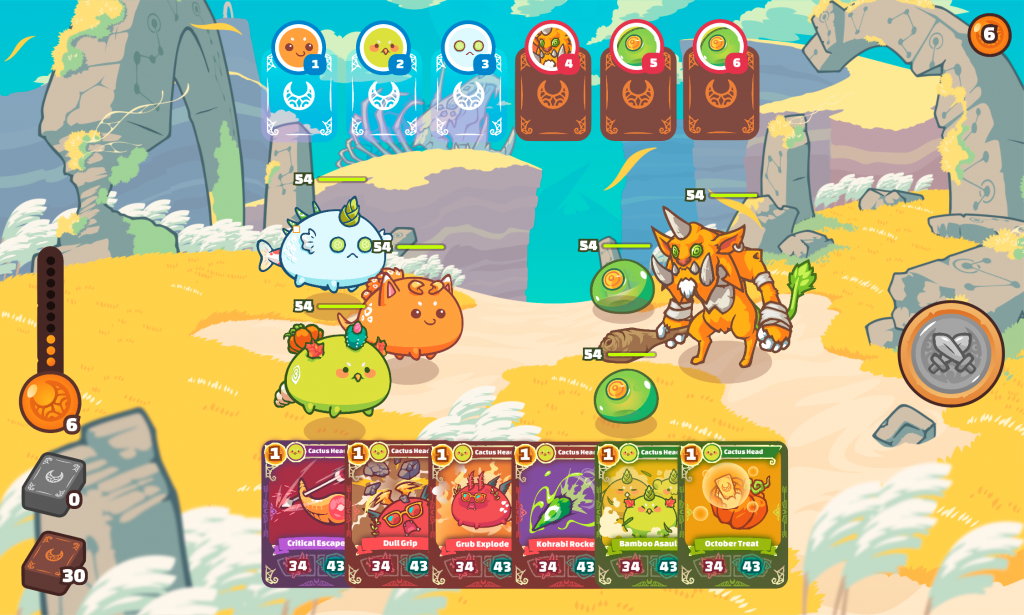 The Axies live in an environment called the Terrarium, where a player can feed their team of Axies, clean them, or put them to bed. Like in CryptoKitties, players breed Axies and direct them to engage in battles. You can also visit a marketplace to buy and sell Axies.
A sensational hit
The game's beta version was released in mid-2018. It was an unexpected hit, to the point that revenue from pre-orders of Axies was enough to give the developers a full year's cash runway.
Now, after the game's desktop version was released, the game's player count has reached 3,500. Axie Infinity has around USD 1.1 million in digital asset sales, and USD 1.8 million worth of merchandise has been traded on its marketplace. It is one of the highest-grossing blockchain games in the world, according to decentralized app ranking provider DappRadar.com.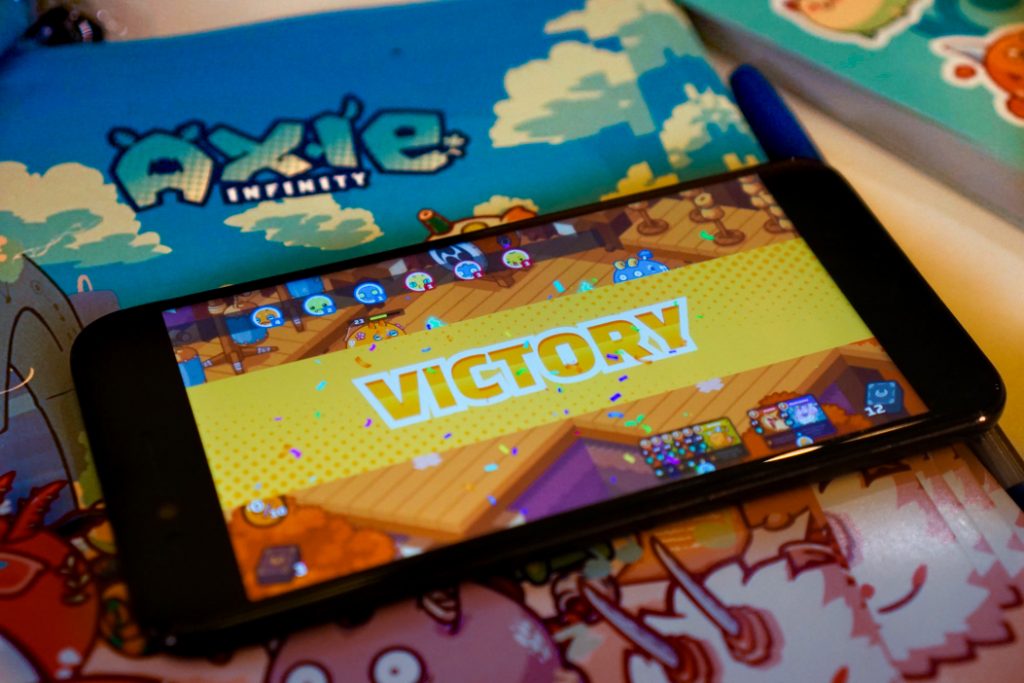 Sky Mavis, the company that created Axie Infinity, has signed partnerships with big names, like Samsung, Klaytn (Kakao's blockchain project), and HTC. Last summer, the startup acquired its first institutional investment—USD 1.5 million from blockchain investors Hashed, Pangea Blockchain Fund, and ConsenSys, alongside general investor 500 Startups.
Flagship product Axie Infinity has amassed a community of followers who are referred to as Axie enthusiasts. There are members within the group who produce guides to help beginners become better players. Others create mini-games that are related to Axies.
Blockchain gamers are more enthusiastic than typical mobile game players, according to Nguyen, now co-founder and CEO of Sky Mavis. That's because the digital goods are not located on a centrally controlled server. Instead, they are distributed among players, so there's a sense of true ownership. Blockchain gamers also need to overcome higher barriers to entry, specifically by acquiring some form of cryptocurrency to play the game and trade digital assets.
Eighteen months after the first players started taking care of their Axies, Nguyen and his team calculate that each user has spent an average of USD 400 on the platform, taking into account fluctuations in the values of cryptocurrencies. "It's amazing to see everyone come from around the world, and the community is like a family," Nguyen said.
Lowering the barriers 
Several local media outlets have called the startup a pioneer in blockchain gaming in Vietnam or even Southeast Asia. For now, the business generates revenue by selling digital assets to the players and by charging commission whenever Axies are traded. These transactions all require cryptocurrencies, but Nguyen and his team are planning to make the blockchain-based game accessible to all gamers, not only people who have crypto wallets.
That means, Nguyen explains, that we need to reach the point where the underlying infrastructure is "abstract" enough that "you don't realize that this is a blockchain game." And there might even be some Axies that are free for newcomers to try out.
These developments may also help the company put some distance between its game and the stigma or misconceptions surrounding cryptocurrencies. Many people are still skeptical about applications developed using blockchain architecture.
For now, the team behind Axie Infinity is focusing on boosting the game's player count. The company is set to launch its mobile application in the first half of 2020.
Nguyen knows the mobile game industry is competitive. He has a dozen games on his own phone, but only plays two or three of them. Like all creators of video games, his goal is to hold his players' attention and ensure that they return over and over to make progress.
Needless to say, Axie Infinity is one of Nguyen's favorite games. His favorite Axie, as he once told Axie News, is Kotaro. "That's Axie #3. Like Kotaro, I enjoy making my moves in silence."
This article is part of "Profiles in Tech," a series by KrASIA that highlights the achievements of people who are the driving force behind South and Southeast Asia's tech startups.