Ever since the dawn of humankind, people have tried to use tools instead of their bare hands to make life easier.
This trend has evolved from using utensils to eat food, to the modern world where robots have either replaced or work alongside humans in the workplace.
In the 1960s, US entrepreneur George Devol invented Unimate, considered the first industrial robot. General Motors used the machine for die casting handling and spot welding.
Since then, industrial robotic arms, which can be as large as a standing person, have been applied to a broad swathe of heavy manufacturing work. But Liu Peichao, a 33-year-old Shandong University graduate, wants to bring things full circle – he wants to bring robotic arms into everyday life, to help with practical daily tasks.
Shenzhen Yuejiang Technology is a four-year-old Shenzhen startup that focuses on the development of smart robotic arms. Its products can be put to a variety of uses depending on the end attachment used, from writing calligraphy to putting butter on your toast.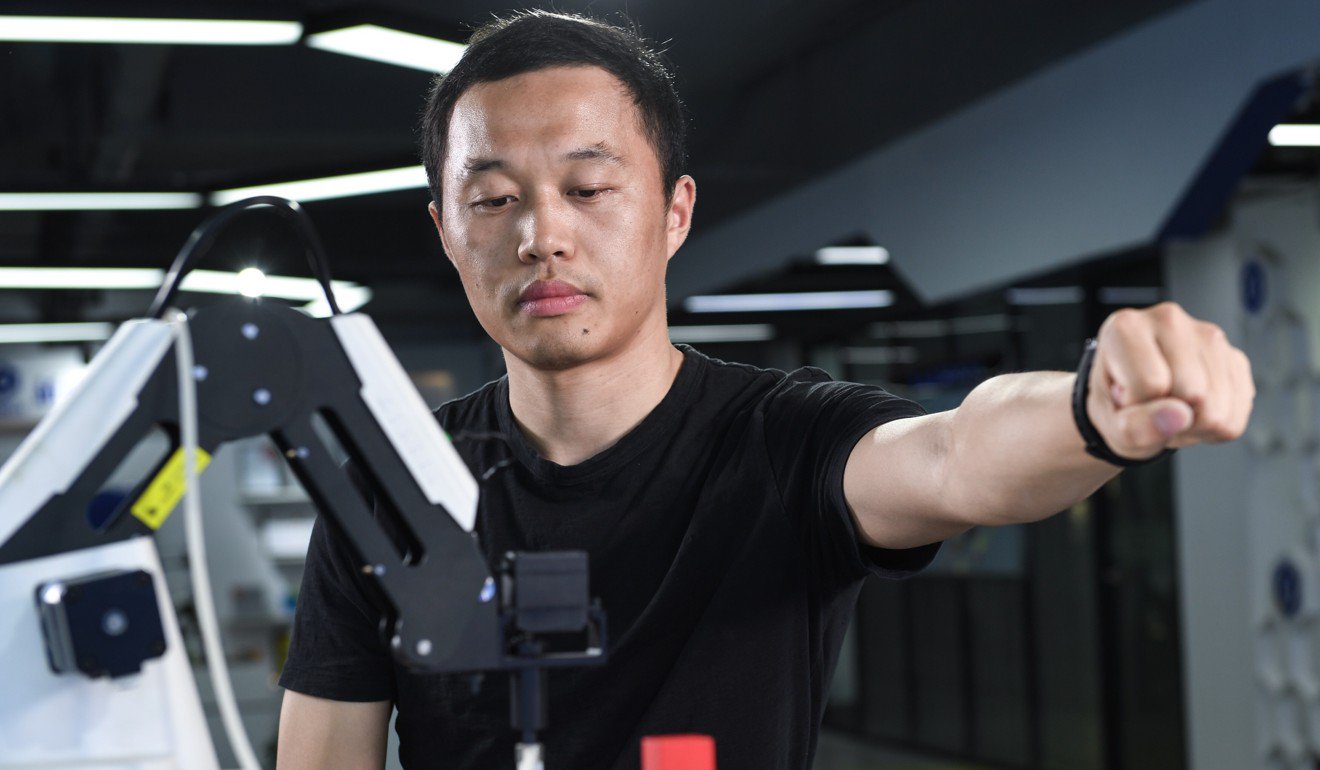 Founded by Liu in 2015, the company started as a project at the American crowdfunding platform Kickstarter. It raised USD 620,000 in just fifty days, according to China's official news agency Xinhua. The company raised 100 million yuan (USD 14 million), led by Shenzhen Green Pine Capital Partners, in its latest funding round last year.
"We started with smart robotic arms and want to sell to ordinary families, just like household appliances," said Liu in a speech this year.
The company's spokesman confirmed the contents of Liu's presentation but did not make him available for an interview with the Post.
One of its products – called the Dobot Magician – is a robotic arm priced between 10,000 yuan and 16,999 yuan (USD 1,400 to USD 2,400) that comes with coding support for users. Although not advanced enough for use in the home, is it being applied for educational purposes and students can develop it in a variety of ways.
A student team from the University of Tokyo, together with Connected Robotics which adapts robots for use in the kitchen, has developed a Yuejiang robotic arm to work as a breakfast-making machine and it is being tested in a hotel in Japan.
Yuejiang Technology is not the only one eyeing desktop robotic arms though.
Shenzhen-based Ufactory, a six-year-old start-up that also came out of the Kickstarter platform, is also developing consumer-friendly desktop robotic arms and has sold them in more than 80 countries and regions.
Its robotic arm also allows different kinds of sensors and devices to be attached. For example, it can be used to hold a hairdryer after you have washed your hair.
Although the industry holds out a great deal of promise, industry experts say desktop robotic arms still have some way to go before consumers really latch on to them.
"Currently they are still mostly toys, but research is moving fast and the point at which a service robot takes off in the consumer market is not that far off," said David Navarro-Alarcon, assistant professor of robotics at the Department of Mechanical Engineering of the Hong Kong Polytechnic University.
At stake is a global robotic arm market worth USD 17.9 billion in 2018, which is forecast to reach USD 39.2 billion by 2024, according to research firm TechSci Research. China has placed emerging technologies such as AI, internet of things and robotics at the heart of its industrial upgrading plans, aiming to be one of the world's strongest manufacturing powers by 2025.
In 2015, Chinese Premier Li Keqiang visited several robotic arm companies in Shenzhen, including Yuejiang Technology and Ufactory, to show government support for the industry.
To be sure, the global robotic arms market is currently dominated by companies famous for industrial automation including Swiss-Swedish giant ABB, Germany's KUKA Robotics Corporation (owned by China's Midea Group), Japan's Fanuc Corporation, and Yaskawa Electric Corporation, according to TechSci Research.
China is currently the world's largest user of industrial robots, followed by Japan, taking just over a third of the market. In 2018, China's annual installations reached 154,000 units, according to the International Federation of Robotics (IFR) World Robotics Report.
Desktop robotic arms are creating a buzz though – similar to when Shenzhen-based drone company DJI brought consumer drones to ordinary people and out of the world of aviation.
"If you're old enough, you can remember when drones were not part of our lives at all," said Navarro-Alarcon. "Now they're everywhere."
This article first appeared on the South China Morning Post.