ByteDance is more than just TikTok. The technology company, founded by Zhang Yiming in 2012, operates numerous online content platforms and services that include the popular apps Douyin and Toutiao in China. TikTok, the international version of Douyin, has already become the third most downloaded non-game app in the world. Other products include Helo, one of India's social media platforms, as well as Lark, a suite of business tools that offers chat, calendar, cloud storage, and content creation features.
Considered the world's most valuable startup, ByteDance is estimated to be worth USD 90–100 billion, with a download count surpassing 2 billion across its portfolio of products, and offices across 126 cities, including Beijing, Shanghai, Los Angeles, New York, London, Paris, Berlin, Dubai, Mumbai, Singapore, Jakarta, Seoul, and Tokyo. ByteDance is also expanding its presence in the region. Earlier this year, the company applied for a digital banking license in Singapore and is hiring for about 80 positions in the city-state.
KrASIA had a discussion with Helena Lersch, the global public policy director (MENA, APAC) at ByteDance. She discussed how she came to work for the company in 2018, the diverse and cohesive team she has built from scratch, and the role technology companies play during a crisis. She also discussed the challenges of quick growth, the value of mentorship, and what her work means for the region.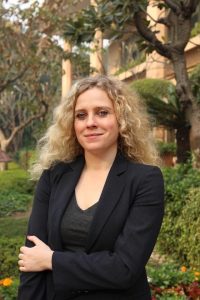 KrASIA (Kr): Tell me about your background and how you came to your current position as global public policy director (MENA, APAC) at ByteDance? 
Helena Lersch (HL): I have always been interested in the intersection of economics, politics, and culture. I was born in a small university town in southern Germany, but left during high school to spend a year in Cape Town in South Africa, which was just emerging from the era of apartheid. This spurred my interest in politics and development economics. I subsequently went on to study economics and politics in the Netherlands, Hong Kong, and the UK.
Early on in my career, I was very lucky to land an interview with Google's public policy chief in Germany, who hired me into the public policy team. Given that Germany has one of the most sophisticated regulatory environments for the technology industry, this stint at Google became my training ground under the guidance of many senior colleagues in the tech space. Having fallen in love with Asia during my time in Hong Kong, I transferred with Google to Singapore and embraced the opportunity to deepen my experience in engaging with emerging markets and Southeast Asia.
Kr: What factors and confluences contributed to your decision to leave Instagram and join ByteDance? When did you make the switch? 
HL: When I looked into ByteDance in 2018, TikTok was not yet a household name or as popular as it is today almost two years later. What drew me to ByteDance was its strong focus on engaging with South and Southeast Asia, with a portfolio of different UGC [User-generated content] products. I was also drawn to the fact that there was a robust localization strategy, and that its range of products offered many first-time mobile users the opportunity to easily cross the digital divide. It meant engaging with a whole new world that was exploring mobile video for the very first time.
Having worked at both Google and Facebook, I was also drawn to the technology and tools that TikTok offered its users and creators. I finally decided to join ByteDance for the unique opportunity to build a regional team from scratch, and be part of framing a global policy strategy for an Asian company at a time of its global expansion, while it engaged with diverse cultural markets and landscapes across geographies.
Kr: What have you accomplished over this period? What work are you most proud of? 
HL: I am most proud of building from scratch a diverse, cross-cultural, and cohesive team of professionals ranging from the Middle East to APAC—that play a critical role in supporting the steep growth of the company and its products. Given the dynamic environment of a content platform with hundreds of millions of users, there is no "business as usual" in our everyday work. I am proud that my team is contributing on a daily basis to building a better and safer environment for our users by listening to diverse sets of stakeholders on the ground and making sure their feedback is heard in the company. This is not to say we haven't made mistakes, but all of us quickly learn from them and iterate rapidly. This is also a defining feature of ByteDance as a company.
Kr: What is the appeal in heading global policy for a company like ByteDance? 
HL: ByteDance is at the forefront of innovation and technology. This is a field which is going to define, if not already shaping, basic human development, our societies, culture, economics, politics, and so on. To be able to play a significant part in this game-changing story, along with different societies, countries, governments, and policymakers from across the world, is what appeals to me.
Kr: How is the virus impacting your work and operations, as well as how ByteDance's platforms are being used? 
HL: As a global company, we prioritize the safety of our employees and the world around us. With this in mind, we've introduced a work from home policy for our global teams and suspended cross-border business trips. At TikTok, given the high engagement with users from around the world, we're focused on providing our community access to accurate information, in partnership with trusted local health officials, while supporting relief efforts to help those who have been deeply impacted by the crisis. As part of our efforts to provide educational resources and valuable information from credible sources, we are hosting an informational page that offers facts from the World Health Organization, answers common questions, gives tips on staying safe, and busts common myths surrounding COVID-19.
In light of COVID-19, Lark saw the need to offer our business solutions for free to empower remote working and remote learning. Lark's free business version comes with unlimited video calls (with advanced screen sharing), 200 GB of cloud storage, online collaborative docs and sheets, a smart calendar, a powerful messenger, unlimited third-party app integrations, and customizable attendance and approval workflows.

Kr: What roles has technology played during this pandemic? How has ByteDance responded to support public health initiatives all over the world?
HL: Amid global concerns around the coronavirus, we have taken steps to help the TikTok community stay safe and informed. We're focused on supporting our users by providing access to accurate information, in partnership with trusted local health officials, to serve the health and wellbeing of our community. And because we are all operating in uncertain times, it's more important now than ever before for both our local and global communities to come together to help those in need. In the Philippines and Indonesia, we have made donations to support frontline health workers.
Kr: What are some of the biggest obstacles you've faced in a professional capacity while working in the region? What resources helped you?
KL: APAC and MENA are incredibly diverse and large regions. I always try to put an emphasis on the fact that every country is different, and not frame entire regions under the same policy or management ideas and strategies. We have seen very fast and steep growth for ByteDance products—building the right teams and infrastructure as fast as the product grew was definitely a challenge in 2019. I was the fourth hire in Singapore. It was a startup environment in the very early days! Generally, advice from mentors in and outside of the company who have gone through similar phases in their careers has always been most helpful.

Kr: What support structures have been critical to your professional development? In your view, what is needed to encourage a diverse new generation of leadership?
HL: Mentorship. I have been lucky to report to a diverse set of leaders from different cultures in different companies—German, American, Singaporean, Chinese, and more. Through my career across the EU and APAC, I learned different principles and philosophies of leadership from each one of them. Many of my former managers have remained close friends and mentors, and I value their input into my journey as a professional. I believe, especially for women, these support networks are critical.
In addition, I believe organizations need clear management guidelines and principles while investing in their people and building diverse multicultural teams of good managers. Regular one-on-one sessions, and responding to people's ideas and needs individually, is also important. In the technology space, we tend to forget that it is the people that make good technology, and it's a great people culture that converts good technology into great products.
Kr: ByteDance has faced several controversies in its growth and expansion into new markets. What is your take on the importance of your role? How do you contribute to the public image of your company and platforms?  
HL: The work is never "done" on our end. It's not just about a public image, but making a real tangible positive impact on people's lives: that is what provides us the motivation to go out there every day. That's why I'm hard at work, working with diverse sets of stakeholders, helping them to understand our technology and our products, and the difference it makes to people's lives, with our mission to inspire creativity and bring joy. Convincing them to be a part of that story, and getting them to experience a TikTok video even at an individual level, is also an important part of my work.
Kr: What are some of the unique challenges and opportunities for ByteDance in the Asia-Pacific region? 
HL: Southeast Asia and the rest of APAC is a very diverse region. At ByteDance, we believe in going global by leaning in locally. This means that for every country, we have to accelerate the building out of our resources to fit and respond to the needs of the local market, given the diversity within markets in the same region. This requires us to ensure local teams are fully empowered, and this is definitely a challenge when you are growing at the pace we are. However, we are far more nimble than most other companies and are able to respond quickly.
Kr: What factors are behind ByteDance's recent hiring spree in Singapore? 
HL: Singapore is an extremely important regional hub for Southeast Asia. ByteDance focuses on building a strong local presence in each of its global markets, and Singapore is key to ByteDance's regional presence.
Kr: What advice would you give women seeking higher leadership roles in the technology industry? 
HL: Work hard. In fact, you have to possibly work harder than others if you want to be noticed. Don't think short-term. Don't ever listen to people who tell you that you can't do something. If you know you have a good point to make, find the courage to voice your opinion, and if you cannot find the courage, find someone who will help and mentor you to find your voice. Also, remember to be a good listener, to practice empathy and emotional intelligence to build better teams and connect better with those you work with.
Kr: What do you still hope to accomplish in your career or current role? 
HL: There is so much to do at ByteDance and TikTok. This is still only the beginning of the journey. I am still expanding my team, and so are my colleagues globally.