Thailand's auto market is expected to see a brief refresh in late 2021, with December vehicle sales likely to see a boost after Chinese automaker Great Wall Motor launched a new 100% electric model at a competitive price.
Organizers of the Thailand International Motor Expo 2021, running for 12 days from Wednesday on the outskirts of Bangkok, are expecting 800,000 visitors. While major automakers from all over the world—including the US, Europe, Japan, and South Korea—are gathering, it is the Chinese automakers that are attracting the most attention this year.
On November 1, Great Wall Motor launched a 100% electric vehicle, the Ora Good Cat, priced from THB 989,000 to THB 1.19 million thanks to an import tariff of zero under the ASEAN-China Free Trade Agreement, which has made the price of imported Good Cats more attractive than those of hybrid EVs made locally by major Japanese automakers.
With its competitive pricing, the Good Cat has had a warm welcome from Thai consumers, with online orders jumping to 4,296 units within 24 hours after its launch.
That is likely to put pressure on Japanese automakers, which have applied for Thailand's incentive programs for investment in EV technology in recent years but have not yet started that investment and are still focusing on selling hybrid-electric models.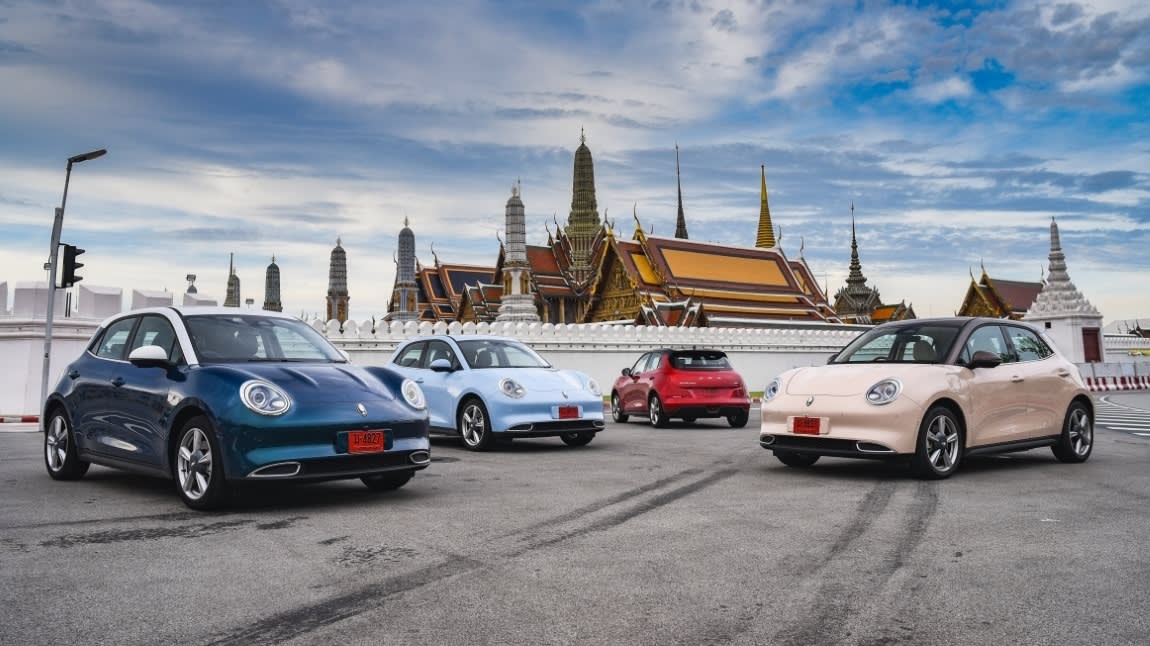 "Japanese carmakers have EV technology. However, they are still very cautious about EVs, as they are waiting for real demand before they start producing [them]," Surapong Paisitpattanapong, vice president and spokesman of the automotive chapter of the Federation of Thai Industries (FTI), told Nikkei Asia.
At the auto show, all the Japanese brands present launched hybrid models with prices close to that of China's 100% EV.
Toyota launched its Cross Hybrid model, priced at THB 1.199 million, while Mitsubishi debuted a plug-in hybrid, the Outlander PHEV, at THB 1.749 million.
"We have several models of hybrid EVs, and this is to show our readiness to move toward the EV community," said Noriaki Yamashita, president of Toyota Motor Thailand.
Honda offered three hybrid versions of its HR-V range, with prices of the new e: HEV models ranging from THB 979,000 to THB 1.179 million.
Luxury brand Mercedes-Benz also debuted three plug-in hybrid models: the E 300e, C 300e, and GLC 300e, with prices ranging from THB 2.73 million to THB 3.77 million.
Analysts said that although the Thai government has set a firm goal of having 1.5 million electric vehicles on the country's roads by 2030, with investment incentives to encourage carmakers to start producing them, both automakers and consumers are still reluctant to completely switch to electric models over the next few years.
According to the Land Transportation Department, there were about 3,800 electric vehicles registered as of October, with the number expected to rise to 4,000 by the end of this year. There were 2,079 such vehicles registered at the end of 2020.
In contrast, the number of registered hybrid cars stood at 190,000 units as of October and is expected to rise substantially higher as carmakers continue to launch plug-in hybrid and battery hybrid models.
"Consumers feel more confident about hybrid, as they are familiar with it, because they can switch [between] oil and electric. EVs depend on charging stations, of which there are still only around 600 in big cities," Surapong said.
He added that Thailand is still in a transitional period, with consumers waiting to see more infrastructure for electric vehicles, particularly a clear rise in the number of charging stations, before deciding to switch to them.
"It seems like Chinese carmakers also want to test the water by importing EVs for Thai consumers first, [then they will] start producing EVs here if they see a certain amount of demand," said an analyst from Maybank Kim Eng, who asked not to be named.
Analysts said they expected the number of new car bookings to remain sluggish at around 20,000 units during the motor expo, well below the more than 30,000 units seen in normal years, with the COVID-19 pandemic disrupting the country's economy and cutting consumption power.
That means the Thai auto market could remain in a state of contraction this year, with the FTI forecasting total annual car sales in the country to be 750,000 units, a drop from 792,000 units in 2020, largely due to a weak economic outlook caused by the ongoing pandemic.
This article first appeared on Nikkei Asia. It's republished here as part of 36Kr's ongoing partnership with Nikkei.