Just two days ago, electric vehicle and alternative energy company Tesla listed five roles based in Singapore.
The available roles are service advisor, service manager, vehicle readiness specialist, parts advisor, and vehicle service technician.
A quick search on networking site LinkedIn shows that Tesla is "actively recruiting" for these five roles in Singapore.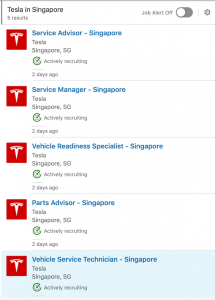 Most of the technical roles require a "knowledge of methods, techniques, parts, tools, and materials used in the maintenance and repair of vehicles," and some experience in the automotive industry.
Is Tesla launching in Singapore?
Electric cars have been steadily rising in popularity, and Singaporeans have been wondering why Tesla's cars have not made an appearance on our roads.
Last years, a fan asked Tesla founder Elon Musk when the automaker's vehicles would be available in Singapore—"Govt has been unwelcome," was Musk's tweeted response.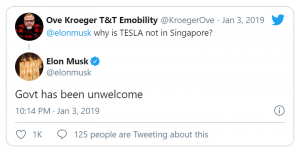 It is unclear if the new hires will be based in Singapore, but the news of Tesla's recruitment has definitely gotten netizens excited for the prospect of driving in a Tesla car in the near future.
This article was first published by Vulcan Post.