Chinese social and gaming giant Tencent has launched an early version of a separate portal within WeChat to centralize various mini programs already built by retailers and brand owners, Chinese media Jiemian reported on Monday.
The portal, called Tencent Huiju, now looks like a centralized e-commerce marketplace, with promotions on the first page and a section called "All shops", which directs buyers to 12 categories of goods and services, such as fresh goods, menswear, womenswear, jewellery, medicine, and cooked food. Hundreds of companies including McDonald's, Adidas, Starbucks, and on-demand grocery delivery firms Dingdong Maicai and MissFresh all have a presence on Tencent Huiju.
Users still execute the final transactions inside each mini program, but Tencent Huiju offers a shopping cart, allowing shoppers to buy products across different programs. It also contains other standard services offered by established e-commerce companies like an ability to view order history.
However, bugs have also emerged within the program. For example, when the express delivery services for three out of four items inside the shopping chart are not available, the Huiju platform shows that such services are not accessible for all four items already selected, KrASIA found on Tuesday, when trying this platform.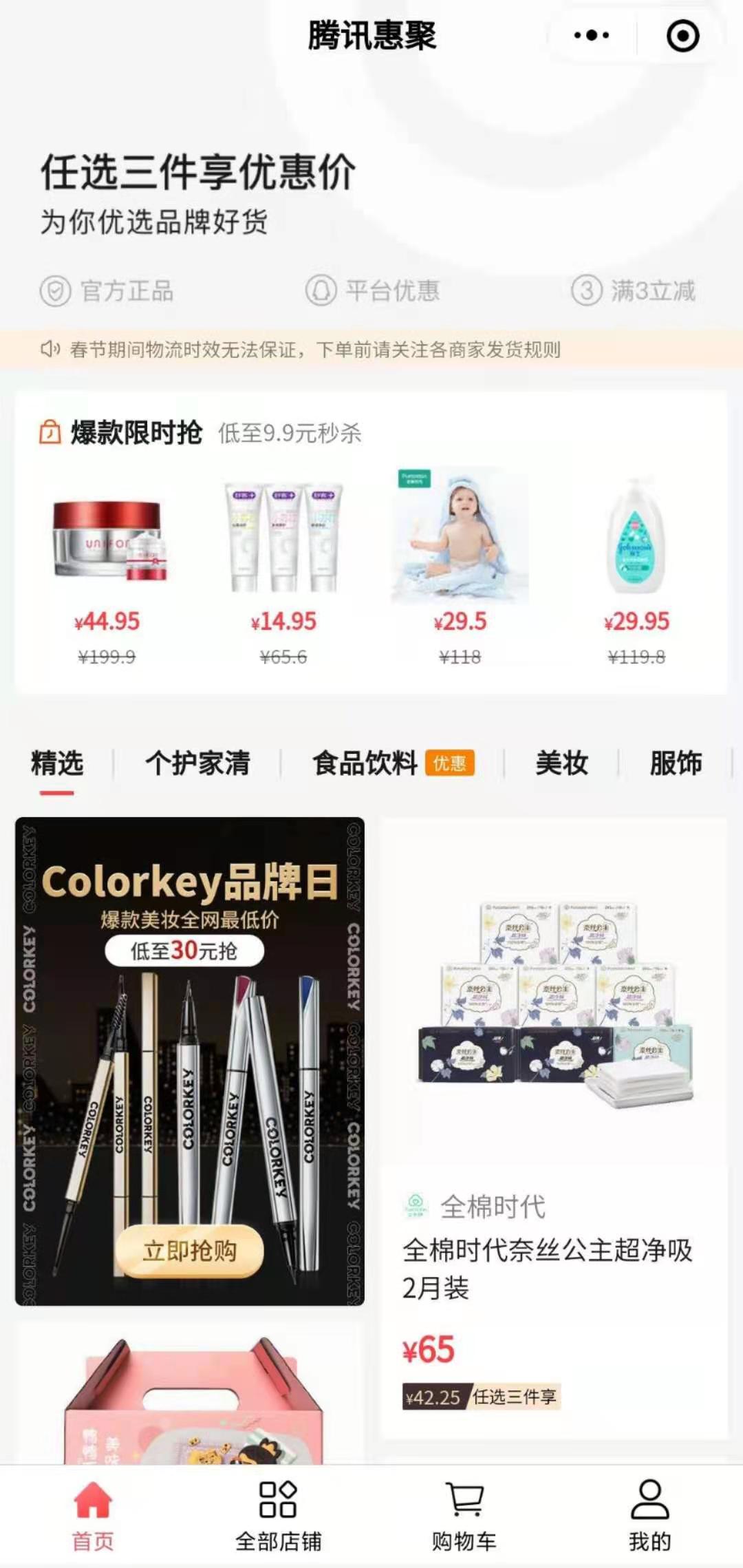 An employee inside an on-demand grocery delivery platform told KrASIA on condition of anonymity on Tuesday that his company's service is not available via Tencent Huiju, adding that this is the first time that he has ever heard about this portal.
"It sounds like another sales channel for retailers and brands," he said. "If Tencent is to promote Huiju with its traffic resources, we are surely happy to join."
Compared with WeChat's more than 1 billion users, Tencent Huiju is still relatively unknown as it has only been used by more than 10,000 individuals recently.
Currently, Tencent uses its idle advertisement resources to promote Huiju, Zhuang Shuai, a retail veteran and founder of Bailian Consulting told KrASIA on Tuesday.
"Tencent Huiju is now more like a secondary user traffic distribution platform, or a shopping recommendation platform, and is not comparable to Alibaba's B2C e-commerce platform Tmall," Zhuang said.
"However, this still marks an important step for Tencent, even to be a shopping recommendation channel on its own," he said.
"It still takes time to see whether Tencent will set up a large operational team to manage merchants on Huiju, and this will decide where the platform will go," Zhuang said.
Alibaba, JD.com and late-comer Pinduoduo are the only companies in China that have proven they can manage millions of merchants on their platforms, according to Zhuang.
More than 5 million merchants participated in Alibaba's Singles' Day shopping festival in last November, KrASIA reported, citing Jiang Fan, president of Alibaba's Taobao and Tmall platforms.
Tencent used to run its own e-commerce platforms QQ Wanggou and Paipai but sold them to JD.com in 2014. In recent years, the social giant invested in other e-commerce and retail companies, including JD.com, Pinduoduo, and supermarket chain Yonghui, rather than committing lots of resources to its own e-commerce play.
However, Tencent went online its own social e-commerce mini program Xiao'e Pinpin, at the end of April 2020, which bears some similarity to Pinduoduo, KrASIA reported.
Two months later, the company went live with a mini program called WeChat Minishop, allowing all businesses and individuals to open their own online stores in July.