China's largest music streaming firm Tencent Music Entertainment Group (TME) – the operator of the karaoke app WeSing, Kuwo Music, Kugou Music, and QQ Music – filed  Tuesday for its US public float with the US Securities and Exchange Commission (SEC).
The music streaming spin-off of Tencent has reportedly revised its initial plan to halve its US IPO size and is now seeking to raise only US$1b via its US public offering, trading under the ticker symbol "TME".
Potentially one of the largest US IPOs by a Chinese company, TME, China's music streaming service provider has risen to prominence alongside the smartphone wave that has revolutionized how music is distributed and consumed in China.
The change is essentially a culture of rampant piracy where the Chinese spend very little on music to the emergence of fee-based providers like TME. The music arm of Chinese tech mammoth Tencent, that has 75% of China's music streaming market share, saw its number of monthly active users jump from 700 million to over 800 million as of Q2 2018.
In terms of paying subscribers, Tencent Music saw a big jump for both its online music services and music-centric social entertainment services.
The former's paying user base grew from around 16.6 million in Q2 2017 to 23.3 million for Q2 2018, while the latter also posted an increase of around 2.4 million over the same period. It is noteworthy to highlight that despite the current high growth numbers, there remains huge growth potential, especially for Tencent's online music services.
TME's online music services 3.6% paying ratio is very low when compared with the global online music industry as a whole, indicating that China's online music industry is still at its early stage.
Another interesting fact is this: TME's music-centric social entertainment services that allow users to show appreciation for live performances by sending virtual gifts actually generated more revenue than its music streaming services. Specifically, TME's online music services accounted only for 29.6% of total revenue, as opposed to the social entertainment services' 70.4% for H1 2018.
Key Performance Metrics of Tencent Music (per TME prospectus)

— 92.2% year-over-year growth in total revenue for H1 2018.

— TME's four music services are the top four music apps in China in terms of monthly active users (MAU).

— Users spend an average of more than 70 minutes on Tencent Music's apps on a daily basis.

— More than 200 international and domestic music labels.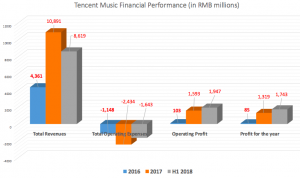 More importantly, Tencent Music has bucked the trend of the wave of Chinese tech money-losers that are rushing to the IPO gold rush by posting a net profit of US$276 million in 2017, and a profit of US$263 million for the first half of 2018. Archrival, predecessor, and investor Spotify, on the other hand, is still loss-making to-date.
TME's prospectus revealed that it has been making consistent profits since 2016 and is still experiencing strong year-on-year revenue growth in both its music streaming and social entertainment services.
Underwriters of this deal include Deutsche Bank, Goldman Sachs, Bank of America Merrill Lynch, Morgan Stanley, J.P Morgan, China Renaissance, and Credit Suisse amongst others.
Editor: Ben Jiang