Chinese cloud-based marketing solutions provider company Weimob Inc., filed its application yesterday to list on the Main Board of the Hong Kong Exchange, according to its prospectus – a move that is increasingly popular with mainland tech firms.
Shareholders in the firm include Tencent, which holds a 3.4 per cent stake, and the sovereign wealth fund of Singapore GIC which owns 8.3 per cent. Weimob's most recent round of funding was in April this year when it raised US$160 million in its Series D round, followed by US$79 million in a Series C round announced in 2015.
Founded in 2013, Weimob offers WeChat merchants in China marketing and development solutions to build their mobile commerce businesses. Tencent, one of its shareholders, is WeChat's parent company.
In 2017, Weimob was one of the first to offer commerce and marketing solutions through WeChat Mini Programs, a feature that loads applications within the WeChat interface without requiring users to download additional software. WeChat now has over 1.5m third-party mini-app developers.
As of March 2018, Weimob has around 2.6 million registered merchants using its services, according to its prospectus, and more than 50,000 paying merchants for its software-as-a-service offerings in 2017 – double of what it had in 2015. Almost 18,000 customers used its targeted marketing services in 2017, up five times from what it had the year before.
Revenues were up to RMB 534 million (around US$78 million) in 2017  from RMB 189.2 million (around US$27 million) in 2016 and RMB 114 million (around US$16 million) in 2015. As of end-2017, the company has made an operating profit of RMB 2.8 million (around US$410,000).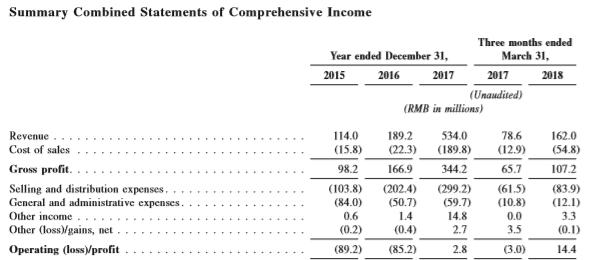 Other Chinese tech firms looking to list, or recently listed in Hong Kong include online to offline company Meituan, edtech company Koolearn.com, and smartphone maker Xiaomi which debuted early July this year.
Chinese online group buying company Pinduoduo, on the other hand, opted to list on Nasdaq instead. Having received funding from Tencent in 2016, Pinduoduo has used WeChat in multiple ways to drive traffic and revenue from the in-app social feed WeChat Moments to getting users to make group purchases via its WeChat mini program.
Editor: Nadine Freischlad