It's been two months since Chinese chain Luckin Coffee came clean with SEC over its sales fabrication. However, Luckin's fallout, which has been immense, is still being felt by other Chinese US-listed companies.
Luckin's fraudulent practices were first exposed by a short report tipped to and shared by Muddy Waters. The company forcefully rebutted the report before eventually admitting to inflated sales worth USD 310 million, which has shuddered investors' confidence and brought more stringent scrutiny over Chinese concept stocks.
The situation, coupled with the ongoing trade tension between China and the US, is leading to a "homecoming" for many Chinese overseas listed companies. It is believed that about 50 to 60 US-listed Chinese companies would return to either the Shanghai or Hong Kong bourses in the next three to five years, KrASIA reported.
Last week, gaming giant NetEase (NASDAQ: NTES) kicked off its secondary listing with more than 74 times oversubscriptions in two days.
E-shop operator JD.com (NASDAQ: JD), the second major player in the e-commerce sector in China by market cap, will follow suit this week with the estimated target of raising USD 3 billion through its secondary listing in Hong Kong. Pinduoduo has also been rumored to be seeking a Hong Kong IPO, though later it denied so. A number of other companies have also hinted at the possibility of "homecoming" IPOs, for example, fintech startup Lexin.
Other big names, such as search engine Baidu, video streaming platform Bilibili, and iQiyi, might also look for a potential secondary listing in Hong Kong. They are among a list of 28 companies that are financially eligible for it, according to GF Securities.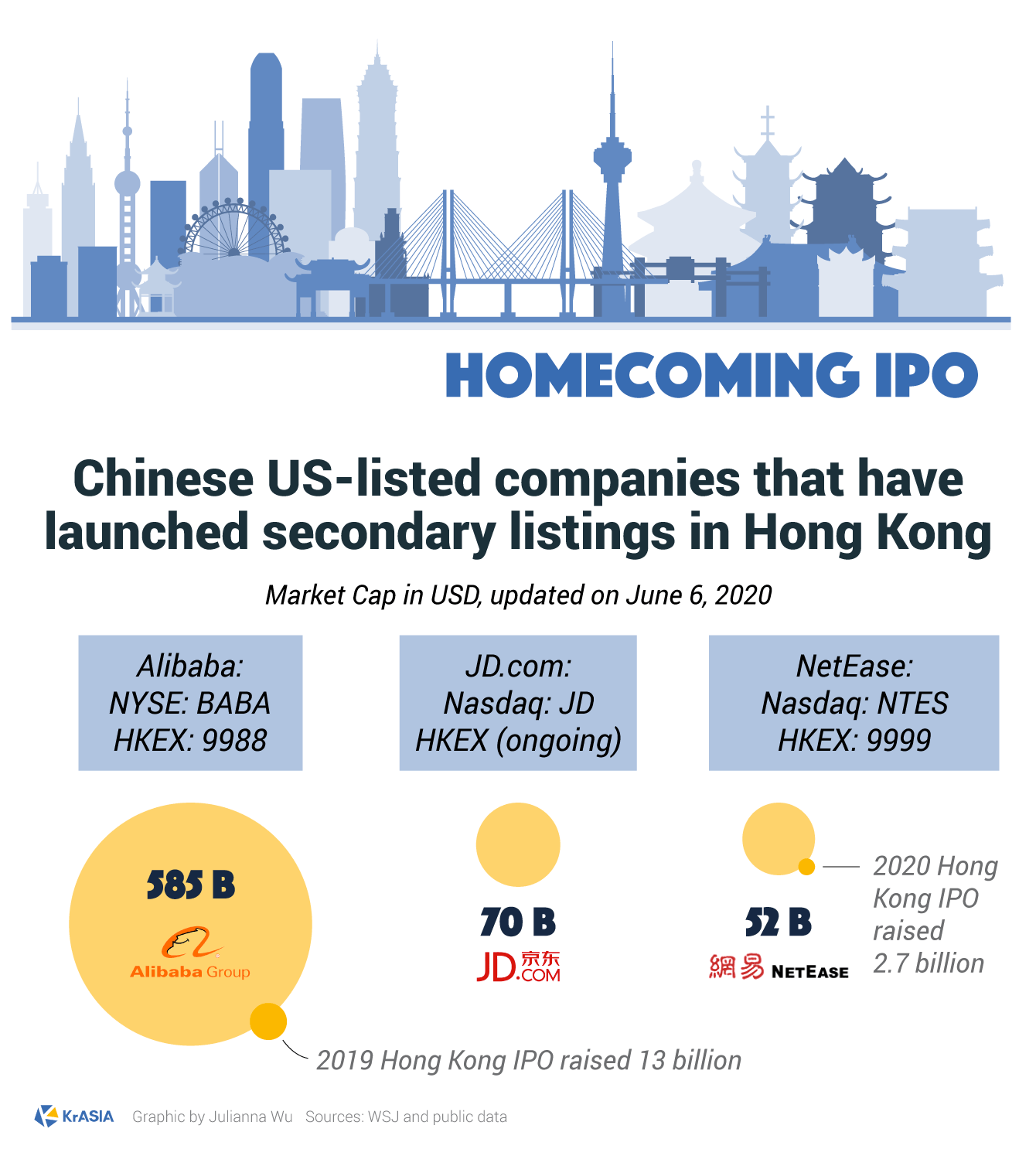 Update: CST 18:01, June 9, 2020, added total amounts Alibaba and NetEase raised respectively in their Hong Kong secondary listings in the first graph.