Chinese e-commerce Alibaba just kicked off a dedicated app dubbed Taobao Tejia, meaning Taobao Discounts, in what seems to be a hasty move to fend off a fast-growing challenger to its Taobao Marketplace.
The Taobao Tejia app, offers a broad range of cheap merchandise priced at often RMB 9.9 kuai (USD 1.6), shipment included. And most of the items it sells, are priced at below RMB 50 kuai (USD 8). It looks more like a low-end version of the original Taobao app.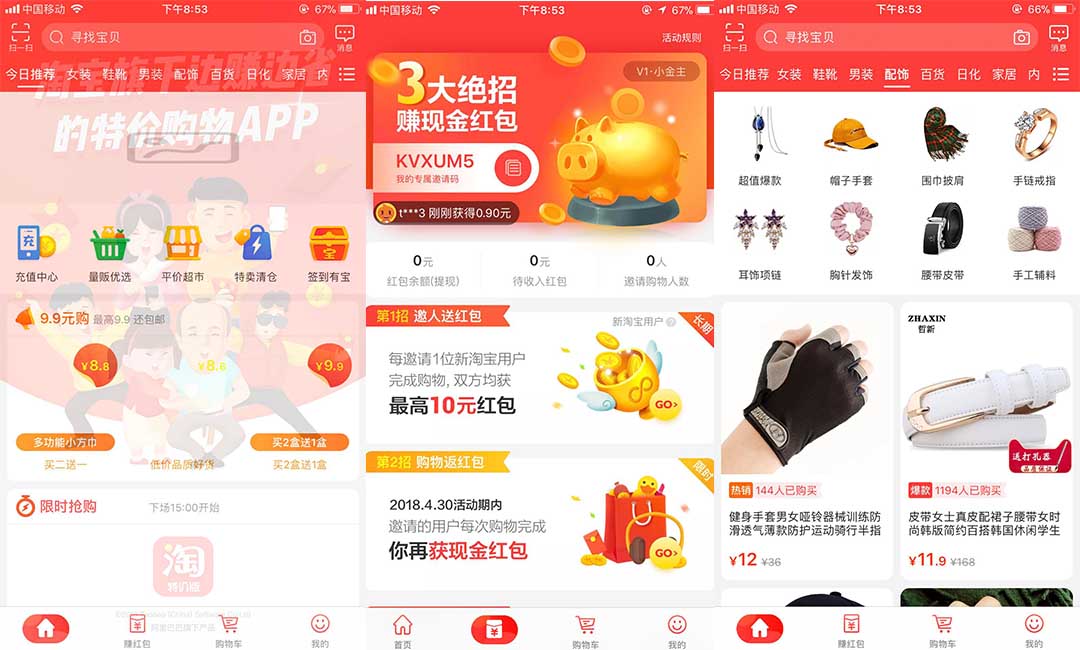 Alibaba launched the Taobao Marketplace 15 years ago in the year of 2003, and has successfully beaten eBay China and holds a market share of over 80% in Chinese C2C sector. Taobao Marketplace is the de facto monopoly in Chinese C2C market.
However, an upstart founded by an ex-Googler is posing a serious threat to its predecessor.
Launched in 2015 by HUANG Zhen and has been operating under-the-radar for quite some time, Pinduoduo has quickly risen to become the second most popular shopping app by monthly active users, only after the Taobao app, according to Cheetah Mobile's apps analytics service. JD slid to the 3rd.
Pinduoduo offers its customers, most of which live in tier 3 and lower cities in China, a wide assortment of products at rock-bottom prices.
Pinduoduo's meteoric growth even took its own founder by surprise, HUANG once told media that "it's true that when speaking about growth pace, we were also shocked to a certain degree."
In early 2017, Pinduoduo's monthly GMV was RMB 2 billion (approx. $ 316 million) and the number bloated to an astonishing RMB 10 billion at the end of the year, according to some industry insiders. The latest figure stands at almost RMB 40 billion, or $ 6.3 billion, the insiders disclosed.
In comparison, it took JD 6 years to reach that 10 billion threshold. And Pinduoduo was only founded less than 3 years ago. Its growth comes at the cost of Taobao and JD's businesses.
Pinduoduo's break-neck growth speed is accompanied by some concerns. For starters, the company was the #2 most complained against e-commerce platform in China. It also suffers from allegations that the platform was rife with counterfeits.
Tencent invested in Pinduoduo in June 2016. SUN Tongyu, Taobao founder and an early member of Alibaba, is an angel investor of Pinduoduo.
Editor: Ben Jiang