Taiwanese tour and travel experience provider KKday reportedly raised an undisclosed new round of funds from the Taiwan branch of Alibaba's Entrepreneur Fund, in the wake of a US$10.5 million Series B raised in early February, from backers including Japanese travel agency H.I.S. and MindWorks Ventures.
The Entrepreneur Fund was launched by the Alibaba Group in 2015 with an aim to help Taiwanese and Hong Kong startups build innovative solutions and grow their businesses.
In Taiwan, the Alibaba Entrepreneur Fund has invested in a number of companies including video artificial intelligence company Viscovery; augmented and virtual reality platform iStaging; and cooking network Howliving.
The Taiwan-based travel startup's last Series A round of $4.5 million was raised two years ago in March 2016.
Raising two rounds over such a short time span, it could be that the Alibaba financing was more for the purpose of a strategic alliance given the Hangzhou-based e-commerce giant, also runs an OTA service called Fliggy.
Lin Jialin, marketing director at KKday, also said, as cited by a Taiwanese media report, that aside from raising money from Alibaba, the more important aspect is that it would be adding a strategic partner to help it strengthen its presence in China.
It has started work in China with a virtual store on Alibaba-owned online travel marketplace Fliggy (飞猪).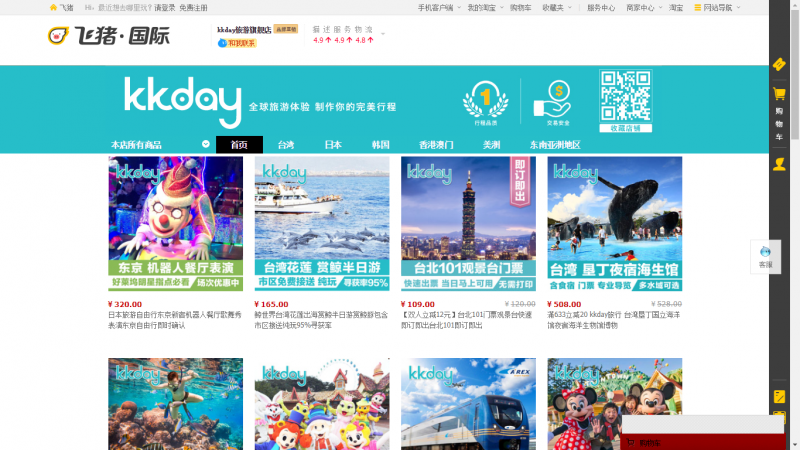 Lin also added that the company will be setting up an office in China this year, and will put more effort into exploring the Chinese market.
Founded in 2014, KKday first entered Singapore in 2016, and Malaysia, Thailand, and Vietnam in 2017. It claims to have over 10,000 travel experiences from 80 countries and 500 cities on its platform.
According to the company, more than half of its users are young adults between ages 25 to 34.
Competitors in Southeast Asia include Rakuten-owned Voyagin and Vietnam-based Triip, which announced raising a new round of financing in April 2018 bringing its valuation to $10 million, according to the company.
This article has been updated to include a Q&A with KKday's spokesperson Francis Kuo, edited for brevity and clarity:
Q: How does KKDay generate revenue and is it already profitable?
As travellers nowadays tend to explore the world the way they want, there is a demand for independent travelling. But due to non-transparent pricing and information asymmetry, sometimes, arranging trips on their own could cost even more time and money than booking a tour package with an agency.
Therefore, KKday works with local suppliers to provide experiences, packages and tickets from all over the world to travellers through our e-platform. Through this way, KKday shortens the supply chain and therefore is able to provide customers travel experiences, packages and tickets with more transparent information and better price, from which we generate revenue from the services we provide to travellers.
The operational status also remains undisclosed.
Q: What sort of insights has the firm seen in Southeast Asia that it can share with us regarding travel and utilising technology to plan holidays? 
We believe that the economic growth of Southeast Asia has been followed by an emerging demand for people to enjoy a happier life, and one of the elements to enjoy life is to travel.
We see the trend for a rapid growth in the Southeast Asian travel industry for both inbound and outbound, especially the demand for online travel agencies. As the middle class in Southeast Asia grows, there is an increasing population of young, tech-savvy travellers who are eager to go out and explore the world. Through the use of API integration and QR code redemption, users can now book their activities or tickets last minute or on the spot the through KKday App, which makes their trips more spontaneous.
Also, there are more and more travellers from around the world who are interested in experiencing the unique culture and seeing the beautiful landscapes and buildings in Southeast Asia.
For KKday, Southeast Asia is now the fourth biggest market for us, therefore we value this market very much and are putting a lot of effort into it. For example, we have rolled out six offices in Southeast Asia, which are located in Singapore, Philippines, Vietnam, Malaysia, Thailand and Indonesia. We are also looking to further develop our business and explore more partnership opportunities in Southeast Asia.
Editor: Ben Jiang