KrASIA ran a unique event on January 26, giving three startups the opportunity to spend one-on-one time with iGlobe Partners, a leading VC based in Singapore and the United States. Yoke Sin Chong, iGlobe's managing partner, provided insights and feedback to the startups as they shared their products, business models, and roadmaps.
The three startups—Protos Labs, ProfilePrint, and AiTreat—were selected from a shortlist by Chong. Each spent 30 minutes with the seasoned investor to chat about their business direction.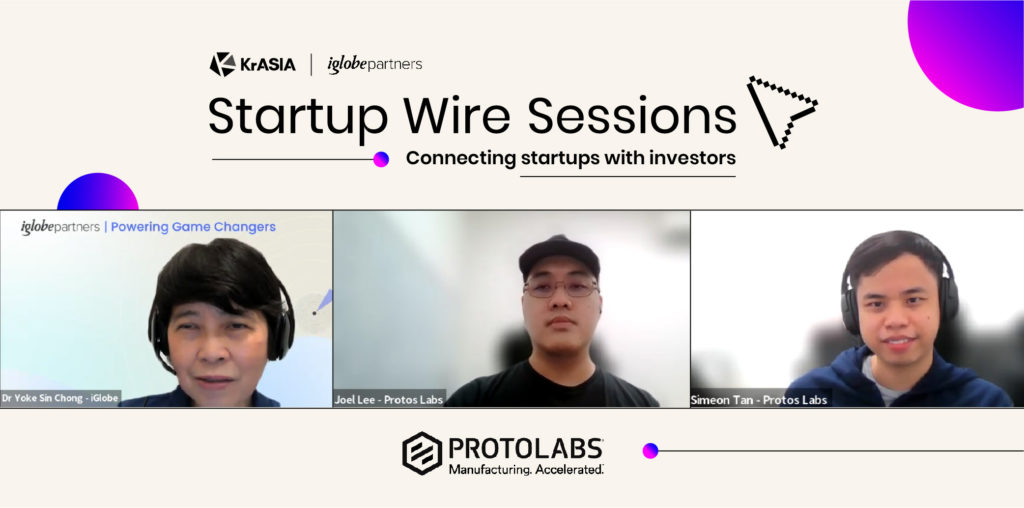 Protos Labs is a cybersecurity startup that helps insurers, re-insurers, and enterprises evaluate cyber risk exposure using an AI-driven risk quantification platform, Nexus. The company's representatives began their interaction with Chong by presenting their product, the industry landscape, and Protos' business plan.
The company was interested in securing regional partnerships, developing techniques for scaling its team, and finding lead investors. The representatives asked for Chong's advice on these subjects.
Chong provided advice on the best strategic direction and possible channels to increase Protos Labs' potential client pool, describing the company as being in a "sweet spot" due to their selling insurance based on the ability to measure cybersecurity risk while informing customers about the best ways to manage hazards.
Chong said Protos' team was "doing a good service trying to actually educate, quantify, and then set some standards." When asked about how iGlobe Partners works with early-stage companies, Chong commented that the investment firm "believes in growing and caring for the startups," so that the firms are able to achieve success.
Protos Labs co-founder Joel Lee was happy with the chat with Chong. "The session helped to connect us with a seasoned investor via a highly efficient matching process that would otherwise have taken multiple sessions to establish," he said.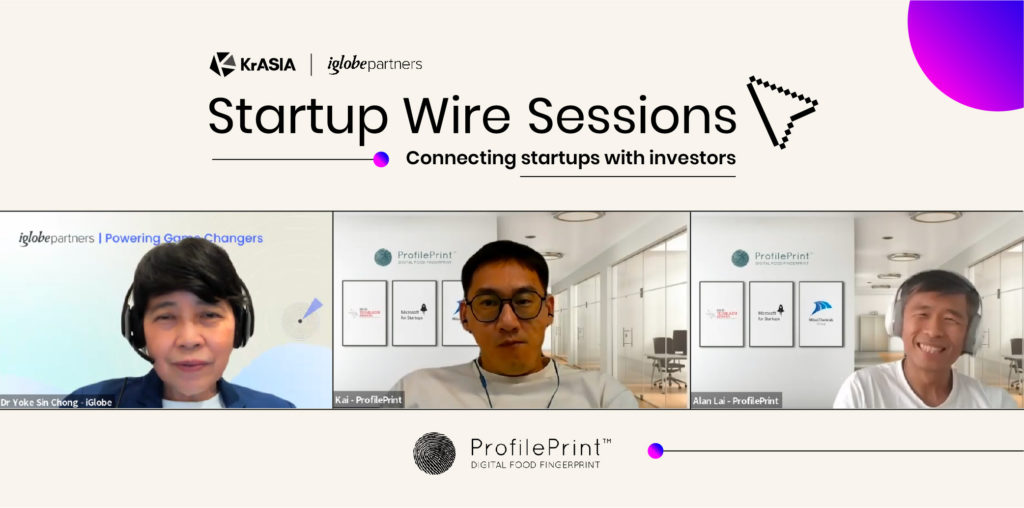 ProfilePrint is a food ingredient search engine platform powered by a patented AI-powered food "fingerprint" technology. The company synthesizes complex interrelated parameters and sensory data into a single digital fingerprint to map the quality and profile of a food sample within seconds. After the team explained how the product works and presented the company's recent growth, Chong continued the discussion by probing into the technology behind the analyzer.
When asked about the best approach to identify investors, Chong said that a "two-pronged approach" was a good way to accomplish this goal. It involves finding a lead investor to provide the financial backing, then a sub-investor that can provide strategic resources. She added that it was "important to have people who can add value and not look over your shoulder the whole day doubting what you do. You need VCs who understand."
Founder and CEO Alan Lai found the event to be very useful. "We were honored to be invited by KrASIA to the inaugural Startup Wire Session with the opportunity to engage Chong in a one-on-one setting. Her extensive experience across industries and domain expertise in tech provided us with deep insights and alternative perspectives. We also gained much from listening to her engagements with the other startups. I strongly encourage founders to attend the sessions to come," Lai said.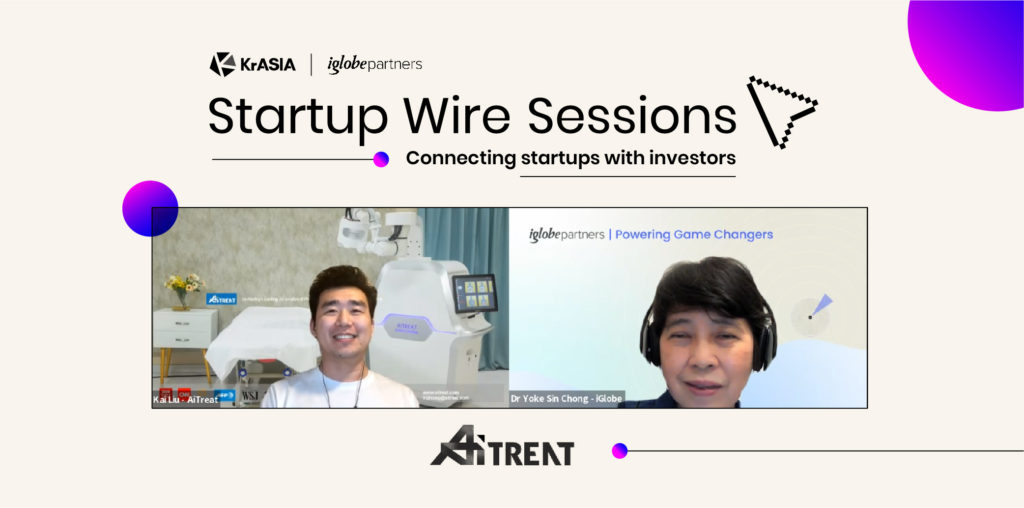 AiTreat designs and integrates assistive medical robots to help doctors and physicians with providing soft tissue therapeutic treatment to patients. The company is the first in the world to develop commercial TCM massage robots.
Chong suggested that AiTreat should explore other ways for its robot masseuses to assist healthcare professionals in Western settings, such as the United States. She indicated that the robots' highly sensitive touch mechanisms may be developed further for functions in assistive surgery.
Chong also said that AiTreat was making good progress, especially in its expansion in China, commenting that the firm's product and roadmap had "almost every aspect covered" to scale its business.
COO Kai Liu felt positive after his chat with Chong. Liu said he found "the session well-organized and also quite unique in a sense that it creates a platform for us to directly connect with VCs."
As the event concluded, iGlobe and the shortlisted startups made a number of connections to continue their discussions. With the demand for high quality connections with the ecosystem growing across the region, KrASIA plans to run more sessions with investors. If you are a startup and would like to take part, please fill out this form to be considered for future events.